UNCA Career Center helps students with salary negotiations
Josh McCormack
Arts & Features Writer
jmccorma@unca.edu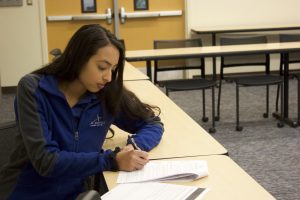 As the first semester of the school year draws to a close, a handful of seniors gathered at the Highsmith Student Union on Tuesday to find ways  to navigate the often difficult road of salary negotiation.
Hosted by Lisa Mann, the director of the Career Center, the hour long workshop went over  how to know when to negotiate one's salary during a job interview, as well as when an employee is being taken advantage of.
"We encourage students to ground their negotiations in their strengths," Mann said. "You
can think of accomplishments you've had while being a student and any volunteer work. Think of any successes you had in relation to the position you're applying for before negotiating the salary."
UNCA senior Cynthia Duran  said she found the workshop to be very informative and enlightening.
"I'm going to be graduating in December, so this is stuff that will wind up being very useful to me as I start applying for more jobs."
Duran said she has experienced unfair treatment from employers before in relation to her salary and she knows firsthand just how frustrating it can be. 
"I currently work full time and realized I was being paid way less than other assistant managers in my position," Duran said. "So I did my research and realized how completely ridiculous it was and went in demanding change until I made what I make now."
Duran said the most difficult part of her research was getting other people in her position to open up about their salaries.
"I learned that people don't like giving you information about how much they're making, so you have to keep awkwardly asking for a certain range."
Mann said when the UNCA Career Center puts on these types of workshops it
promotes open conversation of salaries and worker compensation. 
"We often don't know what each of us are making, because it is a taboo to talk about," Mann said. "But since we don't it allows corporations to pay people differently, which is very unfair."
Career Center employee Simren Patel also found the workshop to be incredibly useful, not only for getting a deeper understanding of her employer's mindset, but also as a junior in college  preparing for her last few semesters.
"I thought it was really useful. Since I work with the Career Center, I see how valuable a resource it can be and how little people actually use it," Patel said. "I definitely think it's helpful to know how I should talk about salary in an interview, because it's not something I ever really had brought up with anybody."
Patel said that working with the Career Center has also made her less nervous when it comes to finding work outside of college and went on to explain how her coworkers find ways in which to make students more confident.
"I think it's made me look at my past employment experiences and find ways in which every job can bring something to the table, no matter how different each job may be," Patel said. "When we help people with negotiating with their employers, my colleagues implore them not to dismiss experiences with jobs they feel might not relate to their current position. When you discuss pay with your employer, I think it's important to use all of your learned skills."
If students went home from the workshop with only one thing, Mann hopes it is the knowledge that when it comes to salary negotiation, there is not just one answer.
"There's so many strategies to negotiate," Mann said. "Depending on your personal level of comfort, you'll back out of a negotiation at various points. You may decide that you're just willing to accept the salary that you've landed on and not negotiate further."
Mann continued, saying her personal favorite way  for negotiation is it not to be forceful, but natural.
"My favorite way to do it is as a conversation, because you might find that employers try
Shut down the negotiation process early on. But if you can bring it up in a way that is casual and direct, it allows for more understanding negotiations."