UNCA student desires to make a difference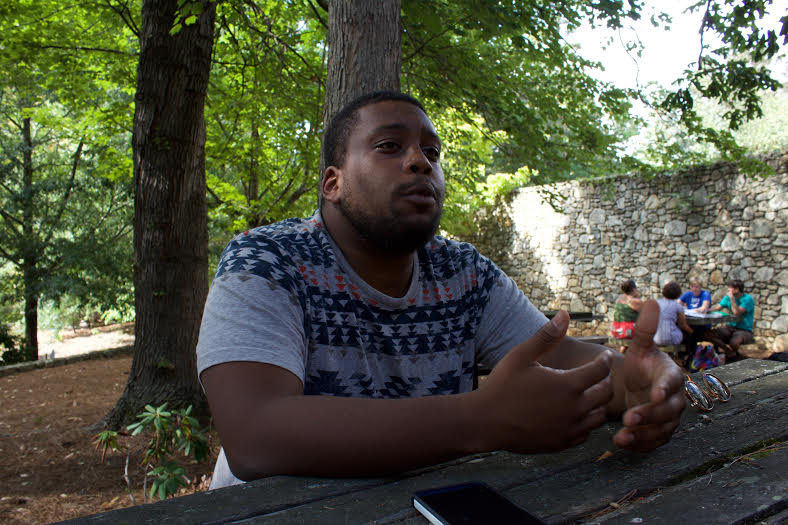 Nick Baynard
A&F Staff Writer
nbaynard@unca.edu
UNC Asheville graduate student Michael Jamar Jean Francois beams with positivity as he delivers a gripping spoken word performance on the main stage at Asheville's recent Goombay Festival.
The 25-year-old sounds like a seasoned professional, even though he did not start writing and performing his poetry until moving to Asheville just one year ago. When he performs Francois's voice booms, capturing the audience's attention, aiding him in getting his point across to his listeners.  
Francois not only writes poetry and performs, he does freelance photography, graphic design and frequently volunteers his free time in the community however he can.
Before and after his appearance on stage at the festival last week, Francois could be found taking pictures of the various performances, filming panel discussions in the YMI Cultural Center and staying after the festival was over each night to help the crew clean up the grounds.
"I got into community service when I was in high school," Francois said. "It got me working for Habitat for Humanity for a while, then I went to New York and did some more work for Young Life."
Francois's smiling presence at the Goombay Festival already rewards him by making his phone ring off the hook with people asking about future performances and business arrangements for photography.
Part of Francois's personal mission is to participate in the community and to get to know people here so he can really make an impact.
"Focusing on what is happening around your own town and trying to make your town better makes the people better," Francois said. "It was a real eye opener to come here because I've never been able to surround myself with such good people."
It was only by chance that Francois, hailing from Vero Beach, Florida, even arrived in Asheville.
"I came to see my friend Victoria and to see a concert at The Orange Peel, Bonobo was playing that night, but she was working most of the time," Francois said. "So, I spent most of my time wandering around the city and I fell in love with it."
After Francois made the move from Florida, he first thought of getting a second bachelor's of arts degree at UNCA in mass communication to go along with his B.A. in digital media and graphic design from Indian River State College in Fort Pierce, Florida.
Francois ultimately decided to pursue a degree in the master's of liberal arts and sciences program and uses much of what he learns in the program to inform his written material.
  "I decided to go into the MLAS program here to focus on the environmental science and creative writing portion of it," Francois said. "I want to learn as much as I can here and find a way to hone it into my craft."
Growing up as a first generation American contributed to Francois's unique perspective and healthy work ethic.
"Being a Haitian in an African-American society when I was young was strange for me because I had a different dialect and I spoke to my parents differently and I acted differently," Francois said. "It kept me humble and it kept me on the right path."
Before Francois's parents knew each other, they immigrated here from Haiti and settled in Connecticut. Francois said his mother only had $75 when she arrived here and his father had $220.
After meeting in Connecticut they moved their very young family to Florida where Francois's father started a thriving commercial transport company and his mother became a nurse.
In the future, Francois aims to start up a nonprofit organization working to get school-age kids hooked up with their hobbies or interests.
"One of the benefits would be to get college students to volunteer as mentors so that they can have that on their resume and at the same time they get to help kids find their interests," Francois said. "I was always pushed to be a doctor or a lawyer when I was really young, but I was always fighting back that and the reason why I got on this path was because I had a mentor."
Francois's vision for the nonprofit draws its inspiration from a memory of his fifth grade music teacher who noticed Francois always had headphones in his pocket. His teacher got Francois involved with the school's music program.
"You don't want to grow up and find yourself working at the grocery store living a stagnant life when there was someone there who could've helped to point you in the right direction," Francois said. "Why not get that information when you're at the beginning of creativity?"