Women's march in Asheville
Audra Goforth
Managing Editor
agoforth@unca.edu
Downtown Asheville fills with pink-wearing and sign-holding civilians as the Women's March on Asheville moves through Pack Square Park. Police and organizers estimate somewhere between 6,000 and 10,000 participants in the rally and march.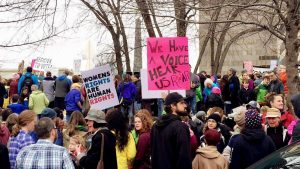 "I feel like today is a great day of unity," said 54-year-old Laura Carnal, a Madison County native. "Now more than ever, we need to pay attention to what is going on in the government. We need to wake up and not just watch, but take action."
The Women's March on Asheville created a Facebook-organized event scheduled to take place Jan. 21 from 11 a.m. to 1 p.m. at Pack Square Park, the same day as the Women's March on Washington.
Carnal said this march is for the protection of human rights and that our country cannot afford to move backwards.
"I feel like I am marching for protection of rights, not just for women, but for all citizens. I am not marching against what happened yesterday, none of that, but we can't fall back with workers' rights, women's rights and others' rights," Carnal said.
UNC Asheville Senior English student Ashley Peltack said she attended the march to promote the respect of women's intersecting identities impacted by social justice and human rights issues.
"I attended to contradict the discord, hate and prejudice that are finding their way into classrooms," 21-year-old Peltack said. "I attend to show that I'm outraged by the divisiveness Trump has caused and the future it will shape."
Participants of the Women's March on Asheville showed up wearing pink in support of feminism in addition to carrying signs in support of their beliefs. Signs decorated with slogans such as "women's rights are human rights," "we have a voice, hear us roar," "keep families together," "I'm with her" and "in charge of my body."
Participants such as Kim Oberhammer, a Western North Carolina mask maker, wore unique costumes as a representation of the march movement.
"We came to support the movement about equality for everyone," Oberhammer said. "That is what my costume is: male, female, in between, all different colors."
"I like to make masks," Oberhammer said. "That is where these masks came from and through my website, www.masksacrossamerica.com. We want to show that if you look at everyone, regardless of what is on the outside, we are all the same on the inside."
Kim Oberhammer's black costume with several different body parts attached to it and a pole that had masks of different races attached, represented the diversity of humankind. Kim's daughter wore a large Obama head with an American flag teardrop.
"We are all just people and deserving of the same rights in any situation," Oberhammer said. "That is why we are here."