Jessica Debnam
Contributor
[email protected]
Being a largely male dominated industry, new waves of tattooing pave ways for female artists that go above and beyond for their clients.
Bianca Kreba, 27, works at Red Rabbit Tattoo where she was a mentee and remains today doing mostly neo-traditional and traditional styled tattoos. From a young age she was surrounded by the craft with one of her parents being a tattoo artist.
"I felt like that's where I needed to be and I begged for an apprenticeship and I did an apprenticeship and now I couldn't see myself doing anything else," Kreba said, now with five years experience in the industry.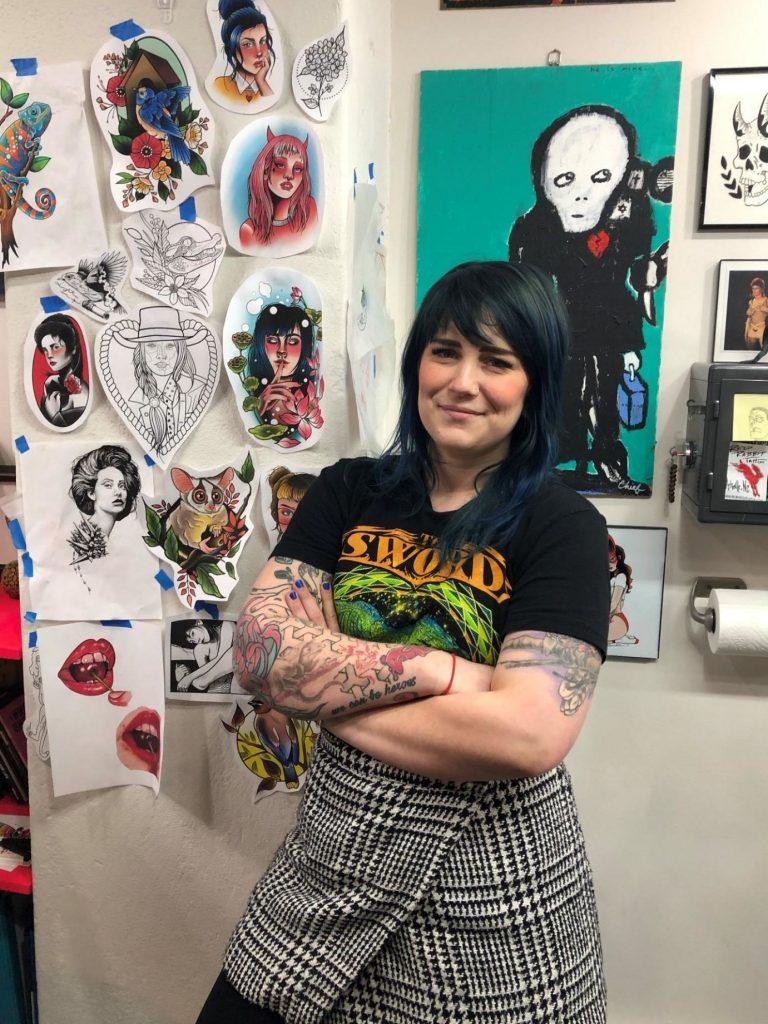 Kreba said the positive aspects of working in Asheville, where she's been for a majority of her career, often have to do with the people and atmosphere. She said as a tattoo artist there comes more freedom with expressing your style and putting it out there.
"I think the inclusive nature of Asheville feels really great, and not only that, you have so many artists here that aren't just tattooers that you get so much inspiration from. You see so many people doing cool stuff around town," Kreba said. "I also think the beauty of the mountains and how laid back the town is, how nice our clients are, I think that plays into doing your best work for sure."
Sierra Granger, an illustrative tattoo artist of seven years, started her career in Germany and eventually moved back to the U.S., traveling and occupying guest spots in different shops around the country. She eventually settled in Asheville where she continues to work at Zen Ink Tattoo.
"They really support you as an artist, probably because you have female leadership and recognize that you need time for yourself, it's very different from most tattoo shops," she said.
Unlike other shops, artists are allowed to set their own hours and work at their own pace along with building the right clientele, whereas other work environments can be very competitive, Granger said.
"Sometimes it's a little bit too much, but it's always interesting and you will always be surprised. People coming from such different perspectives, I think it's really cool, but it's always a lot of work," Granger said.
Katie Walbroehl, a 29-year-old tattoo artist at Divination Tattoo, said Asheville helps her art grow after coming from the small town of Galax, Virginia, where tattooing was scarce. Clientele in Asheville bring a variety of requests.
"I've been able to improve probably 10-fold since coming to Asheville; there's a lot more artistic requests here. In a small town, you get small town tattoos, but here everybody is so artistic, every person you come across has this new crazy idea, so I've been able to develop more of myself," Walbroehl said.
Kreba said she attends multiple conventions, her most recent being in Philadelphia, and appears as a guest tattoo artist in a number of shops. She said her experiences elsewhere are not always as pleasant as she would like.
"I've worked in a lot of unsavory environments before," she said. "People are really disrespectful; there's hazing, there's being treated shitty because you're a woman."
Negativity doesn't just occupy one shop, but exists in the tattoo community as a whole. Artists being stingy with their craft and unwilling to help other artists grow are just a few examples, Kreba said.
"There is still a lot of negativity in the industry," said Kreba. "I would change the old attitudes, there's so many of us that want to learn from each other and respect that we're all doing the same thing and we're all just trying to make great art and I think anybody who's not trying to do that needs to make room for the new generation."
According to Granger, in Germany discrimination was not as common as compared to the U.S., where many artists are traditional and old school artists. Depending on the shop, you will get a different atmosphere and different people wherever you go.  
"You can get drunk people, you can get very demanding people," Granger said. "I've been in some other places where it can get aggressive, where people just demand something from you."
According to Walbroehl, the tattoo community continues to grow every day. With more women in the industry than ever before, it is still viewed as largely male dominated.  When looking for apprenticeships she said it took her three years to finally get one.
"I asked multiple shops for an apprenticeship when I was younger, when I was first trying to start and I think that was a big part of it, being a girl. I think that's why I didn't get one for a long time, but it's definitely changing," Walbroehl said.
Kreba said there weren't a lot of women to look up to in tattooing, and the idea of her being a tattoo artist one day didn't seem like a reality, but her love for the art and skill of her mentor helped her achieve her goal.
"I feel like if you do good work people can't help but to respect the work," she said. "I've always prided myself on not being a great female tattooer, but just being a really good tattooer."
Now, styles like watercolor and fine line tattoo grow more common because of the increase in female clients Granger said.
The Asheville Tattoo Arts Convention will take place on April 26 from 2 p.m. to midnight, April 27 from 11 a.m. to midnight and April 28 from 11 a.m. to 8 p.m. at the U.S. Cellular Center.