"Dark Knight Rises" Producer visits UNC Asheville
by: Sheldon Schenck – Staff Writer – [email protected]
The executive producer of Batman Returns, Batman and Robin, Batman Begins, The Dark Knight and The Dark Knight Rises, Michael Uslan, lectured students on the importance of following your passions and dreams in order to turn them into great successes.
"What do you do when you've got a dream and you want your dreams to come true, but you don't know how to do it?" Uslan asked.

Audience members said they were incredibly moved by his lecture and all of the fascinating stories he told.
"I think he nailed it (the lecture)," said Tom Gearing, a non-degree seeking student. "It was really good."
Students said since he is such an accomplished and interesting person, they were curious as to whether or not he would be able to answer all of their questions about his life in just one lecture. They said they were pleased with how he incorporated his success story and the making of the movies together.
"I heard everything I wanted from him," said Hannah Rohed, an event coordinator for Underdog Productions, who helped put on the event. "He covered all the bases I was hoping he would."
Uslan described his love for Batman and comics in general. While in college, he was able to convince a panel of his professors and the dean to let him teach an entire course on comics.
"I can't believe I pulled it off," Uslan said.
Uslan wanted to draw attention to his course to up the popularity of comics and spread the word about his accomplishment. He said the story of a class on comic books being taught by a student was picked up by virtually every news station in the country.
"There wasn't one individual class I ever taught that wasn't filled with reporters and cameras," Uslan said.
DC Comics eventually got word of Uslan and what he was doing for the comic industry, and offered to pay him to work there over the summer, and then grant him leave during the semesters while he was in school. He said he was astonished by this because of how much he loved and respected DC Comics.
Uslan then described how by the end of his college career, he had already fulfilled his dream at such a young age.
"I think the point of his lecture was to talk about how you can accomplish anything if you really work hard at it, and I think that's really great," said Miranda Roper, a senior new media student. "But I also know that a lot of people came to this lecture to hear about Batman, and that's why I came, and I thought it was a really good balance of the two. So what I most took away from it was that you can have a dream and follow it through, and it can be silly or childish, and it can still be accomplished no matter what."
Uslan said once he had accomplished this at such a young age, he needed something else.
"This dream I've had since I was a kid has come true," Uslan said. "I don't have a dream anymore. I need a new dream."
This new dream of his would be to change the way his childhood hero was portrayed on TV.
"Batman came on TV. The whole world was laughing at Batman. He was a joke. It was killing me," Uslan said. "I made a vow, somehow, someday, I'm going to show the world the real Batman. And somehow, I am going to erase from the conscience of the world culture, 'pow,' 'zap' and 'wham!'"
Students who attended the lecture said they shared Uslan's love for the character Batman and are thankful for what he has done for his image.
"I grew up with Batman," Roper said. "I grew up wanting to be Batman. The character is obviously timeless."
Uslan said he tried to pitch ideas several ways to various producers about his vision for Batman. Failure after failure, he decided to approach his dream from another angle. He enrolled in law school so he could get his "in" in the industry from a legal standpoint and make his connections that way.
"Always have a plan B. And have a plan C. And have a plan D," Uslan said. "That's what you need to figure out that path that's going to take you to your dreams. Plan B worked. I got a job right out of law school for United Artist when it was a major motion picture studio."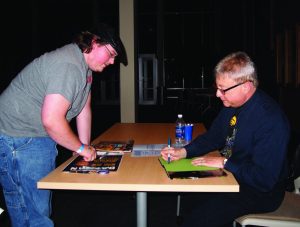 After three years, and once he was able to make connections in the industry, Uslan decided that he needed to quit in order to continue along the path to his dream. He then returned to DC comics and was able to negotiate for the rights to Batman.
"We bought the rights to Batman," Uslan said. "I put them in my back pocket, and I quit my job, and I went out to Hollywood."
Uslan said he thought every studio would be begging him to use his idea of making a Batman movie portraying him in a dark and serious way. Unfortunately for him, that was not the case.
"I was turned down by every single studio in Hollywood, and that's an understatement," Uslan said. "They told me it was the worst idea they've ever heard. They said you cannot make serious comic book movies. They said, 'Michael, you're out of your mind.' Every door slammed in my face."
Students found it inspiring that after hearing the word "no" time after time, Uslan was still able to hold himself together and keep on pushing.
"(It was inspiring) that he was able to handle the doors being slammed in his face and keep going," said Sarah Rothman, a senior new media student. 
Finally, 10 years after buying the rights to Batman, Uslan met up with Tim Burton, who liked his idea and was willing to work with him on it.
"I was hoping to be absolutely moved and inspired by the lecture. I was," Rohed said.
Uslan credited his motivation to the disbelief others had that he would succeed.
"Ten years after having everyone tell you you suck. Everyone telling you your work is lousy," Uslan said. "It tests your medal. It makes you look deep inside of you and think, 'Is the whole world right and I'm wrong? Or do I totally believe in me and do I totally believe in this?'"
Uslan and Burton worked on the first Batman movies, until Uslan met with director Christopher Nolan. Nolan and Uslan then began work on The Dark Knight, and then finished the more recent film, The Dark Knight Rises.
Uslan finally reached his dream of showing the world a Batman he always envisioned. He said the world is no longer laughing at his childhood hero, and that is his greatest accomplishment.
"(Your dream) doesn't have to be something glamorous. It just has to be something that you love to do," Uslan said. "You just have to find your passions and follow it. One thing that I did was I got my butt up off the couch and I took control. I didn't think I was entitled to anything."
Uslan was able to turn his one idea and dream into a great success. He urged the audience this is possible for anyone and anyone's dream, you just have to stick with it and never give up.
"We thought bringing the executive producer of Batman would be really exciting for students at UNCA," Rohed said. "Also, we heard how inspiring of a lecturer he was from his agent and wanted to hear what he had to say."
Students said they surely were moved by his lecture and driven to try to reach the same success for their own passions.
"How did this Batman series of movies happen? On my bloody knuckles. And it was worth it," Uslan said.