UNC Asheville music department hosts faculty showcase
Bonnie MacAlister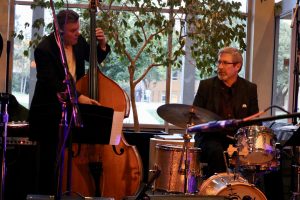 Arts &Features Writer
[email protected]
Bass trombone, antique banjo and Spanish guitar echoed from Lipinsky hall and captivated the ears of students and staff at the music department's faculty showcase on Tuesday.
 Students gathered  for an evening filled with music and vocals from the faculty of the music department. This biannual kick off to the semester gives the music department the chance to showcase their unique skills. The UNCA community gets a look at the mixtures of genres and instruments the music department explores.  
"I'm really proud of how eclectic it is. It really represents what we do as a department," Music Department Chair Brian Felix said.
According to Felix, the faculty showcase creates an opportunity for students to get a break from seeing their professors in front of the class. Instead, students get a glimpse of the faculty in action, playing the music that they really love and have fun with.Faculty rarely come together and play songs they love. 
 "It's something that has always kept me going my whole life," Felix said. "Music does something very few other things can do, I think it can touch people in a particular way."
 Felix said music goes down to the heart of what his life is all about: being with other people who share your passion for music and being in an environment where you're working together. At the showcase, Felix became more than the chair for the music department, he became part of the ensemble as the pianist during the songs "You Don't Know What Love Is" ,originally written by Gene de Paul and Don Raye, and "Riviera Paradise" written by Stevie Ray Vaughan.  
 Community members and students got a taste of some traditional music with one of UNCA's newest music faculty members Wayne Erbsen. Erbsen began his set briefly explaining the song "Grumbling Old Man, Grumbling Old Woman" before playing it for the audience on the fiddle. The song recounts an argument between a husband and wife from Canada through high notes representing the wife and low notes representing the husband. His other instrument included what he calls a "modern" banjo, which dates back to the late 19th century. Erbsen ended his set with the help of audience members singing along to the traditional song "Cotton-Eyed Joe". 
"Music is a way that I feel I can communicate, connect and feel part of a larger group," said Mathew Richmond, lecturer in the music department.
 During the showcase, Richmond showed his percussion skills through the ensembles. Richmond credits his inspiration from musician Paul Simon, 16 time Grammy award winner and "Top 100 Greatest Songwriters of all Time" according to Rolling Stone. Students in his ensemble classes will even learn some of Paul Simon's music. At UNCA, Richmond teaches classes from communication theory to jazz and contemporary ensembles. 
The night ended with one more performance by an ensemble group of faculty called "Special Guests and Friends." As they ended their last song "Walkin' on The Sun" by Greg Camp, mashed with "Walking On Sunshine" by Katrina and the Waves, the audience roared in applause while students were cheering for their professors. Part of those in the audience were alumni of the music department showing support for their past professors.
 "I've been to every single faculty showcase since I got here, and I've got to keep that up. They're the best concerts of the year," said Nick Cameron, alumnus of UNCA with a degree in music technology. 
Cameron, along with alumna Gabby Feinstein, come to the faculty showcase every semester in support of the music department and its faculty.
 Feinstein said she and Cameron are blown away every year with the talent and passion of the faculty.
 "You build a relationship with the professors over the years, they help you grow, and so it's really nice to nurture that and keep going and support them in their endeavors," Feinstein said. 
 For more upcoming events, visit the UNCA music departments website.