UNCA transfer students seek guidance and community
Parker Derry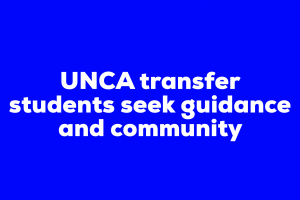 Contributor
[email protected]
According to the Spring 2019 UNC Asheville enrollment census, the enrollment of transfer students has decreased 6.1 percent over the last four years. The loss may be attributed to credit requirement confusion and difficulties in finding a sense of community among already established students.
"It seems like me and every other person who has transferred to UNCA have gotten lost in some kind of shuffle," said Carrie Emerson, a senior transfer student at UNCA. 
Emerson grew up in Conover and transferred to UNCA from the Oxford College of Emory University. Oxford College is a two-year, junior college located in Oxford, Georgia. The school is dedicated to preparing freshmen and sophomore students to transfer into Emory University in Atlanta, Georgia.
"I graduated highschool in 2014 and it is going to be 2020 by the time I graduate," she said. "It has been so confusing trying to figure out how I can stay on a fixed graduation time line at UNCA."
Gary Ettari has been an associate professor of English at UNCA for the past 15 years. Although he was not a transfer student himself, he has acted as an academic advisor for multiple transfer students. 
"The enrollment of transfer students has been a pretty steady trickle," he said. "Often from community colleges around the area."
Ettari said transferring from a community college could be tricky, though. 
"If you're not decided on a major you might not have as focused a plan as somebody who always knew they wanted to be an English major," he said. "You could just sort of ease into it maybe a bit more seamlessly than somebody coming in as a transfer student."
"I do think that transfer students need a bit more guidance," Ettari said. "The university works hard to make as many accommodations for students coming in as possible."
Lindsey Prather is the recently appointed Assistant Director of Transfer Admissions at UNCA. Prather is also a UNCA alumna who transferred to the college in 2007. She now dedicates her time to assisting current and prospective transfer students.
"I help connect them with other resources on campus to make their transition to our school as seamless as possible," she said. "I work with staff around the campus to uncover barriers that transfer students may face in transitioning to UNC Asheville, and to develop solutions to address those barriers."
Jonathan Carlson is a transfer student from Belmont College in Nashville, Tennessee. He shared a similar account to that of Emerson. He said he was still unsure how his credits from his previous liberal arts college have transferred. Carlson transferred to UNCA this semester and is beginning his third year of college.
"I want to finish as quickly as possible, get my degree and move on," the French major said. 
Carlson said UNCA had always been his second choice, and just like Emerson, he was drawn to the campus by cheaper in-state tuition costs and a desire to re-evaluate their educational paths. 
"I didn't know anyone before coming here, making friends has been easier here than my other college," Carlson said. "I've been trying to go with the flow and hang out with the people I meet in class. I have a little group now which is nice."
Emerson said her experience was a bit different.
"I had a really hard time making friends and fitting in to what I thought was a budding social scene," she said. "I didn't find my place until I got placed into a dorm with a couple of other people, and honestly if I hadn't lived on campus I wouldn't have made a single friend at UNCA."
The philosophy major said she found it difficult to relate to the traditional, four-year students during classes and school events. The campus community at her previous college had been extremely tight-knit because all of the students were required to live on campus. 
"You walk down the sidewalk at Oxford and you know every single person you're walking past," Emerson said. "So coming to UNCA was a huge shock."
"If you're not a part of that initial freshman group that goes through orientation together then it's really hard to find a place socially on campus," she said. 
For now, both students are focused on finishing college to continue their educational growth and begin their careers. Carlson said he has been working with the Study Abroad Office toward spending a semester in Germany. Emerson said she is focused on putting her head down and  doing her best work for her official final year of college.