UNCA Career Center offers a plethora of options for struggling students
Jensen Stephenson
Contributor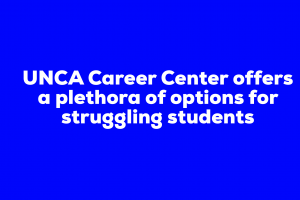 [email protected]
UNC Asheville creates outlets for students to explore career opportunities while choosing their major, officials say. 
Professor of economics Leah Mathews spends her time at UNCA guiding students to find something they are passionate about and can see a successful future. 
"When I made my undergraduate major choices, I was pragmatic. I started as a French major since I had enjoyed learning the language and wished to travel to France. But, as a first generation college student, I was keenly aware that it wasn't likely I would get a job with just a language major so I looked for a complementary major for my second major and landed on international affairs," Mathews said. 
 When entering the secondary education system, not knowing what one wants to do may seem scary, and often leaves students uncertain if they will find a major for their desired career, Mathews said. 
 Mathews received a B.A. in economics, French and international affairs from Marquette University and went on to receive her Ph.D. in agricultural and applied economics from the University of Minnesota. She now teaches economics at UNCA. 
UNCA offers opportunities for students to explore their careers while not feeling rushed, as well as gain some guidance along the way from the Career Center, said Career Center staff.  Director Lisa Mann said the Career Center serves as a tool for students to utilize as they feel necessary. 
"We want to meet each student where they are. When a student comes into the Career Center we won't jump into selecting a major. Instead, we'll take time to get to know you as a person with unique experiences and thoughts. From there, we'll work with you on uncovering the things that are important to you in a major; we'll draw largely from discussions and reflections on past experiences as well as future goals. We can provide resources for in-depth information and ways to explore, if you want your major to determine your future career. We want each student to feel confident in their next step," Mann said. 
Many students come into college assuming they know what they want to do, Mann said. Though  every student has more time than they think. 
"Students will decide their majors at different times. Some students come in knowing and stick with the same major throughout college. Other students spend more time exploring, or change their minds halfway through. While it is a commitment, a major does not necessarily determine your career, so it is OK to major in something and then do something a little different after graduation," Mann said. 
The Career Center offers a "Guide To Choosing A Major" which  helps students self assess before choosing a major. The Career Center's resource addresses student questions like "I have no idea what I want to major in, should I be worried?" " How can I choose a major if I haven't chosen a professional field?" and " How do I make an informed decision about majors?" This resource outlines different majors that students can look further into while considering their options. 
"We always encourage exploration through gaining experiences. It's a great idea to volunteer, join clubs and organizations on campus, to do internships, take a variety of courses and more. Each of these experiences will teach you something about yourself that will help determine your next steps," Mann said. 
Career Peer Maggie Haas  ,a third year student majoring in management and women, gender and sexuality studies ,said the Career Center is a place for students to find a bit of relief when beginning to feel the pressure of choosing a major. 
"I came into college having no idea what I wanted to do. I just knew what interested me. I'm personally a double major. I choose two things that really interested me, though I didn't really know how they were going to work together in the long run. The uncertainty of knowing how a career path was going to be formulated for me until I got to school was a little discerning," Haas said. 
Students at UNCA must declare a major by the time they have acquired 30 credit hours, according to university officials. 
According to UNCA Alumna and Pulitzer Prize winner and Wall Street writer Jeniffer Forsyth, students have become more career oriented. 
"People are much more cognisant that they need to have a career path in mind in the present day, rather then in my era I was caught up in studying for the sake of studying. I do think that there were things that I could have done when it came to looking for more opportunities to write while at UNCA. I was looking for something to marry my interest, and my writing ability. I do think that the university's efforts toward this was something that made me really think about what I wanted to do," Forsyth said.