Bonnie MacAlister
Arts & Features Writer
[email protected]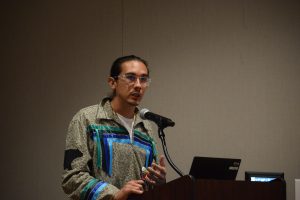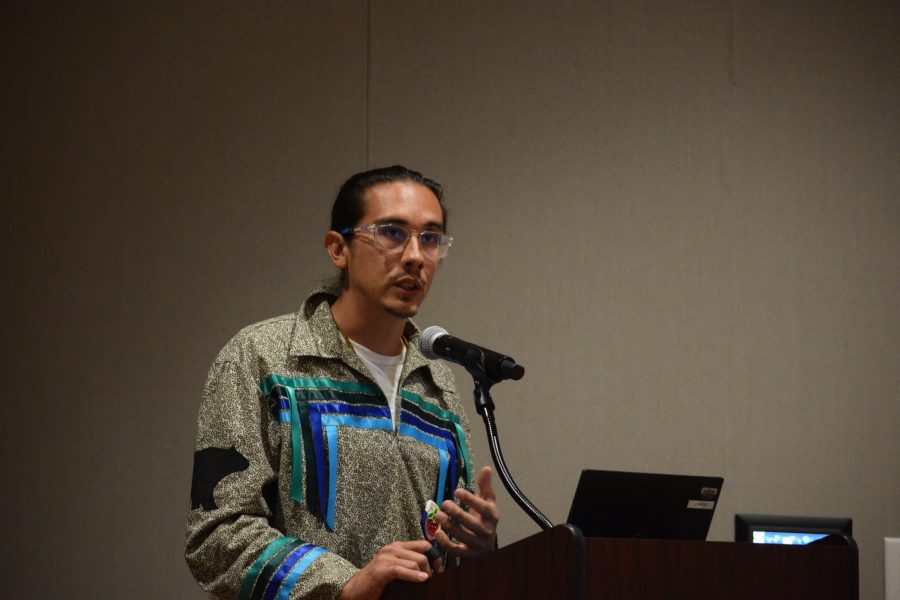 Bringing back our connections to mother earth may just be the key to help us remember what it means to be a human being.
MkoMosé gave the keynote speech at UNCA's Greenfest this Thursday at the Blue Ridge room in Highsmith Student Union. MkoMosé, Andrew Judge, gave his lecture entitled "A Meditation on Remembering What it Means to be a Human: Knowledge for a Changing Climate." 
Judge is an initiated Mayan day count keeper who also practices in traditional Indigenous approaches to growing food. He gives this lecture to show the audience a different understanding of the world around us, an understanding that includes remembering what we were taught by our ancestors.
 Judge was introduced by Assistant Professor of Spanish Juan Sánchez Martinez. Judge began his lecture by giving thanks to his Aishinaabeg ancestors and elders. He then gave thanks to the Cherokee land, its people, and to UNCA for hosting him.
 MkoMosé suggests that a key way for us to remember what it means to be human is to work together.
 "We will not get to where we need to be if we do not all work together," Judge said. "It is literally as simple as that."
 Judge credits the creation of the idea of singularity to colonization. This is where a person will only act for themselves, their family or their community. This concept according to Judge represses our ability to connect to those different from us. Being able to connect with others, as well as ourselves again, is one of many steps to becoming a human being.
Professor and Astronomer Brit Lundgren was in attendance for the MkoMosé lecture. Judge was a special guest in the class that Lundgren co-teaches with professor Sánchez titled "Indegenous perspectives on the sky." During the course students hear about how indegenous and ancient people read the sky and use it for time keeping, celestial navigation, and spiritual reason. 
As an Astronomer, Lundgren has heard the ideas from science popularizers about how we are all stardust. This idea that we are all connected to the same elements of stardust that make up our bodies ties to the thought of everyone being connected to the Great Spirit in Anishinaabeg culture. 
Lundgren says that if we think about how small and delicate the earth really is in comparison to the whole observable universe, then people would be more collaborative and protective of each other and the environment. 
"If you think about the absence of evidence for other intelligent life in our galaxy, then it gives us even more motivation to protect our environment here and to be more cohesive as people and go beyond the boundaries of race or nation or whatever and try to protect all of that," Lundgren said.
 UNCA student Martika Welch pursues an indigenous studies minor. She, along with partner Nick Thorne, attended the lecture in hopes of opening their eyes to different possibilities of understanding indigenous culture.  
 "At first I thought of just helping my own community of people because I'm from the Cherokee reservation," Welch said. "After what he said about gaining back the knowledge and sharing that, I understand why it's important."
 While it proves difficult to unlearn all of the things colonization has influenced, Judge mentions how it would change our lives. He challenged the audience during his lecture to stop and think what would happen if we shifted our mindset to think of ourselves as the manifestation of the Great Spirit coming to know itself. He visualizes this by saying it would take a person to empty their cup and fill it with the beauty that surrounds us.
 "All you see in the world is a reflection of yourself, so what if we all started to believe that we are the most beautiful beings in all of the universe," Judge said.
 Learning to remember our connections with the earth and to each other does not only mean having to work together, but to go out and work hard in general. Judge said in his lecture that what he has learned of indigenous knowledge is that nothing comes without working.
 "We've got to sweat. We've got to get our bodies back to realizing what they're capable of. Our bodies are capable of so much," Judge said.
 This again goes back to remembering the lessons from the ancestors. Judge takes these lessons from the ancestors into action outside of lectures through his indigenous foods garden, Minjimendan. The different steps to remembering what it means to be human are part of workshops offered to people in his own community. People come to gather at the garden to learn indigenous knowledge, develop a relationship with mother earth, or to participate in the ceremonies Judge leads.
 This is an important way Judge shares his knowledge of indigenous practices. The Minjimendan is the opportunity for students and community members to step outside the lecture and learn more in depth about Indigenous land-based sustainability practices. In turn, those participants are getting the chance to connect with mother earth once again.
 "If we don't have people to share this knowledge, then we lose part of what it means to be human," Thorne said.
 The lecture ended with a visualization guided meditation. Judge encouraged the audience to close their eyes and plant their feet to the ground. He asked them to plant roots from their feet deep into the ground beneath them, while drawing energy up from the ground and into their body. Allowing the energy to flow through key points in the body, until finally releasing it back into the earth.