Bonnie MacAlister
Arts & Features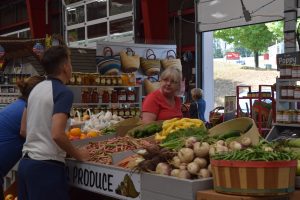 [email protected]
Asheville residents can grow with their community by putting their money where their heart is and support local farmers markets.
 Asheville is known for encouraging the community to shop local wherever they can. This gives no exception to the local farmers, fermenters, bakers and others who chose to showcase their goods at farmers markets. With at least two markets open to the public on any given day, community members have ample resources to give back to these lesser known small businesses.
 The River Arts District farmers market cultivates just one of those opportunities for members of the Asheville community to come and support each other. This market is open on Wednesdays from 3 p.m. to 6 p.m. at 175 Clingman Ave. While RAD farmers market does feature floral venders and body care, they remain heavily food focused.
 Jessica Dodson, market manager and executive director says that while there are great restaurants in the River Arts District, it is a food desert due to lack of grocery available to members of the community.
 "We all have the same mission: we want to celebrate food and feed the community," Dodson said.
 RAD farmers market includes 8 farmers who come out every week to sell their produce. In addition to fresh produce, people can roam around and explore different local venders selling various baked goods, dairy products, jams, honey, ferments and more. Live music from local artists are also featured.
 "There are people who come and meet friends here, it's great they get to walk around here and relax for the day," Dodson said.
 One of the newest venders at the RAD farmers market is Darë vegan cheese. Gwendolyn Dare Hageman is new to this business, but still sees the importance markets like these have on the community.
 "I think it's important to give back to the people who live in your community that start things small and hope to grow," Hageman said. "When you go to ingles, they already have plenty of money so it would be good to give it to someone who has big dreams and ideas so they have the chance to grow."
 At RAD farmers market and others in Asheville, credit cards are accepted as well as SNAP benefits allowing anyone the chance to support local farmers.
 Those who wish to shop local beyond the hours of these smaller farmers markets can get the same feeling of community at the reginal WNC farmers market. This market is open daily from 8 a.m. to 6 p.m. Retail buildings and open-air truck sheds provide customers with local, fresh produce, mountain crafts, fresh baked breads and plenty more. Across the road at Jesse Israel & Sons Garden and Nursery Center offers plants, trees and a full greenhouse for customers to purchase tropical and water plants.
 The WNC farmers market is one of four regional markets owned by the state of North Carolina and is operated by the Department of Agriculture and Consumer Services.
 Vanessa Cavazos of Cavazos Produce and her family have been part of this community at the WNC farmers market since 1994.
 "We work with a lot of local farmers to get all of these local, beautiful produce," Cavazos said.
 Cavazos says that they get their produce in every other day so it's always fresh. In season now are mainly apples and muscadine grapes, as well as sweet potatoes and pumpkin. They get their produce from small farms so that not a lot of pesticides are used in contrast with the bigger farms stores like Ingles.
 "It's locally grown; how could you go wrong with that," Cavazos said.
 One of the main reasons vendors give to encourage community members to shop at farmers markets is the good you're giving back into your community. By spending your money at a farmers market, you are giving directly to the farmers who grew the produce and not to a corporation.
 "When you keep your money local, you're actually helping you neighbors kids get new shoes. It's more of a family community setting than corporate," Dodson said.
 Dodson encourages anyone to come visit their local farmers market, and to not be afraid to ask questions or to check out the markets website for information.