Nora Donovan
News Writer
[email protected]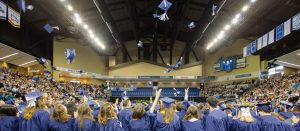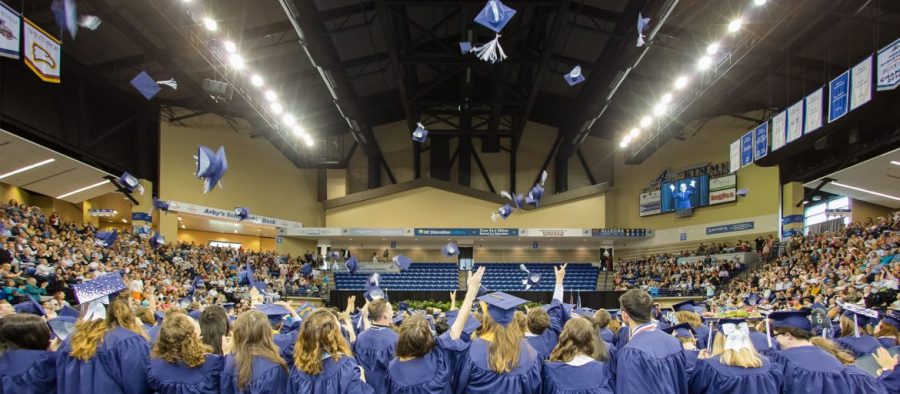 The results are in: UNC Asheville's student body has a lot more eligible bachelor…degrees.
The number of graduates from UNCA has been on a steady increase since 2009, with only one year that faced a minor decrease in total graduates, according to the UNCA Office of Institutional Research, Effectiveness and Planning Graduate Profile.
"Student retention and graduation rates are key indicators every university strives to improve, and UNC Asheville is no different," said Sarah Broberg, special assistant to the chancellor for communication and marketing. 
Broberg credits the university's mission-driven approach centered around student success, teaching, research and service as one of the key aspects of keeping students.
"UNC Asheville faculty and staff engage with students daily to provide them with a high quality public liberal arts and sciences education and experience that enables them to lead productive and fully engaged lives," Broberg said.
While the IREP office has yet to release the 2019-20 graduate profile, Broberg remains optimistic that the trend will stay on the rise.
"It's difficult to determine this early in the academic year," Broberg said. "December commencement typically celebrates approximately 200 graduates, however the number of May graduates varies from year to year."
This year marks ten years of steady growth in graduation rates. The only disparities in growth were reported from 2015 to 2016, with eight less graduating students than the previous year.
"It was kind of UNCA or bust for me ever since freshman year of high school when I decided what I wanted to do," said Ellie Ritch, a 19-year-old freshman, mass communication student at UNCA. 
Ritch is a transfer student from Asheville-Buncombe Technical Community College's early college program. This program allows high school students to earn a high school diploma and associate's degree in five years. AB Tech also provides associates degrees for students post high school and serves as a stepping stone to prepare students for UNCA.
"This or UNC Greensboro were the only ones that offered the mass communication degree that I really wanted. I didn't want to go to Greensboro because it's kind of dangerous and it's kind of hot."
UNCA's location has been another point of contingency for retaining students.
"I have lived in Asheville for a few years and I didn't want to move and I was looking for a school that had an engineering degree," said Jake Morley, a 22-year-old freshman transfer from AB Tech. "Instead of going to North Carolina State or anything like that, it would just be easier. I wouldn't have to move, pack up or do anything else. It was easier to stay here, so it was easier to go to school here."
UNCA's proximity to Asheville and its local businesses helps keep students afloat while pursuing their degree.
Katherine Owens, a 24-year-old junior, estimates it will take her a year and half to graduate.
"I work full time," Owens said. "It will take a little longer."
Aside from location, convenience and the mission driven approach, students have other reasons for remaining enrolled.
"I really like the diversity, I like the class sizes, all my professors have been really helpful," Owens said.
Parking, on the other hand, has not been a driving force in Owens' decision to graduate from here.
The university's parking situation, on the other hand, has not been a driving force in Owen's decision to graduate from here.
"As far as I know, everybody intends on graduating from here that I have met," Owens said.
Other notable trends in UNCA's graduate data shows that since 2009, the majority of graduates have been female. Psychology remains the major with the most students. Students that study abroad remain between 14 to 19 percent.
"A very high percentage of our students, 93 percent in a recent graduating class, participate in at least one high-impact learning practice during their time on campus. More than 50 percent participate in two or more such learning opportunities before graduation," Broberg said.
According to Broberg, more than 60 percent of UNCA students participate in an undergraduate research or creative project during their time at UNC Asheville. 
Nearby higher learning institutions are also experiencing an increase in graduating student rates.
Western Carolina University, located in Cullowhee, had graduation rates that began at 36.67 percent for fall 2009 students. They have now increased to 42.80 percent for students that began in fall 2015, according to their Office of Institutional Planning and Effectiveness. WCU was unable to be reached for a comment.
"Our city, region, nation and world could benefit from an even greater number of UNCA graduates as the leaders and thinkers who enrich our communities through regional impact and global influence," Broberg said.