Trancestors Event Educates Students on Trans History and Activists
London Newton
News Writer
[email protected]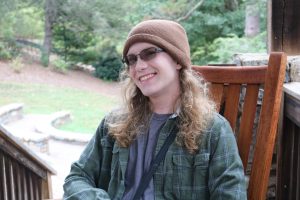 UNC Asheville students learned that behind every great movement there is more than likely a trans woman of color pushing it forward. The Trans Student Union put on "Trancestors" in the Grotto last week, a video and visual mini museum of important people in trans history that paved the way for LGBTQ+ people everywhere. 
This event was largely focused on trans women of color because they're underrepresented, Yen Doan said, who was part of planning the event.  
"Learning that trans people have existed for many years. It's not just a white, non-binary, white trans-masculine type of thing. We prioritized trans people of color because they're the most vulnerable," TSU member Yen Doan said. 
This year alone, according to the Human Rights Campaign, 17 out of the 19 reported cases of trans deaths were black trans women. 
"This is important because trans people face microaggressions every day, whether it be being mis-gendered or something transphobic," Doan said. 
The Youtube channel "We've Been Around" was featured in the museum to teach people about the activists. 
"'We've Been Around' is a series of documentary shorts that chronicle the lives of Lucy Hicks Anderson, STAR, Albert, Little Axe, Lou Sullivan and CAMP TRANS. Each trans trailblazers in their own right, and each with stories that have, until recently, gone largely unnoticed by mainstream society," it says on their Youtube channel about page.
The event featured well known activists like Marsha P. Johnson as well as lesser known activists like Lucy Hicks Anderson.
"It's really important to shine a light on trans communities, especially since trans women of color, specifically black trans women, have pushed the movement for queer people and they're often overlooked because they're trans and they're black or people of color," Doan said. 
Marsha P. Johnson was present at the 1969 Stonewall Inn riots, an event that inspired many other riots and pushes for equality for LGBTQ+ people. 
Johnson, along with Sylvia Rivera, a Latina trans woman, founded Street Transvestite Action Revolutionaries, an activist organization for LGBTQ+ people, according to the video shown at the event.
Lucy Hicks Anderson is a trans woman who managed to finesse the system and marry a man, which was illegal at the time. In her lifetime, according to the "We've Been Around" channel, she was a socialite, known not for her transgender status, but her amazing cooking skills, moonshine during the prohibition era, and sex work management.
After passing as a cis woman for 59 years, she was exposed as a trans woman and her marriage was challenged by the courts, saying since she was not a cis woman her marriage was null and void. This would make her claiming of her husband's G.I. Bill benefits a fraud. 
She bravely told the court that her lived experience as a woman was more valid than her anatomy.
"I defy any doctor in the world to prove that I am not a woman. I have lived, dressed, and acted just what I am, a woman," she was quoted to say. 
Seeing representation is important to trans student, Zach Lambert, who recently started coming out to the people around her. 
"I was so thankful that I found Laura Jane Grace, who's a punk musician and I'm a musician and I was like, 'Oh my God, a trans woman can be a musician and still play aggressive music'," she said. 
Lambert said that she felt UNCA is the safest place to explore her identity. 
"UNC Asheville specifically, other than maybe San Francisco, is one of the safest places in the world for someone to explore their gender identity or their sexuality or really anything about themselves and be okay with questioning and not be instantly and harshly judged or persecuted for doing that and for being themselves," she said.
Lambert said she's had mostly good reactions since coming out. 
"I came here and I've been trying to slowly be authentic about my myself and I've received nothing but neutral and positive support. And neutral is good in my book because as long as you're not going to be shitty about it, I'm totally cool with that," she said. 
Resources for trans students on campus can be found at Hyannis House, TSU meetings that are for trans, non-binary, nonconforming and questioning students, as well as the Health and Counseling Center.
"The existence of Trans Student Union is to make transgender, non-binary, nonconforming, gender variant people and differing gender identities feel safe and have a space on campus because everyone should be like comfortable existing," Doan said.
TSU is housed in Hyannis house on campus, across from Owen Hall. 
"The Hyannis house is the designated safe space at UNCA for queer folks, women and those affected by sexual violence," Doan said.