Out-dated campus pool closes for the rest of the semester
Roman Uglehus
Sports Writer
[email protected]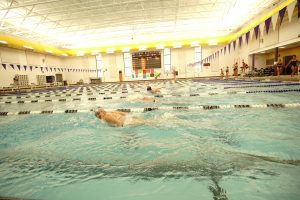 On Oct. 1 UNC Asheville representatives sent out an email informing the campus of the Justice Center Pool's continued closure until next semester.
The email stated that there were possible electrical issues found during an inspection, which determined the pool's closure. Also, since the pool's construction in 1970, only one major renovation took place.
Many members of the campus community rely on the Justice Center Pool for a variety of activities, including free swim, lap swim, intramural sports, fitness classes, swim lessons and dive-in movies. According to Jill Moffitt, the associate vice chancellor for student affairs, the Spring semester saw 600 users frequent the Justice Center Pool. 
As the pool closure continues, UNCA Campus Recreation does not plan to hold any of their activities that they normally provide for students and other campus members outside of campus. 
"While this is a possibility we will consider if the pool is closed beyond our expectation, we have no plans to do so at this time. However, if students have a good idea that we can help support, we are absolutely open to those conversations," said Moffitt.
On Oct. 8 another campus wide email was sent regarding the pool from the Director of Campus Recreation Wendy Motch-Ellis. In the email, Motch-Ellis provided the campus community with options for off campus swimming options along with special rates and discounts for members of the campus community. The options provided include spaces at the Asheville Jewish Community Center, YWCA and the Downtown Asheville YMCA.
"We had an existing relationship with both the YMCA and Odyssey School so that helped tremendously. The work done by Wendy Motch-Ellis to secure these options was by no means easy, but as you can see her efforts paid off as I think she was able to provide alternatives to our community that spoke to a varied group of users. This was no small effort on her part," said Moffitt.
According to Moffitt, the work done by Motch-Ellis continues even after securing off campus pool locations for campus members.
"Wendy has made sure to stay in constant communication with community partners that we have relationships with and or are building relationships with on a weekly basis. She has worked tirelessly and these efforts show in her ability to provide the level of alternative options that she was able to provide. I have no doubt that her relationships with these community partners will help us expand our offerings to the campus community if ever needed in the future. These partnerships also allows us to continue the growth of programming and service once the pool is back in use since it gives us a good cohort of professionals to learn and grow from and with in the Asheville Area," said Moffitt.
Most notably, the campus pool's closure affects UNC Asheville's swimming and diving team. 
"We have faced some difficulties not having access to a pool on campus, which has been a big challenge. We have found places to swim, like throughout Asheville, and we're doing our best to keep a positive attitude and make sure that no matter what pool we're at we still have a pool and that we're giving it our all there," said Adee Weller, senior co captain of UNCA's women's swimming team. 
Adee Weller, along with the swim team's three other seniors, will have to spend their last season at UNC Asheville without competing or practicing in the University's home pool.
The Swimming and Diving team started their season on Sept. 21 as they hosted an intrasquad meet, which is an annual pre-season event where the team scrimmages against one another to prepare for the start of the season. However, due to UNCA's campus pool closure, the team hosted their intrasquad meet off campus at the Buncombe County Aquatic Center. 
The Buncombe County Aquatic Center, a 12 mile and 25 minute drive from campus, is a brand-new addition to the county, having opened earlier this year. 
"It's an entire new facility," said Elizabeth Lykins, the head coach of UNCA's Swimming and Diving team. "It is the home pool for the county and city high schools in Buncombe County, so it belongs to every high school in the county."
Weller said she experienced the complex before the team's intrasquad meet.
"This is a new place to practice and it's a pretty good pool. I was a summer league coach this summer and we had a couple of our meets and a couple of our practices at that pool and it was really exciting for the kids who usually practice in not quite so great pools to go to this big pool that had blocks and backstroke flags, all these exciting new amenities," said Weller.
Except for the intrasquad meet, all other meets so far this season for UNCA's Swim and Dive team took place away at other schools. During this time, the team practiced and continue to practice at a range of locations, all of which include: The Country Club of Asheville, Asheville Jewish Community Center, Asheville School and Downtown Asheville YMCA.
The Swimming and Diving team will continue to practice and host meets off campus for the rest of the season.