UNCA's new club will feed your head
Nora Donovan 
News Writer
[email protected]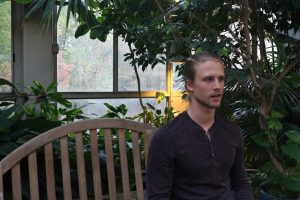 Students will soon be able to have a safe environment for exploring the world of psychedelics.
With the help of UNC Asheville's Office of Student Activities, Zach Brubaker and Allison Gurliacci have founded UNCA's first Psychedelic Club. 
"We are trying to spread awareness and information about entheogens and psychedelic substances for harm reduction purposes," Gurliacci said. 
 An entheogen, according to the New Oxford American Dictionary, is  a chemical substance typically of plant origin that is ingested to produce a non ordinary state of consciousness for religious or spiritual purposes.
"I just think it's a fascinating topic that goes into so many different areas as far as culture and music and medicinal use and the use in psychotherapy," Gurliacci said.
While this club will be the first of its kind on campus, psychedelic clubs serve a larger community outside of UNCA. 
"The Psychedelic Club is actually a certified 501(c)(3) nonprofit," Brubaker said.  
The original psychedelic club was founded at the University of Colorado in Boulder in 2014, according to the Multidisciplinary Association for Psychedelic Studies. MAPS estimates around 16 other student organization branches exist throughout the country.
"We do not condone nor condemn drug use," said co-President of the CU Boulder chapter Lizzy Sommer, 18, when asked about common misconceptions the club faces. "Some people in the club have never done psychedelics and just come to meetings because of the great community and to learn more even if they never intend to use them."
Jacob Roberts, 20, serves as the other co-president for the CU Boulder chapter.
"The first question people always ask me about the club is if we just get together and do mushrooms in a dark room every Tuesday evening," Roberts said. "We've built a community where people have complete freedom to talk about things like psychedelic experiences, spirituality and how we can be better people in our day to day lives, and there truly is no other group of people like it."
Changing the stigma and politics surrounding psychedelics is a big part of the club's agenda, according to Sommer. 
"Currently, on the side, I have been involved with founding the Decriminalize Boulder campaign in which we are trying to push the Denver initiative to Boulder and decriminalize mushrooms here as well," Sommer said.
Denver, Colorado exists as the first city to remove criminal penalties for people age 21 and older that use or possess psilocybin, also known as magic mushrooms, according to a U.S. News report. A month later, Oakland, California passed the same ballot at a June 4 City Council Meeting.
"Just the other day Chicago decriminalized psychedelics," Gurliacci said.
According to Illinois Policy, the Chicago City Council unanimously passed a resolution on Oct. 16 expressing support for advancing the conversation around organically psychoactive plants.
"I actually originally came in to CU Boulder as a neuroscience major to study how psychedelics can be used to treat mental illnesses," Roberts said. "Though I changed my major, I still want to be involved however I can because I truly believe psychedelics will revolutionize the way we look at mental health and cognition."
According to Brubaker and Gurliacci, they've faced zero pushback from UNCA in becoming a legitimate club.
"It has just been a standard initiating of a student organization," Brubaker said. "They recognized it was a unique topic but there were no hurdles I had to jump through."
An official meeting time and place for the club has yet to be announced as they are still waiting to hear from Highsmith Student Union and Student Organization, said Brubaker. They have, however, announced their first trip-and no, it's not the kind you are thinking.
"We have planned a field trip for Wednesday. The Asheville Fine Arts Theater downtown is screening Fantastic Fungi, a Paul Stamets documentary," Gurliacci said.
The club has other activities planned aside from field trips.
"Activities we're considering include making psychedelic art, watching films, documentaries, enjoying psychedelic playlists and hosting discussions," Brubaker said.
Interested participants can also expect speakers from diverse backgrounds.
"We would like to host guest speakers from Harmonia, MAPS, the American Psychedelic Association, indigenous tribes, SeekHealing and other relevant organizations and experts," Brubaker said.
SeekHealing's mission statement describes themselves as Asheville's first community treatment program. They focus on healing addiction through human connection, according to their website. Harmonia, based in Asheville, also promotes the healing powers of human connectionby providing on-site professional support teams and task forces that promote health and safety.
"As a disclaimer, we want to make it clear that we do not endorse illegal consumption, possession, or sale of illicit substances as a club. Our club meetings follow all of UNCA's code of conduct guidelines," Brubaker said. "We also welcome participation from professors."
Students interested in joining the psychedelic club should stay tuned to the club's facebook page: Psychedelic Club of UNC Asheville (https://www.facebook.com/UNCAPsychedelicClub/ ). Everyone is welcome to attend.