OLLI stem lectures finish science denial series for semester
Leslie Rodriguez
News Writer
[email protected]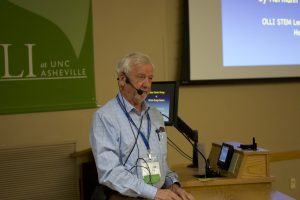 Inside the large conference room, UNC Asheville students sit scattered across the room in order to listen to the "Climate Change vs. Climate Deniers" lecture. As the lecture comes to a close, the room becomes open for discussion and question.  two participants begin to argue, disagreeing on the gas corporation, Exxon's, recognition of support for a carbon tax. Although the mood of the room shifts with this disagreement, it shows what could happen and what can be learned when discussing controversial themes. 
"We don't call them students we call them participants, because in many cases they know as much, or more, on a particular subject than we do and so we want that interaction and it's wonderful," Herman Gucinski, lecturer for "Climate vs. Climate Deniers" said. 
In the final lecture of OLLI's "Science vs. Science Denial" series for the semester, Herman Gucinski and Howard Jaslow hope to teach as well as learn on a variety of science topics. 
"We like to think they learn something from this, we like to think that they better their lives. I like to think that we learn something from them also," Howard Jaslow said. 
The Osher Lifelong Learning Institute of UNCA, located in the Reuter Center, is a program for UNCA's older students to engage and learn on campus. Since 2011, OLLI has hosted a list of lectures following contemporary themes. Each year OLLI hosts seven to 10 lectures that try to follow a theme for the year with lecturers from on and off campus, said Howard Jaslow, organizer of the "Science vs. Science Denial" series.
Gucisnki, a retired scientist, hosted the lecture to wrap up the series for the fall semester. In his lecture, he discussed the facts and history behind climate change, while challenging the perspective of doubt on these changes to the environment and why. Gucinski said it is even more important to have a conversation on this topic now than it would have been years ago. 
"That makes us want to speak, bring it out into the open, and I hope we've done that," Gucinski said. 
Eliana Franklin is a member of Active Students for a Healthy Environment, a grassroots action club that hosts events and activities to raise awareness and make an impact on environmental issues.  
"We need to prevent harm from happening both to humans and to the environment," Franklin, a sophomore at UNCA said.  
Jaslow said through these lectures he has been able to meet with more professors and students from UNCA that he might not have been able to meet before. He hopes there will be an even bigger outreach to a younger audience in future lectures so students and teachers can learn disciplines that can be important to them later on. 
"We love the influx of another generation to provide additional dialogues and these lectures,since they're open, allow that much more so than the classes do and we're glad to see that happening," Gucinski said. 
As OLLI begins to discuss the theme for next school year's series, Jaslow said they are open to ideas for future lectures and enjoy an opportunity to learn new information as well as see positive response from those that attend the lectures. 
"This gives us a chance to learn because we commit to something, and now we have to do the research," Jaslow laughed. 
"Climate Change vs. Climate Deniers" is the fourth of seven lectures of this series. The final three will be hosted later in the spring semester, said Jaslow. These lectures will discuss topics such as evolution and vaccinations and will be open for all UNCA students to attend, agree or disagree with. 
"I think you just need to know how they can take action, how they can, like for me what's really important to me," Franklin said.