Resident assistants care about the students they serve
Adam Wan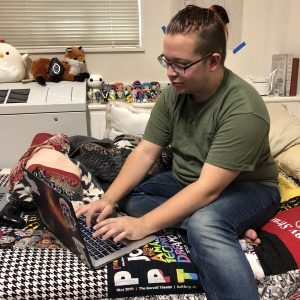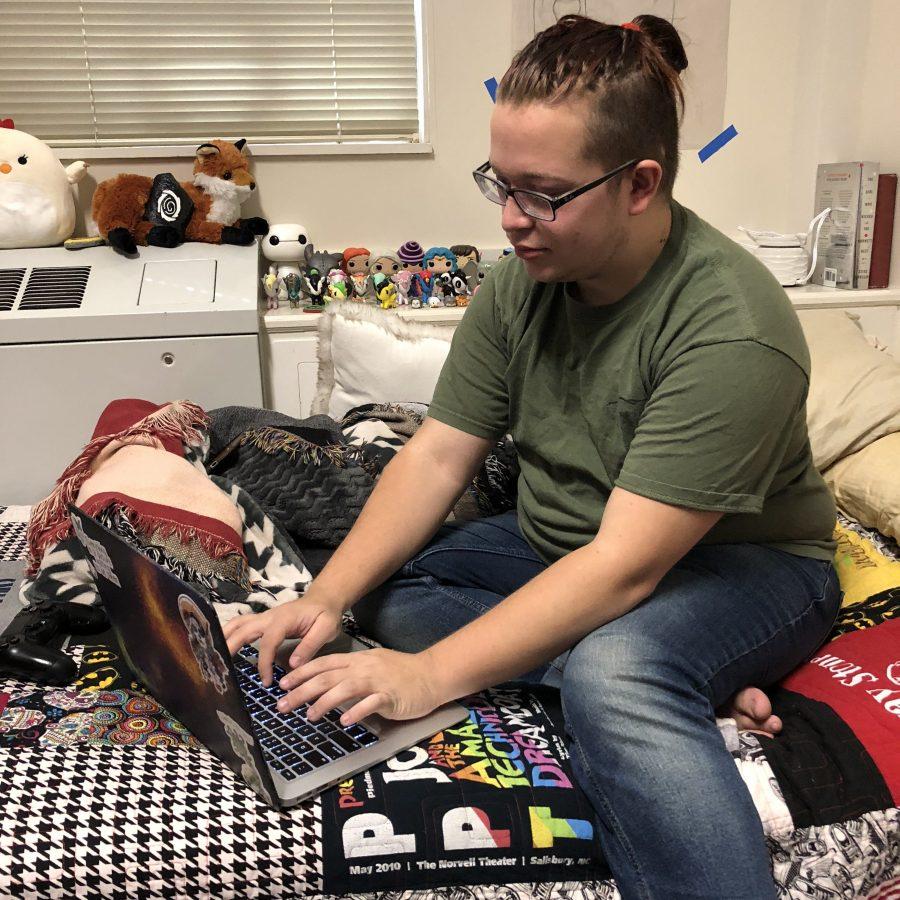 Contributor
[email protected]
He hears banging at 1 a.m., the sound resonates from outside his door on the first floor. Though exhausted, he gets up and opens his door to greet another student who asks for advice on how to deal with an alcohol related citation.
The student offers advice and works to resolve the issue and then heads back to his room. This defines the life of a resident assistant.
"Honestly I wouldn't recommend this job to just anyone, you have to be a specific type of person, there's a lot of work that goes into this and it's a 24 hour job," said Wyatt Bryant, an RA in Founders Hall and a student at UNC Asheville.
Residential education staff say being an RA means taking on a leadership role where you have the power to make a difference and improve the lives of others around you. Because 37 percent of students live in the residence halls according to UNCA officials, the safety and peace of mind of students determine if they'll stay on campus and based on the living experience provided, an RA can be a determining factor there. 
If RAs can make that special connection, residents are more likely to stay on campus or become RAs themselves, according to RAs. Part of the job requires incident reports, and the 102 calls this year from residence halls makes up 34% of all on-campus incident reports, according to UNCA officials. 
"I had a really good experience with my RA my first year here, and I wanted to pay that forward. Once I started, I just got sucked in because I fell in love with the job," Bryant said.
There's a lot of personal growth in this job and you really do learn a lot about yourself, said the Salisbury native. 
"This is my second year being an RA and I'm learning that especially with people who haven't been on the job as long as me, there's a steep learning curve, it's like a tight mountain turn, it's a really quick adjustment to how you live," Bryant said.
Most people don't grasp how much RAs have to deal with, he said. 
"I think the hardest thing to do as an RA would be balancing all the work I have to do, not just schoolwork, but also RA paperwork and proposals, " Bryant said. 
With being an RA, a lot more responsibility falls on you, as opposed to being a regular student, because not only do you have to look out for your own success, but the success of everyone else you live with too, which adds a lot of stress, he said. 
"I have almost no free time, it's a 24-7 job, so even if I'm not on call and there's a fire alarm, I still have to do my job and make sure people are safe. Or if a resident knocks on my door at 1 a.m., I have a responsibility to talk to them and take care of that situation right then and there," Bryant said.  
Resident assistants are mandated reporters, even when they're off phone duty or desk duty and after they've checked halls for the night if they have to do rounds, they must always report incidents and send information upwards to their bosses. 
"There was a time where I had to deal with a public intoxication and no one was aggressive or anything, but being a shorter person with four or five drunk men being really loud and disruptive in the middle of Governor's Village, when I worked there, made me really uncomfortable. I felt that for my safety it was best to call campus police to handle it," Bryant said.
Residents tend to be nice, but when residents disrespect or dislike you, another problem arises, he said.
 "Having to deal with disrespectful residents really irritates me, it makes me feel that the hard work that we do for them is unappreciated. In the past, I've dealt with residents that wouldn't give me the time of day, that wouldn't talk to me and there were some that would go out of their way to destroy fliers and bulletin boards I put up," Bryant said. 
In general people not paying attention to their word choice or what the impact of their statement might be leads to potential offense, he said.     
"I feel that being apart of the LGBTQ+ community also helps me with the job, because people come to college and experience different identity issues and I can relate that to my own struggles of figuring out my sexual orientation," Bryant said. 
The goals of being an RA should be being passionate about helping others and making sure the residents they're supervising are having the best experience possible while they're here at UNCA, said Dylan Lawing, area director for Founder's Hall and The Woods.
"The central functions of my job are to supervise the running of the areas, supervise the head resident assistants, the resident assistants, the programming assistants and the residents and to make sure the residents aren't stressed about things they shouldn't be," said the 27 year-old.
Lawing said he supervises 13 RAs, 2 PAs and one HRA. who serve in Founders Hall and 6 RAs, 1 PA and one HRA who work in The Woods. 
"I love my job. It's the relationship building in this position. It is a position where you get to have specific relationships with students that not many other offices have, we see students in their natural habitat, going to and from class and hanging out with friends at the dorms, and not many other offices get to see that," said the Lincolnton native.
People should become RAs if they want to take their experience on campus to the next level, if they want to be a leader, if they want to make a change and if they want to be a part of something larger than themselves, he said. 
"Being an RA, you live your job, there is no going to class and then coming back and then being a normal student, because you live where you work. It's considered a lifestyle, there is no clock in and you're always in that mindset, there's no cutoff time for that," Lawing said. 
The process of becoming an RA starts with an application, then the application goes through initial review, the individual interview panel process comes next, followed by a group process in which team scenarios play out to see how applicants handle problems RAs deal with and then potential RAs receive an email with a response that shows they've been chosen or a thank you for applying letter, and the last step is the reveal party, he said. 
 "Each floor needs a specific type of RA and each in building you need a specific staff, because there's going to be some RAs who can connect with specific students through similarities found in both of them. Not every single RA is suited to cover every single incident or talk to every single resident. It takes the whole staff to work well, everyone pulls their weight in their own special way," Lawing said.
The hardest part of the job for most RAs involves confronting uncomfortable situations, whether it be a medical concern or a student who has a mental health issue, or a roommate conflict, the confrontation is what most have a problem handling and the types of confrontations you deal with on the job you may never encounter unless you become an RA, he said. 
RAs receive some perks including getting paid, a single room, a housing discount and besides these physical perks, you're joining something a lot of people want to be a part of, you're joining a family, Lawing said.
"I knew I wanted to be an RA before I had even got to college, I knew that it was an opportunity to mentor those I live around and that it's a good leadership opportunity," said Jennifer Olvera, an RA in The Woods and a student who's studying sociology and art.
Being an RA gives me the resources and training to help people effectively on campus, said the 21-year-old. 
"I've been fortunate enough not to have what people would consider problem residents, and if there ever was a problem, all parties involved were able to deescalate the situation and were responsible," the Charlotte native said.  
There are a lot of perspectives that only RAs get to hear, she said. 
"I became really close friends with one of my residents in my first year of being an RA and even after I wasn't her current RA, I was still able to serve as a mentor for her. It was really important for both of us that I was a woman of color and that we had that connection. It's a 'someone that looks like me' type of situation and that connection goes both ways," Olvera said.  
RAs who hold the position of being an RA and an affinity group leader allow promotion of their affinity group and other affinity groups.
"Some friends I have that are familiar with the role of an RA also recognize that I am a  mandatory reporter for the university, so I have a feeling that on occasion, I don't get the full story of events that happen, so that they won't put me in a compromising situation where I have to report something," Olvera said.
Usually around midterms and finals is when sitting down and really planning different events with school, RA duties and personal time happens, she said. 
"The levels of stress that this job brings makes you improve your time management skills to mitigate the stress," said Devin Cutchens, head R.A. in Founders Hall. 
After two years on the job, Cutchens said the teaching aspect of the job continues to bring him enjoyment.
"I act as a mentor to other RAs, where the RA job is specifically helping and putting on programs for the residents, I have more of the paperwork side of making sure things are feasible and will work as intended," said Cutchens.
Typical interactions with RAs involves making sure things in the building are running properly, although I wish I had more time to interact with them on a personal level instead of just making sure they're just doing their job, he said.
"My favorite interaction I've had is with an RA who was a little standoffish and once I intentionally had a conversation about them and their life, things changed and now they actively seek to talk to me about updates in their life," Cutchens said. 
Being a head RA or an RA gives a person a greater sense of responsibility on this campus because people look to us as an authority figure, he said. 
"I've felt emotional about incidents of mental health issues, but part of this job is being there for those situations to make them better, and you must accept that these things happen in life," Cutchens said.