Rylie Daniel
Arts & Features Writer  
[email protected]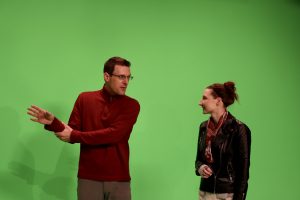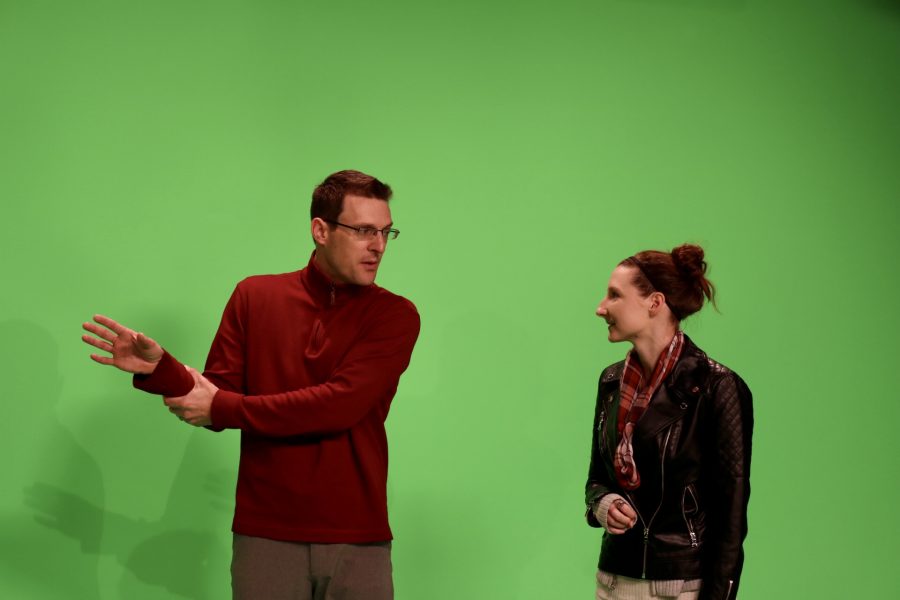 Broadcast media expands as interest grows among students across the country, local Chief Meteorologist Jason Boyer said.
Boyer said UNC Asheville needs to continue the broadcasting meteorology class in order to be competitive with other universities' atmospheric science programs.
"I think it is a field that many of the atmospheric science students are interested in, or might be interested in at some point, so I think it's a good litmus test, if you will, for them to take the course, see if they are cut out for that or they think they could be," he said.
Boyer teaches a broadcast meteorology class at UNCA with a lecture portion on Mondays and lab portion on Fridays. He said the lab provides a space for his students to practice what they have been learning with the use of a greenscreen.
"The more reps you get in, the more familiar you're going to feel with your shows and the more confidence you're going to build. That's key," Boyer said. "Having the confidence to feel like you can connect with the viewers but also get through the information and the story you want to tell."
He said the lab uses simplified versions of the forecasting technology used at the WLOS news station. 
"It's more PowerPoint-driven and simplified here in the lab. The computers that we use are very expensive. What we have at our hands and fingertips through PowerPoint is an ability to show templates, make templates, simplified weather graphics, words, seven day forecast, daily planners, things like that," he said.
The class teaches main ideas essential to broadcast meteorology, the meteorologist of 20 years said. 
"The lectures involve lecturing about the topics of how to start in broadcast meteorology," Boyer said. 
Social media acts as a new facet of the field allowing meteorologists to connect with their viewers on another level, according to Boyer. 
"You want to use those platforms to keep your viewers and followers up-to-date on certain things that are happening, weather events, factoids on weather, interesting weather information, things like that," Boyer said. "You let people into your life a little more. You show off maybe your pets or your interests."
Geography plays a huge role in broadcast meteorology and the students need to learn how to navigate the complexity of the topic, he said.
"You got to know where you're talking. You got to know where mountain chains are, you know, cities," he said. "That is just the tip of the iceberg, knowing where the Appalachians are. There's so much geography involved." 
Boyer said the class also delves into how the science of forecasting becomes simplified for broadcasting. 
"You're going to go into your job at some point and have to tell a weather story every day. You have to take complex subject matter; jet streams, air mass, how things interact from the atmospheric side and make it presentable to an audience," Boyer said. "You have to keep it conversational, yet informative and use your expertise all in one package."
Boyer said the key to broadcast meteorology and television lies in keeping the audience engaged.
Boyer applies his 20 years of experience to his teaching, giving his students a lense into what the job consists of.
"He's a professional, so it helps. He gives you all the little pointers and he gives you information about job opportunities and what they're looking for and how you have to present yourself, so it's definitely very beneficial to have him here," senior Jacob Evans said. 
UNCA alumna Ingrid Allstaedt works as a meteorologist at local news station WLOS.
"I'm the morning and noon meteorologist, so I create my own forecast and then present them live on television," she said. 
Allstaedt began her career at the station around 10 years ago as a news anchor with her mass communication degree from UNCA and since transitioned to weather as a meteorologist. 
"The opportunity presented itself because I always thought I wanted to be a news anchor, but someone one day said you should try weather and I did and I had been filling in doing weather for years and it was just so much fun," she said. "Some days I would be like, 'I wish I could fill in today doing weather,' and then you think, 'Well, maybe this is what I should be doing full time." 
Allstaedt encourages everyone to try new things and find a job that brings joy.
"Whatever you decide to do, enjoy it. Find joy in it and then you will do well at it. If you don't like it or love it, then you probably won't be doing a good job and you probably won't do that for very long," Allstaedt said.