UNCA students network at NextFest career fair
Evey King             
News Writer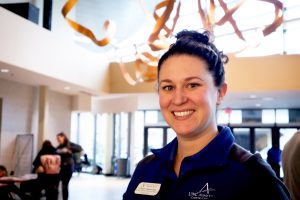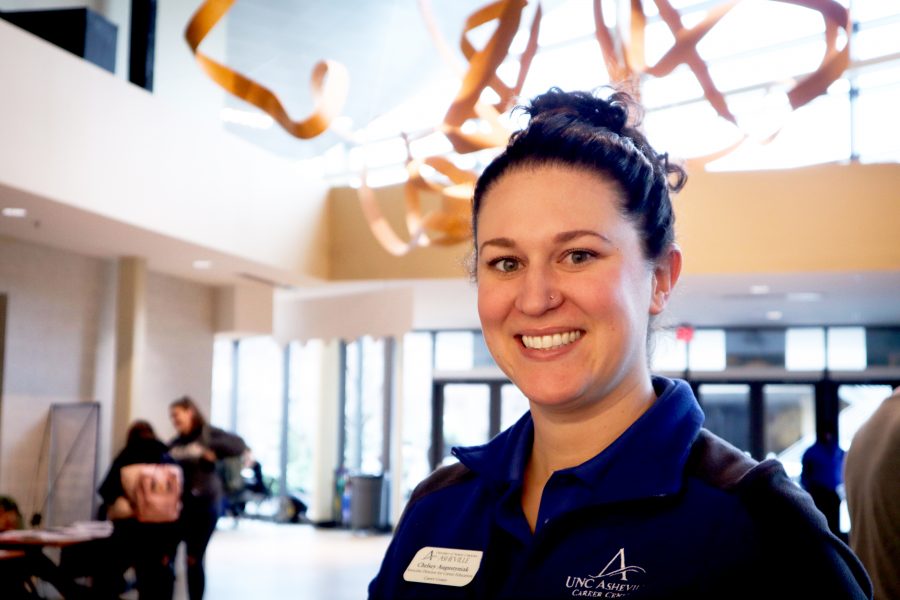 [email protected]
More than 114 employers from across the area attended NextFest, the UNC Asheville career fair, located at the Sherrill Center and hosted by the university's Career Center in February.
 "We have over a hundred employers here who are recruiting students for part-time jobs, seasonal opportunities, internships, and full-time careers," said Chelsey Augustyniak, the associate director for career education. "We try to get all of our students to come from various majors. We're trying to get a lot of representation of employers from a variety of industries so we hope that we have people here for everyone."
Augustyniak said they always encourage students to come out and see who is there, even if they aren't ready to look at a full-time job yet. This allows them to practice networking, chatting with employers and promoting themselves for job opportunities. There was also a suit contest sponsored by Dillard's and Jos. A. Bank.
Graduate schools such as Duke University, NC State, UNC Greensboro, East Tennessee State University, University of South Carolina, Western Carolina University, Campbell University, Lenoir-Rhyne University and Montreat College had tables for UNCA students interested in continuing their education after earning their undergraduate degree.
Local organizations including Buncombe County Schools were looking for college students interested in substitute teaching or becoming part-time instructional assistants. Other tables looking for students to make an impact on others were those such as the Autism Society of North Carolina.
"UNCA has actually helped us in the past hire for staff. We have actually hired quite a bit. We are easy to work with students that have a psychology or sociology degree," said Melissa Mulcahey, the HR regional staff specialist for Autism Society of North Carolina. "I hire individuals to work with people on the spectrum."
Mulcahey said the students she talked to have been interested in their organization and think they will be good candidates. She emphasized the Autism Society hires people from all different majors because people on the spectrum have many different interests.
Those interested in business and the medical industry could look into places such as FlexCare Medical Staffing. Though it was their first time at the UNCA career fair, they looked to connect with students interested in getting into a career in recruiting. According to Lindsay Carter, senior corporate recruiter for FlexCare Medical Staffing, students who study and have skills in general business, psychology and communications majors transfer well into their company.
Among the prospective students at the fair was Carrie Bergstedt, a computer science student at UNCA.
"There's a lot of places that need IT positions. A few more that are outright looking for software developers," Bergstedt said. "I'm looking for computer programming, IT jobs. I've actually found a good amount of it already."
Bergstedt said  having the career fair on-campus is beneficial as they are a full-time student and it is quite convenient for them. They don't really have the time to look for jobs online.
"As a last semester senior, I need to find things to apply for. So this is good for helping connect me to people who have job openings and would like them to be filled," Bergstedt said.
Corbyn Baggett, a senior health and wellness promotion student was also on the prowl for new opportunities after earning her undergraduate degree at UNCA.
"I have seen people coming in and out looking happy so I think the turnout is good," Baggett said. "I'm looking at grad school right now that primarily focuses on physical therapy, sports medicine or athletics."
Baggett noted the many organizations and companies have all types of free swag with them.
"Waffle House is giving away free waffles with any purchase and free hashbrowns," Baggett said.