Sun Soo martial arts school embraces community and introspective improvement
Alena Talbot
Sports Writer 
[email protected]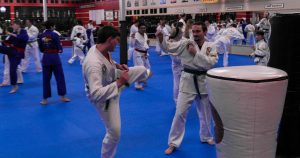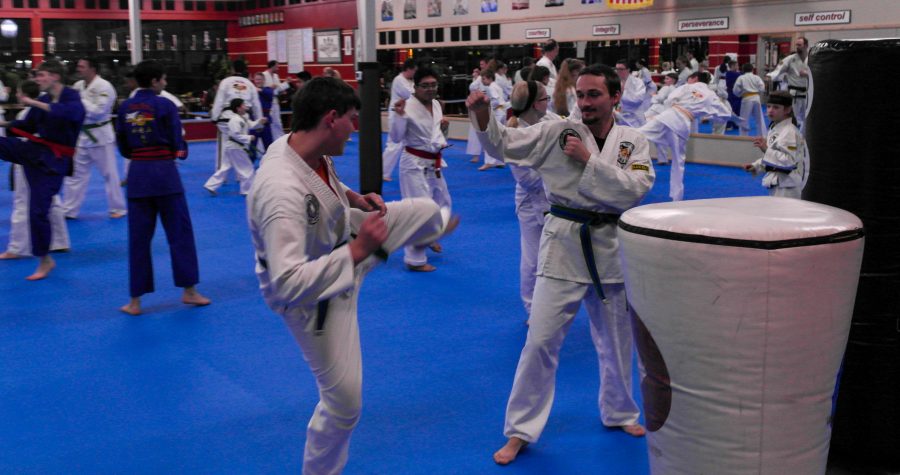 The Sun Soo studio gained regional recognition for its philosophical approach on self-improvement, according to the founder and Grandmaster Instructor Tony Morris.
"My vision for this was to have a place that was really a self-development center. If we're going to be accurate about it, this is like a human being laboratory. We're using a traditional martial arts practice as the primary toolbox in order to facilitate all that development," Morris said.
The school has been operating in the Asheville area for 13 years and has 700 current practitioners.
"We facilitate an actual practice here and we run this school with respect for our students. If you're a practitioner here, we help you reconnect again and again this practice to your life so that this practice is fundamental to your life," Morris said.
The school teaches primarily taekwondo and some jiu-jitsu classes and has six full-time instructors.
"Human development is a really beautiful and fulfilling experience. In order to have that happen in a really full way, people need to experience themselves being valued and appreciated,"  Morris said.
Sun Soo has an exceptionally large adult population, according to Sarah Broberg, a practitioner at the school and the special assistant to the chancellor for marketing and communications at UNC Asheville.
Roughly half of the participants at Sun Soo are adults, according to Broberg.
"Of the adults, 50 percent are women which is fairly anomalous among many martial arts dojangs. I would attribute that to the type of environment and community that Grandmaster Tony Morris and other really phenomenal instructors and support staff have created there for us," Broberg said.
The school is accessible for people of all ages and abilities, according to Chris Bell, a practitioner and an associate professor of economics at UNCA.
"We have one person who is legally blind, we have people as old as 80, and then we have kids who are three or four who practice," Bell said.
Sun Soo intentionally incorporates a diverse teaching base into the school, according to Morris.
"I've realized that diversity is really important for people to actually develop their true potential. Those things are helped a lot by people having exposure to and relationship with a wide variety of other types of people. The broad spectrum of exposure and engagement gives people a well rounded perspective of themselves," Morris said.
Morris first started taekwondo when he was 10 years old because he was being bullied. When his family could not afford to pay for his lessons, Morris' friend's family offered to pay instead.
"It was my first experience in a human being just altruistically giving to another human being without any strings attached. I couldn't have even told you what this guy looked like," Morris said.
"About a year into that practice, I finally had a particular bully situation that was super scary and this kid had been terrorizing a lot of people. I ended up standing up for myself and used my taekwondo to make him stop. My guess is that he didn't bother anybody after that," Morris said.
Morris continued taekwondo since then and went on to play several sports despite not being particularly athletic before that point.
"That was a turning point for me. In the mechanical, physical sense, I'd made this dangerous scenario stop and it was also metaphorically really powerful. Bullying takes lots of different forms. We have a tendency to think about it in just classic physical terms, but people get bullied emotionally, socially," Morris said. 
Goal setting plays a large role in people being able to reach their potential, according to Morris.
"A lot of what we do is setting goals and achieving goals. There's a lot of things like that, school is like that with goal setting. I'm not sure that most people talk about that. It's more on the surface at the dojang," Bell said.
The school focuses on building a strong sense of community, according to Morris.
"Grandmaster Morris wanted to build a community and he did. He encourages it in pretty much every class, switching partners, introducing yourself and telling them something about yourself constantly. It's very conscious," Bell said.
Bell obtained his first-degree black belt after nine years of training.
"I looked at a few martial arts dojangs before I settled on Sun Soo. It just seemed like a really good fit for me. Regardless of the style, it was more about the environment and community and philosophy behind it that really drew me," Broberg said.
Broberg spent her high school years around taekwondo communities and began practicing five years ago. She now holds a first-degree black belt.
Taekwondo can be a great physical workout as well as a mental one, according to Broberg.
"We're required to know our entire curriculum at all times. It's not as if you move on to the next rank and forget about what you've learned previously. You are required to remember the entire curriculum at all times," Broberg said.
Broberg said practicing taekwondo can be frustrating at times because of all the material that each practitioner must memorize.
"But that's part of the joy, being able to work through all of that and know that it's a practice. The aim here is not necessarily perfection. The aim is to become a better version of yourself than you were before, no matter what it looks like for you," Broberg said.