UNCA tricyclists compete in the big wheel race on quad
Evey King             
News Writer 
[email protected]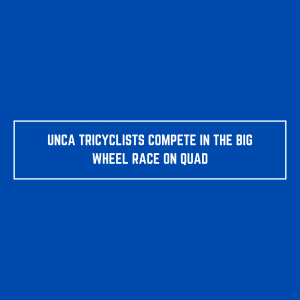 UNC Asheville students from many different organizations on campus competed in the big wheel race for homecoming last month. 
Orlando Nieves-Lugo, a member of Sigma Nu and the winning team, said he knew the win was theirs.
"We're competing against AZD, mostly Alpha Sigma Phi. I think they believe they can dethrone us but that won't happen," Nieves-Lugo said before the race. "I mean we will win again. It would look really embarrassing if I put this on the record and we don't."
Sigma Nu came in first place with a finishing time of eight minutes and 36 seconds. The runner up in second place was Alpha Sigma Phi at 10 minutes and seven seconds. In third place was residential education at 10 minutes and 57 seconds. 
This win was the fifth time in a row Sigma Nu has won the big wheel race.
"It's usually the energy we bring in. We just come into the mindset that we've won four years in a row so we will win another one," Nieves-Lugo said.
Two other students, Shelby Kustak and James Crace, both represented Residential Education as RAs in the race. 
"It was harder for him because he had to push the big wheel. It's not a lot of work for the person riding the big wheel," said Kustak, a rider in the race.
This was the first homecoming event Crace attended, who noted the race was not as easy as it seemed.
"I'm not used to running that long," Crace said. "We're just here to have fun honestly."
Kustak thought one of the fraternities was probably going to win as they were very ahead of them. Both of the two enjoyed homecoming.
"It seemed like a lot of fun so I went for it," Crace said.
Royalty was present at the race. Be Owusu, a member of homecoming royalty, sponsored by the Career Center, was there to enjoy the event and cheer on her peers.
"We just came out to support the people who are running. There are two of our guys from homecoming court who are actually in the race," Owusu said. "Honestly, I'm having a really great time. I got to campaign, make a bunch of cupcakes and give them out. I got  to see a lot of fellow students. I really love the students here. Getting to hang out with them has been a good time. It's been a good week."
Besides the winning fraternity, there was  also a sorority celebrating their tricyclists. Julie Stephens, a member of Alpha Xi Delta, was there to show her support for her sorority sisters in the race.
"It's really entertaining," Stephens said. "It is very, very exciting. I don't care if we win or not, this is fun."
Stephens didn't think there was a good chance her sorority would win.
"Not too good to be honest. But I think they're having fun, which is what's most important. We're not doing good at all actually," Stephens laughed. "Alpha Sig is looking pretty promising right now. They have good stamina. They're really coming in. I think they're going to come in first place."
The big wheel event was hosted by Ryan Sidney, head resident assistant for the Ridges, representing residential education. 
"We are kind of in charge of facilitating the big wheel race, and we normally are. It's kind of a res-ed thing. We just made sure we could coordinate the teams, coordinate sign-ups and get them to come out and push their tricycle around the quad at 11:30 in the morning," Sidney said.
Sidney was successful in this endeavor. The quad was lively with loud music and cheering from students as tricyclists raced for their goal of a homecoming win.