Is college worth facing adversity: campus community says not necessarily
Trent Price
Contributor
[email protected]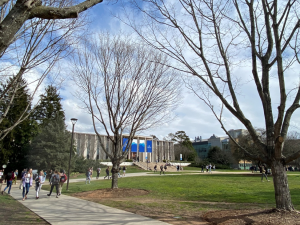 University staff offer helpful resources on campus for students struggling with homesickness, depression and student debt, but according to some students, it's still not enough.
 "I worry about our students who work 30-40 hours a week because they are sacrificing something," said Jackie McHargue, dean of students at UNC Asheville. "When school ends, you've got that diploma but what brought you joy? What did you get excited about? I want students to have experiences they can talk about and not just say 'I worked all the way through school.' They work too hard to get here for that to be their memory."
As tuition continues to rise, student loan debt rises with it, and UNCA is not untouched by these issues. 
"Oh, it's an extremely large problem. It's something I worry about often, but now I have just kind of come to terms with it," said Shiasia Beasly of Burlington, an education student at UNCA.
Beasly said even though UNCA students may not feel as much pressure as students at other schools, the pressure still lingers. 
"Debt's still a big thing, you have scholarships and things, but let's be real, sometimes you can kind of drop those, and no one wants to be in debt in general," Beasly said.
McHargue said students at UNCA stay mindful of student loan debt, often cramming all their schoolwork into the five-day week and working around-the-clock jobs from Friday to Monday.
"Our students are exceptionally conscious because they think about debt all the time. This is one of the first environments I've been in where students make conscious efforts to not take other aid so they don't have to pay it back," McHargue said. 
Students say even with efforts to keep debt low, it still amounts to thousands of dollars.
"Student debt is prevalent, but among my peers it's manageable. Most of my circle and I have taken on some debt, but we've mostly kept it in the $2,000 to $5,000 range. However, this is after I've made many efforts to preserve myself financially, including 2 years at community college, multiple jobs at that time. I now just work part time, moving off campus and the privilege of in-state tuition," said Geddi Monroe, a senior in the fine arts program at UNCA.
Monroe said he also receives some federal aid in the form of the Pell Grant, some modest scholarships and transfer student funds.
"Comparatively with the rest of the U.S.'s tuition rates, UNC Asheville is particularly low. However, when one considers the amount of advantages and aid that I have, it is absurd to think that in a country like this, at a public university, I've taken on any amount of debt, and my peers would probably say the same of themselves," Monroe said. 

According to university officials, more than 68 percent of students receive financial aid at UNCA, and in the last few years, around 50 percent of students had student loans. 
"I talk about student debt in one of my classes and I have students that tell me that they talk about student debt all the time with their friends. But, as for how it is contributing to their mental health, I can only guess it probably makes them feel pretty anxious," said Megan Underhill, an assistant professor in the sociology and anthropology department at UNCA.
UNCA students often work extra jobs to help make up the difference between tuition or expenses and financial aid.
"You've met our students, right? A lot of them spread themselves too thin and they do it frequently," McHargue said. 
University students typically travel long distances to go to school, which leads to problems such as homesickness. 
"I think you've got students that their entire identity and support system and sense of place is at home. So, I think that can cause a different kind of homesickness. For the first time in your life, you might be away from everything that's familiar," McHargue said. "Memory is everything. It's sound, it's smell, it's texture, nobody hugs you like a certain member of your family, and you miss that. I think for some students this place can be so new that they can really be homesick and not really for a singular person at home, but the context of home. Because, when you first get here, this is not your home yet."
McHargue said the smaller class sizes at UNCA allow faculty and staff to be more involved and connected with students.
 "I think a sense of belonging is what everybody needs, and you are trying to make that happen here after you've had anywhere from four to 12 years of relationships," McHargue said. "A lot of our students, they like being home with their family, so the adjustment can be harder."
Mental health has become an increasingly important issue on college campuses across the country.
"The students at UNCA are supportive of each other on mental health mostly. The departments and instructors are hit or miss on this issue, and the resources for health and counseling have had mixed reviews among my peers, but I personally think they're fantastic if not understaffed or underfunded," Monroe said.

Monroe also pointed out that UNCA is in a very progressive town and the art, psychology and sociology programs are popular, which could make people here more socially conscious of the issue of mental health.
"I would say it's not infrequent that I have students telling me that they are experiencing in particular, anxiety and depression, and when I reflect on my own undergraduate experiences, I would say that was common and I understand that college is stressful especially for students who are working as well as going to school full-time. I often find that's the case with students at this university," Underhill said. 
UNCA officials note mental health issues in UNCA students often, but McHargue explains some of the ways to combat this.
"All of our residence halls have resident assistants who are trained on how to help and support students. A lot of times students just want to be heard and know they're valued and that this is part of their new home. We have community directors and area directors on the halls, and they're able to provide that support on a higher level," McHargue said. "We also have a case manager that helps students connect with campus resources when they need a little bit more intensive outreach or intentional outreach."
McHargue said the university Health and Counseling Center and Campus Recreation help students who are dealing with depression or homesickness.
"It's getting over that first hump," McHargue said. "Once you make that step, you can exhale."
McHargue also mentioned a phenomenon among UNCA students involving faith communities even though UNCA was recently ranked highly among the least religious schools in the country.
"The other place more students are getting involved is in faith communities. They're identifying a sense of home with some kind of faith or belief community, and being able to nestle themselves with familiarity, not the people necessarily, but the process, the theology, whatever that entity serves, that's the continuity they desire until they connect with others here." McHargue said.
Considering all these adverse issues, students, faculty and staff say college is worth facing them depending on your circumstances.
"I think the question of whether college is 'worth it' with these factors in mind is very individual," Monroe said "I still think college has been worth it for me and can be worth it for many. The students I've met have made it worthwhile and a bachelor's in anything can help you get ahead in some jobs. But it's not for everyone. If they can, I think people should disregard the cultural pressure to get an education and focus on what will benefit them personally. That's easier said than done though." 

Underhill also said the decision is an individual one. 

"If college is really stressing you out and negatively impacting your sense of self, then that is a question you have to ask yourself. You should look out for yourself and take care of yourself. College is not the only way to be successful in life. There are a lot of people who do not go to college and are very successful and are happy people," Underhill said.
McHargue also said technical, early or community college options are important and they are valuable resources.
"When I touch a light switch and it doesn't work, the most important person in my life at that moment is an electrician. So, why would we not value all the time and learning it took that electrician to learn that skill?" McHargue said.
McHargue said two and four-year institutions should be more collaborative with elementary, middle and high schools to find kids' true interests.
"If that is the thing that allows you to put food on your table, if that brings you joy, and makes you feel contributory, then we should value that as much as a lawyer and a doctor. But, I think somehow we have moved away from the idea that it is equally valuable," McHargue said.
Underhill also said student loan debt affects people nationally and forces them to grapple with issues like lower rates of homeownership. Underhill said the average student walks out of college with over $30,000 in student debt.
"I think it would be really cool if there were some student forums on campus, where students, maybe in conjunction with faculty members, helped organize something where we could bring more attention and focus on this issue here and brainstorm about it. Asking questions like what does this mean or what should professors be aware of when they're designing courses for students who are working full time? So, I think we should have more of a conversation about student loan debt at UNCA," Underhill said.
Editor's note: This article was updated 3/27/19 to include more student perspective.