Keep it together while we're apart: Tips and tricks for online academic success and mental wellbeing
Elizabeth Ritch
News Writer
[email protected]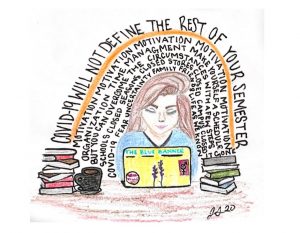 As concerns over the spread of novel Coronavirus push students out of the classroom and into remote instruction, experts provide tips and tricks for online academic success and mental wellbeing.
"I'll start by saying these are freakin' weird times, so it's completely normal to have unexpected reactions to these freakin' weird times," said Elizabeth McCorvey, a counselor at the UNCA Health and Counseling Center.
UNCA announced all students would transition to online classes earlier this month in order to slow the pandemic outbreak of novel coronavirus. This announcement came after Interim President of the UNC System Bill Roper announced all UNC System schools would go to a system of alternate course delivery for the remainder of the spring semester. According to a university email, officials request all students and nonessential staff remain in their homes to help with social distancing.
According to McCorvey, behaviors that are typically considered red flags for mental health are to be expected in these unprecedented times. She said things to look out for are extremely excessive sleeping, an overall lack of enthusiasm toward fun activities and contemplating self-harm or suicide. She also said the monotony of staying at home will cause some apathy and it isn't necessarily a huge red flag to feel that way during isolation.
"Humans are typically social creatures, so having to stay away from one another is a real challenge for some. It's hard to stay upbeat and have a positive outlook when you aren't able to access the people or activities that are sources of pleasure and comfort. Being isolated and lonely can cause some people to feel out of balance, depressed, frustrated, upset and worthless," she said.
McCorvey and the Academic Success Center both recommend getting a hobby and staying active. McCorvey suggested gardening and watching Tiger King on Netflix.
"Follow the CDC guidelines as they evolve and practice social distancing. In terms of your daily routine, get some sun if you can each day – even if that means just sitting in your yard and watching the world go by," said Senior Director of Advising and Academic Success Brad Petitfils.
Evelyn Chiang, an associate professor of psychology at UNCA, recommended taking breaks from COVID-19 news to avoid feeling overwhelmed.
"Be kind and gentle to yourself, take time for self-care, understand that adjusting to the social distancing is a process," Chiang said.
The Academic Success center recommended students pursue mindful activities like meditation, yoga and coloring in their online learning student guide.
Petitfils said he thinks the biggest challenge for students will be staying organized and motivated.
"You should use some of the same strategies for online learning as you would if we were still on campus. Be mindful of due dates, keep lists of what needs to be done and reach out for help if you are confused about anything," he said.
In their recently published student guide to online learning, the success center advises students to make a detailed study schedule. Ensuring new due dates and keeping up with lecture schedules are keys to success in online classes.
Patrick Alvey, a 19-year-old student finishing his last year at AB-Tech, said students need to be independent to succeed.
"If you're not thinking about it on your own, and if you're not really applying yourself in the field that you're going into— if you can't do it on your own then you're not going to succeed. I think it's a good way to test yourself," he said.
After making the shift to online classes, Alvey said he had to change his study skills to keep up with his workload.
"Sometimes in class, they'll say something out loud and I'm like 'Oh, I don't really need that information.' Now, I really have to buckle down and create more visual representations to look at because my teachers can only provide so many visualizations for me to see. In order for me to fully comprehend that, I have to draw things out myself," the student said.
Petitfils said the Academic Success Center urges students to take advantage of peer tutoring and writing consultations online. Information on their tutoring services is available at https://writingcenter.unca.edu/peer-tutoring-supplemental-instruction/.
UNCA officials closed the Student Recreation Center, ended intramural sports and halted all other in-person fitness programs until further notice due to the spread of COVID-19. The university encourages students to pursue fitness at home with respect to CDC recommendations and local mandates.
Senior at UNCA and head personal trainer with the Built Like a Bulldog program, Jeff Jones said he encourages students to work out at home by going for walks and performing simple exercises, claiming one's body can be their own gym.
"You don't need a gym to stay physically fit. People are incredibly fit with minimal to no equipment. My second thing would be there is a nearly infinite amount of resources online," Jones said.
Jones said if students don't have access to a home gym, he challenges them to do 100 air squats. Additionally, he said people without workout equipment should try running, lunges, push-ups and pull-ups.
Staying motivated challenges students right now, according to the Success Center. Jones said he recommends people write out their goals and get inspiration from social media to stay motivated to exercise.
"Establishing a routine where it's not an option, you just wake up and do it, and you start thinking of yourself like 'I'm Jeff and I work out.' Make that part of your identity. You don't want to think of it as a separate thing," Jones said. "It has been the number one thing for me."
During this difficult time of self-isolation, surrounded by troubling news and separated from other people, UNCA faculty, mental health professionals and students emphasized taking care of one's mental health.
"Don't be afraid to talk to a professional if it feels like too much. The UNCA Health and Counseling Center is still open! We are still doing intakes and meeting with new students virtually, some of us via video and some of us via telephone. And there's not a waiting list at all. Seriously. Call us. We're dying to therapy people. It's super slow right now. Any student can reach out to the counseling center anytime," McCorvey said.
McCorvey said students can call the Health and Counseling Center at (828-251-6520) or email her directly at [email protected].