Alena Talbot
Sports Writer 
[email protected]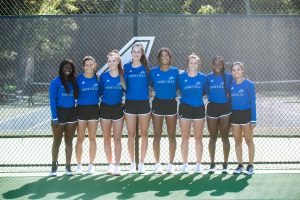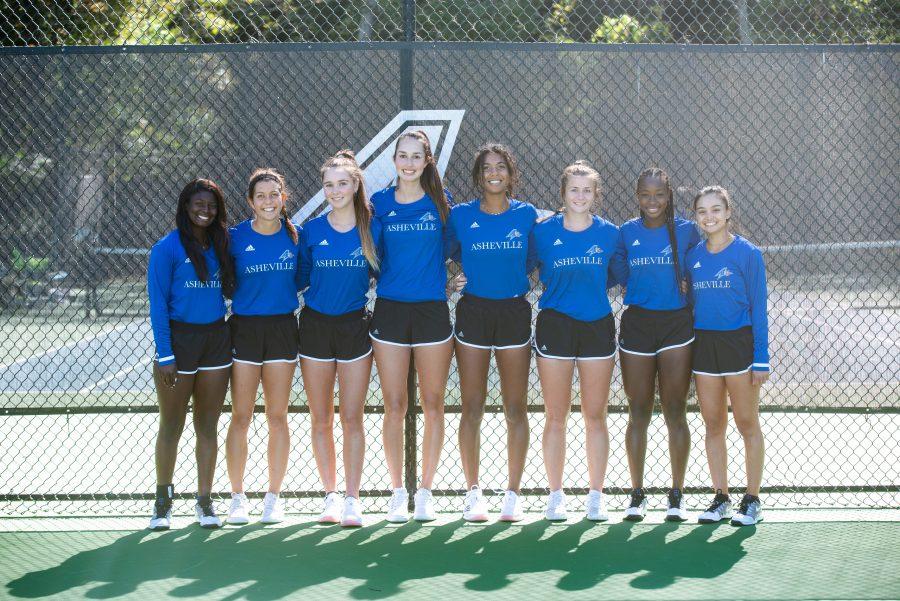 The UNC Asheville women's tennis team officially ended early due to coronavirus concerns, much to the disappointment of the team, according to Lise Gregory, the head coach.
"I'm definitely really disappointed because we were having a really good season and to see what we could do. I felt like we had a good chance to win the conference and that would've been very nice," Gregory said.
The women's tennis team had an 8-2 record and were 2-0 in conference matches.
"It is very frustrating that our season got canceled. All of the players, especially the seniors, were extremely motivated this semester. At first, it did not feel real, but there is nothing we can do to change it. I am home now and I feel like it was the best decision for me to be with my family during this tough time," said Lize-Alet Morkel, a sophomore player.
Morkle, one of the two international members of the team, returned home to South Africa after all of the tennis conferences were canceled.
"I'm so disappointed. I mean the second it came out that we were probably going to be canceled, our coach got us all together and we talked about it and we're all super sad but I know that especially me and Lauren, the other senior, are especially disappointed to have it end this way," said Emily Sidor, a senior player.
Sidor played for UNCA tennis since her freshman year and has played tennis for 15 years in total.
"Hopefully things will be the same as usual next season. That's my first wish is that we are able to get back to normal. Then, it's back to what I'd normally do," Gregory said.
Gregory joined the UNCA's athletics department in 2004 as an assistant coach and took over as head coach three years later. Before teaching at UNCA, she coached at Florida State University for eight years.
"UNC Asheville has won the conference before but probably 35 years ago. Decades ago. When I got here, they hadn't won matches in the conference for years so we've been gradually getting better and better," Gregory said.
The National Collegiate Athletic Association plans to extend eligibility for players under the coronavirus circumstances another year, which would allow seniors to finish their final season properly, according to Gregory.
"It's been tough on the two players in their final season. This is not how they want their careers to end," Gregory said. "My two seniors both are planning on going to graduate school so even if they want to do their senior season, they would like to redo that but there's the issue of how they do that and still go on to grad school."
Some of the women have coped with the disappointment through staying in touch with one another, according to Sidor.
"I'm going to miss being part of the team and knowing that every time you step out on the court it's for something bigger than just yourself. You're trying to win as an individual so that the team can win as a whole," Sidor said.
The extensive break has given some players time to reflect on their semester and arrange plans to say goodbye to the senior players, according to Morkle.
"I have stayed in touch with most of my teammates. I get along with all of them and I am looking forward to seeing them all in August," Morkle said.
Morkle is a double major in mathematical statistics and economics and plans to attend graduate school after she graduates from UNCA.
"I still have two more years of college tennis left, but I will miss my teammates, coach and competing the most when I graduate," Morkle said.
Gregory's main concern at the moment is the health and well-being of her players.
"I'm not worried about my players staying in shape at this point, I'm just worried and checking in and making sure they're OK I'm making sure everyone got home okay and is safe and healthy. I'm not terribly worried about the tennis aspect right now," Gregory said.
Gregory has played tennis for 54 years and originally became interested in the sport from a young age when she grew up across the street from a tennis club in South Africa.
"I just want to make sure everyone's getting where they need to go. The ones who are from different states are home and safe with their families," Gregory said.
The coronavirus impact on the world of women's tennis athletics has been unprecedented, according to Gregory.
"If you look at the board in Wimbledon where they have all the champions down the centuries. Every year there's a champion at Wimbledon on this huge wooden board and the only time that there's a gap is during the World Wars. And there's a very good chance that this year there will be a gap," Gregory said.