Pandemic inspires artists to create a production company
Arts & Features writer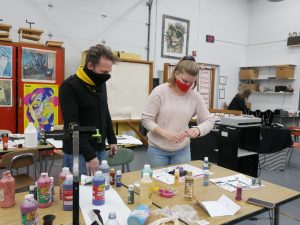 The Commons Collective, a visual arts production company based in Asheville, gives young artists an outlet to showcase their work.
"A big goal of ours starting it was because of the pandemic. Shows stopped, galleries closed, all these maybe opportunities people have were just completely shut down," said Millie Weeks, a co-founder of The Commons Collective.
The Commons Collective, a social media based production company, is co-founded and led by Nick Rhinehart, a 22-year-old musician, Mille Weeks, a 24-year-old visual artist, and Elijah Laplante, a 23-year-old cinematographer. The company strives to provide aspiring artists with an opportunity to gain exposure and experience.
"There's this unspoken rule that you have to have this certain amount of recognition or elite status and there's not a lot of chances for an emerging artist to have a show," Weeks said.
Rhinehart said another goal of the production company is to help propel younger artists into the Asheville arts community.
"Asheville is ruled by old artsy people, and not necessarily that that's bad, but you just see so many old people making art. We have a lot of really talented, creative young people and that's what I want to see happen," he said.
Bookings are open to anyone who asks and also for homemade videos, but Rhinehart said they prefer to pick people who are pursuing the arts as a career.
"We definitely try to make it as accessible as possible to small artists, but we can't just book everyone," he said.
After hearing about the closing of the Mothlight, Rhineheart said he was inspired to create a venue that emulated its atmosphere.
"You could feel a level of freedom and expression in there and that's what we want to try and maintain," he said.
The production company relies heavily on social media to create its platform, but they hope to one day have a venue to host in-person galleries and shows.
"It would be sick to see this thing that was purely social media based come into fruition as a physical space, but we are pretty far away from that especially now that we are slowing down our focus on money," Rhineheart said.
Initially, the production company focused on building income, but they have now switched their interest into cycling that money into creating community.
"Money is a challenge just because all of us are working for free, so figuring out how much of ourselves we can put into this without completely overworking ourselves is the challenge. More so because we're not making money, just figuring out the balance of the work," Weeks said.
Eva Hericks-Bares, an art historian and a lecturer of art history at UNC Asheville, said lots of different factors play a role in an artist's ability to become well known.
"There are a couple of factors like luck and random circumstances that play a role, but it is still also a lot of who you know, what you do and where you trained," she said.
Other factors that contribute to the success of an artist are the type of art they create and their timing.
"You can't really tell what's gonna take off until it's taken off. Not until there's an audience for it and all of a sudden people are fascinated by it," she said.
Hericks-Bares said businesses galleries are businesses that operate for profit so they hire artists who they know have an audience for their art.
"They also have to make rent, they have to make a living, and so they have to sell art works that they know will sell in some way," she said. "It has to be something that the audience responds to. It's not enough that it's a cool painting, it's something that somebody needs to buy."
Hericks-Bares said a significant portion of art buyers in Asheville are tourists or older people who have set expectations.
"We have that issue too that the audience is already set in what they are interested in," she said."The tourist population is coming for a specific price tag of art work. They're not looking for very expensive art work but they are also looking for a specific kind of artwork."
If edgy work is sold or promoted she said it's because it's a craft or a piece of functioning art.
"It can be a little sort of funky and just different," she said. "It's usually a functional thing, and so even if it's unusual, people can kind of justify it."
Hericks-Bares said there is a nationwide issue with representation in art.
"There is still a bias in the art world and it seems a weird sort of lag that more than 30 years later we still have this discrepancy," she said.
She said artists like Micol Hebron and the Guerrilla Girls bring awareness to representation issues in art and help bring social and academic change.
"The future is looking much, much brighter partly because we can draw attention to discrepancies and discrimination in the art world much much more easily," she said. "When I went to grad school in the early 2000's, my field of contemporary African art was cutting edge and so it's interesting to see how that's part of the mainstream now."
Hericks-Bares said the creation of the internet helped artists gain more control of their representation.
"Until then you really were depending on some sort of gallery representation if you really wanted to make it as an artist, whereas now theoretically you could run it all yourself," Hericks-Bares said.
She said artists have more control over their creations now and can advocate for more power in contracts than they did back then.
"There are some really well known artists who no longer actually have a right to their artwork. They can't even put a photo of their artwork on their website because once you sell your artwork you sell everything affiliated with it," she said
Although there is an increase in representation in art, Hericks-Bares said it could be motivated by the profit of movements.
"It makes me smile because it's so predictable, but the collectors get on board too because when something is popular, people jump on the bandwagon. All of a sudden everybody wants to buy this particular kind of art and it's not necessarily because they're connecting to it," she said.
Daniel Frisbee, a 43-year-old visual arts teacher at Clyde A. Erwin High School, said he taught many students who decided to study art in college, but ultimately decided to minor in it instead.
"It is a challenge to nudge them that way sometimes," Frisbee said.
Frisbee's love of art started at a young age and in the eleventh grade. A two-view portrait assigned by his teacher, Renné Ensly, cemented his passion and helped him decide to become an art teacher.
"I told my art teacher then, when I graduate and I'm an art teacher, I'm going to get your job when you retire, and I did," he said.
Frisbee encourages his students to practice various forms of art, but motivates them to develop and experiment with the styles that interest them.
"I try to always be honest with them. I try to make them be honest with themselves," he said.
Frisbee said as an artist, accepting your work for what it is instead of trying to please other people is the hardest thing to do.
"When we are focused on other voices, many times we forget our own. We can learn from others, but it is imperative that we explore our individuality," he said. "It's a way to communicate from you to the viewer and I think it's just important to be honest in the messages that you send."