Bailee Harris
News Writer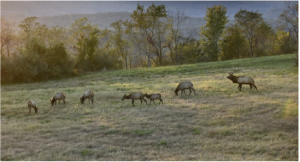 I was utterly shocked when my peer poked at my Appalachian drawl; I had been working on it for years. We were recording a voiceover for a video project in my introduction to video production course during my freshman year of college.
"You probably shouldn't be the one to speak," he teased.
"Why?" I asked, confused.
"Because of your accent," he replied, laughing. "It's pretty obvious."
Complete and utter horror can sum up my reaction to realizing I had failed in training my words to not ring with a southern cadence. I didn't want others to think I was a hick — a hillbilly, someone ignorant, illiterate and uncultured. I lost my voice that day.
How could I not be ashamed? After all, the people living in the mountainous region spanning vertically from southern New York all the way to northern Alabama have historically been labeled as poor, foolish and practitioners of inbreeding. Essentially, Appalachia is seen as the armpit of the United States.
The stereotype of the hillbilly has real-world consequences, as speaking with an Appalachian accent can ruin job prospects. Some employers believe the dialect directly links to a lack of competency. In 2014, a laboratory in Tennessee offered a class to help employees mask their accents in order to avoid negative publicity. Some primary schools teach children to conceal their accents to broaden opportunities and improve marketability.
The cliché of the poor, white, starving and stupid Appalachian was characterized by the many 'poverty tours' organized by past presidents. The New York Times front page on May 8, 1964, highlighted President Johnson's war on poverty as he toured only through Appalachian states, claiming to reverse ignorance and improve literacy.
Photo journals of dirty, white children with sunken eyes and movies such as the haunting 1972 film, Deliverance, have effectively painted a picture to America that Appalachian people aren't to be pitied but scorned.
This is an incomplete and insincere truth about Appalachia.
In fact, the Appalachian dialect draws its roots from the Scots-Irish who immigrated to the area in the 1700s, African Americans who migrated to the region and, of course, the Indigenous peoples who were there originally, whose land was invaded.
Appalachia has been whitewashed. The Appalachian belt is native to Indigenous tribes who always have had roots deep in the mountainous region. Black Appalachia is also a thriving group of Appalachian people — they are why we have the banjo today. Originally an instrument with origins of African and Caribbean descent, the banjo and traditional mountain music evolved in the syncretism of the Appalachian region.
The Appalachian people were some of the first to unionize against oppressive corporations. During the Industrial Revolution, coal companies extracted the natural resources of the land, created natural disasters and greatly abused the Appalachian people working in the mines. The term 'redneck' came about after thousands of industrial coal miners wore red bandanas around their necks in solidarity against oppressive coal industries. Many were killed for their efforts.
Appalachia is not perfect. Enslavement thrived in many parts of the region. The Civil War split southern and northern states while people of color were taken advantage of by ruthless coal and agriculture industries more so than white Appalachians during the Industrial Revolution.
There are parts of Appalachian history that we should not be proud of. However, the deeply embedded shame residing in many Appalachian people because of the stereotype purposefully created to exploit the region for its resources is counterintuitive. People from the region can offer valuable insight to important conversations if they are not ashamed to speak.
For those who are not from the Appalachian region, stop perpetuating stereotypes made to humiliate Appalachian people and work to unlearn the tendency to initially assume negative traits about people from Appalachia. Stop teasing others for the way they speak. Instead, cherish the beautiful differences of what English dialects have to offer.
Folks from Appalachia— your job is the hardest. You must find a way to detach the stories you have been told about yourself from your identity and create your own story. It is okay to have a sense of honor about where you are from. Like your ancestors, continue to fight for inclusion and equity for all. Use your voice, your real voice.
Everyone can learn something valuable about Appalachian culture and history by listening to the uninhibited stories and intersections of all of Appalachian people.
Appalachia has a lot to offer, so let that banjo roll.