Environmental roadmap: A tour of UNCA's sustainable projects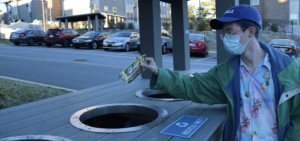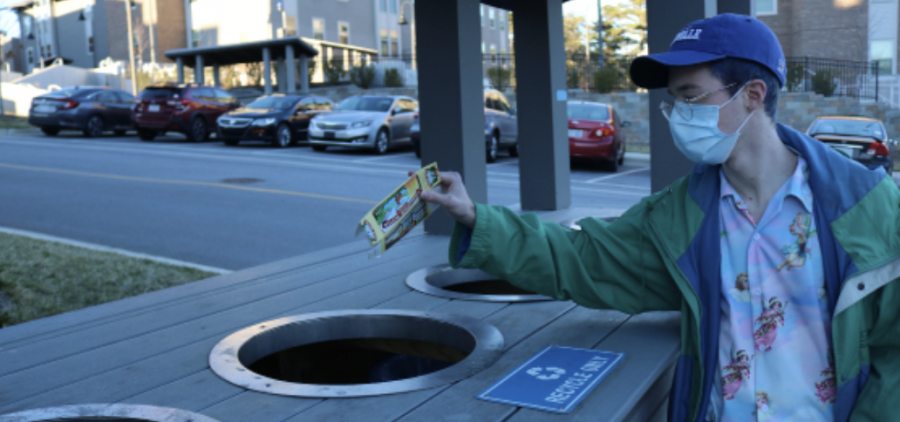 UNC Asheville prides itself on the many environmental awards it has received consistently over the past years — Bee Campus USA, Tree Campus USA, Leadership in Energy and Environmental Design (LEED) gold and silver certifications, to name a few.
Not to mention the monumental signing of the Carbon Commitment by Chancellor Cable on March 30 during the school's annual Greenfest, making UNCA one of 400 universities to pledge carbon neutrality by 2050.
But how has the campus earned such distinctive recognition for environmental efforts? Thanks to the UNCA Office of Sustainability and various student leaders, the school has designed various projects to create its identity as a sustainable and environmentally innovative university.
Some community members find themselves unaware of the time and energy sustainability leaders put into sustainable projects on campus. UNCA Assistant Track and Field Coach J.P. Kimbrough said he is one of them, as he felt ashamed when he recognized his lack of awareness as he recently became more educated about UNCA's sustainability efforts.
"We are a leader in some of the fields, and I had no idea," Kimbrough said. "And I've grown up (in Asheville)."
I met with Jackie Hamstead, interim co-director of sustainability, who took me on an immersive tour of many of UNCA's environmental projects and sites across campus to see what makes UNCA such an environmentally cautious and progressive campus.
Stop one: Sam Millar Facilities Complex
I walked up to the grey facility off of Campus Drive for just the second time during my time at UNCA. I've passed the complex many times driving to and from campus, yet felt ashamed to admit that I didn't necessarily know what business went on in the often forgotten building.
When I met up with Hamstead outside of the building to begin my environmental tour, I learned even more about the large, grey building tucked away on the east side of campus.
Hamstead led me around outside the building, explaining its many different features. A large, slanted solar panel sat on the side of an angled roof in the middle section of the building, collecting solar thermal energy to help operate some of the building's heating and such. An auto shop on the right side of the facilities recycles used materials like tires and car batteries.
Though Hamstead pointed out many of the key visible features, she explained that there are even key green elements underground. In the ground below the gravel parking lot behind the building lays large tanks that store rain and storm water that seeps into the porous gravel above it.
But the Sam Millar facility doesn't just include green building features, it also houses outside gardens and other student-led projects. Off to the left of the building sits one of three campus gardens on campus, organized by a student. On a small plot of dirt — maybe ten meters long and one meter wide — grows a variety of plants, from small plum trees to mulberries.
As I looked out on the garden full of greenery and plants, Hamstead explained how she, along with the office of sustainability, supports student-led environmental projects like the campus gardens.
"I think that's the most valuable experience for (students)," Hamstead said. "I don't teach, so that's how I work for students."
A recent student-led sustainability project comes from India Appleton, a UNCA junior and outreach coordinator for the Office of Sustainability, who took the reins this semester to initiate efforts within the UNCA track and field program to become more environmentally conscious and aware. From recycling and composting waste at competitions to planning a fun run for the track and field team touring sustainability projects around campus, Appleton said she works with Hamstead on the project in hopes of making strides in sustainability within specific areas of the athletic department.
"There's a lot of room for growth and improvement," Appleton said.
But, as Hamstead said, much of her work and other environmental work does not remain secluded at the Sam Millar facilities — it extends all across campus. So, she led me over to a white, enclosed golf cart on the back side of the building and told me to hop in. From there, we began a more extensive tour of the facilities.
Stop two: Tree saplings
We only traveled about 20 meters in the golf cart before Hamstead put the cart in park to tour our next stop. Just beyond the Sam Millar building sat an area crowded with large, black buckets. Each bucket contained even smaller black containers, each one holding what looked to be a small plant.
Once we hopped out of the cart, Hamstead walked over to the buckets and picked up one of the small containers to show me. It contained a small oak tree sapling, and Hamstead explained that each container holds either an oak or redwood tree sapling from parent trees on campus.
The Office of Sustainability sells the saplings each year for people to purchase as gifts for students graduating from UNCA. All proceeds go to student scholarships or the school's emergency fund.
"We're trying to promote people to just plant trees," Hamstead said. "It's one of the best things you can do for the environment."
I took a mental note of all of the small saplings sitting in the buckets. When I graduate, I'll have to plan on having my parents buy me a tree instead of a $20 bouquet of flowers that will die just a few days after purchase.
After our quick stop, Hamstead and I hopped back into the cart, for Hamstead said she had many other sites all around campus to show me.
Stop three: The Woods apartments
We departed the Sam Millar building and drove down University Heights, past redwood trees by the Sherrill Center and students heading to and from classes. Hamstead pulled the cart off to the side of University Heights just outside of Brown Hall, and I followed her out and towards The Woods apartment-style dorms on campus behind the dining hall.
She led me to an opening between two of The Woods dorm halls. At the bottom of a hill behind the two dorms sat what looked like five small ponds surrounded by rocks. Two on the right side of the area contained water, while the others appeared empty.
Hamstead, who spends much of her focus on stormwater drainage around campus, said that the ponds help collect water runoff, with ponds overflowing with water and transferring from one pond to another as they fill up. In doing so, it slows the flow of water to prevent erosion.
"It's not decorative. It's functional," Hamstead said.
However, not all environmental projects always go as planned. The experimental ponds haven't necessarily functioned as they should, not allowing the gathered water in the ponds to infiltrate into the ground.
As Hamstead said, though not every project works as successfully as planned, it's important to learn from the processes to continue improving UNCA's sustainability plans.
"It's a learning process," Hamstead said.
Yet, The Woods dorms earned great distinction as a certified LEED Gold building from the U.S. Green Building Council, which pays respect to the buildings' sustainable features.
"LEED covers everything," Hamstead said. "It's energy efficiency and air quality, like the types of paints we use (and) even the types of furniture."
Stop four: Bee Hotel
Hamstead pulled the golf cart into parking lot 25 by exit off of University Heights. From there, she led me into a field off of the side of the hill, where two environmental projects lay.
First, she pointed out a large, circular garden plot full of various greenery and plants. The area, designed by a local architect, contains numerous different types of grasses, flowers and plants that pollinators can visit year round.
"The idea was to have stuff that blooms across the seasons," Hamstead said. "There's food for pollinators the entire season."
Then just beyond the native plant area down the hill laid another feature for pollinators. A large, wooden structure complete with at least 30 square and rectangular structures houses spots for bees and other pollinators to lay eggs for development, known as the Bee Hotel.
Hamstead went over to one of the cubbies and picked up what looked like a wooden straw of sorts. She split it open to reveal little compartments with partitions where bees had laid a few eggs inside the straw-like container.
"The mom goes in and lays an egg. She collects all of this pollen and nectar and builds this what they call bee bread and lays an egg on top of it and then builds this clay partition," Hamstead said. "Each one those (eggs in the compartments) has the potential to be a bee."
The Bee Hotel, created by a group of six students, serves as a prime area for Asheville's pollinators to lay their eggs and even live during the winter seasons. Efforts for pollinators such as the creative hotel structure have helped UNCA earn its Bee Campus USA status.
Though I had seen the Bee hotel before, I never realized its unique function and importance on campus.
It's the creative design and innovation behind the project that Hamstead said made it a crucial but fun addition to UNCA's campus.
"That was a really fun project," Hamstead said.
Final stop: Owen Hall
After touring the Bee Hotel, we hopped back into the cart to finish our lap around campus. We circled our way back into campus on University Heights up by the construction-riddled Owen Hall site, the home to UNCA's art and management programs currently under reconstruction.
Hamstead slowed the cart down in the middle of the road, explaining how her and the sustainability team had to work closely with the construction crews while rebuilding the academic building. UNCA constructed Owen Hall with LEED specifications in mind, so Hamstead and others helped make sure crews and the school followed certain guidelines.
UNCA also prides itself for earning the distinction as Tree Campus USA, and as a member of a committee for tree advisory, Hamstead walked to Owen Hall construction site to make sure the project didn't bring harm to the surrounding trees in the area.
"We had to walk the site and think about where all of the underground utilities are going to go, how that's going to impact our trees," Hamstead said. "Almost like we were fighting for every single one of (the trees).
Departure
Once past Owen Hall, Hamstead pulled the cart into the Sherrill Center parking lot.
"Well, those are some of the highlights," Hamstead said.
Some of the highlights? I felt like I had just been on a very expansive tour to have only seen just some of what the sustainability team and students have done to keep UNCA environmentally and sustainably responsible.
Hamstead has helped lead and create environmental projects since she came to UNCA in May 2015. She said that the amount of enthusiasm for environmental projects across campus since in her time at the school has created a campus environment willing to make sustainability an institutional priority, hence the numerous environmental projects students and staff alike have completed.
"I think it's become more institutionalized," Hamstead said. "It's not something that just happens (headed by) the office of sustainability. There's a lot of people engaged."
I exited the golf cart with that thought on my mind.
The Sam Millar building doesn't just house facility management. The campus gardens and Bee Hotel don't just exist to look pretty. The ponds behind The Woods aren't meant to be simply aesthetically pleasing.
Each environmental feature designed on campus has a crucial purpose. And in doing so, they've helped create a liberal arts university that prides itself on its continued commitment to further sustainability and environmental conservation.
"I think it's part of the campus' identity," Hamstead said. "I think it's a draw for students and administration is recognizing that."