Bulldog basketball ranks first in conference after collaboration brings record-high attendance
Approximately 1,164 people piled into the Kimmel Arena stands for the nationally televised men's basketball win against Longwood Jan. 12. 
More than 1,700 people attended the following win against USC Upstate Saturday, Jan. 21. 
Both games held the highest attendance at a men's basketball game since before the pandemic and double the 2022-2023 season average. Many students found themselves in the stands for the first time.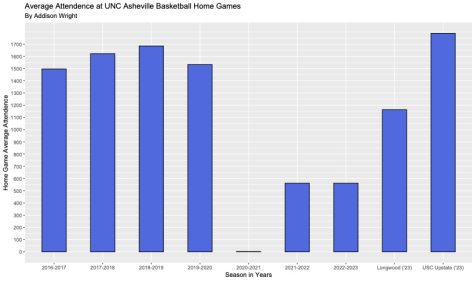 The Bulldogs won the tight Longwood game to rank first in the Big South Conference and now hold the rank after another close win against USC Upstate. 
"There was a huge change in attendance at the Longwood game. We really feed off that energy, and it helps us a lot, probably a big reason why we won the game," said Fletcher Abee, men's basketball player. 
What is bringing the larger crowds?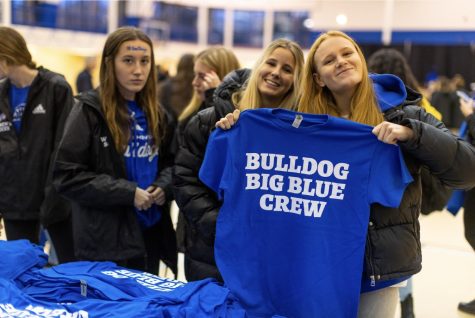 Hours before the Longwood victory, over 70 students gathered at their first pep rally to design posters, apply face paint, clip in bulldog blue hair extensions, silly-string coaches, watch performances from the dance team and student band, grab free t-shirts and cheer with the men's assistant basketball coach Woody Taylor and Chancellor van Noort.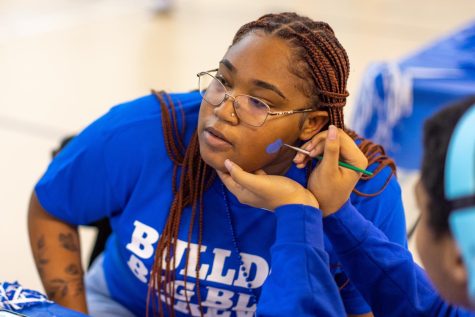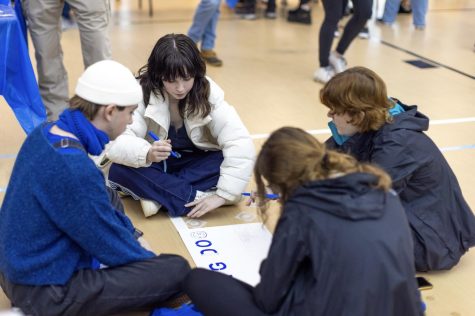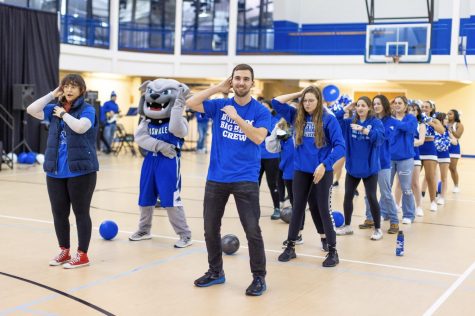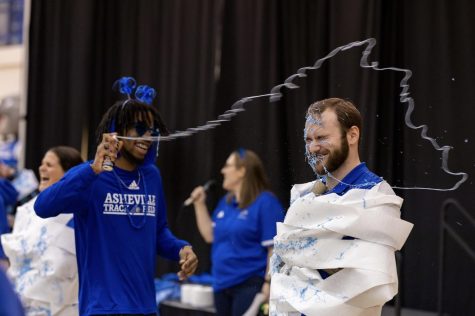 After the pep rally, Brown Dining Hall shut down and served free food to all students at the game for the first time ever.
"We had a blast being part of such an awesome event. It was great to see so many students having a good time," said Brooks Casteel, director of dining services. "This was more than just a dining event. Many departments across campus worked on the planning and execution of it. As long as it's something our students enjoyed and would like to see again, we are game!"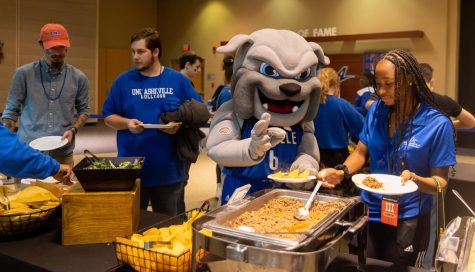 The hair extensions, tacos and silly string were all part of a "Blue Out" game to welcome back students for the semester, made possible by a campus wide collaboration. 
"The Blue Out was a collaboration between student affairs and athletics to not only encourage school spirit but also to bring as many of our students, faculty and staff together as possible to promote  'Bulldogs Belong' and we are 'ALLinAVL,'" Janet R. Cone, director of athletics said. "In other words, we want to have a connected campus community that are proud to be Bulldogs."
Months before the victory, leaders from athletics, student affairs, residence life, campus recreation, the career center and more sat down to talk about community building in a pandemic world. 
The COVID pandemic has sent school spirit into drought. The men's basketball team averaged one person per game in the 2020-2021 season due to restricted spectator access amidst the pandemic. Since then, attendance has averaged half of what it used to be. 
"Pre-COVID we were improving our school spirit and sense of togetherness on campus. However, during COVID it was so very hard to continue our momentum," Cone said.
School spirit is valuable to school performance, as shown in a Harris poll commissioned by Varsity Brands surveying 1,604 students across the country.
According to the study, students showing higher school spirit achieve higher grades, are engaged more in their community, and are happier than students with less school spirit.
Basketball games provide a free space for students to build the Bulldog spirit. High spirit and attendance bring Bulldog wins, which can in turn increase spirit. 
"Attendance is a major asset to our guys when we have home games. Our brand of basketball is aggressive and loud by nature. When we are at our best, our fans and people in the stands mirror that image and create a raucous atmosphere for the other teams to play in," said assistant men's basketball coach Woody Taylor. 
Before the Longwood and USC Upstate games, leaders wanted to find a way for UNCA to start this semester together and ignite the bulldog spirit again. 
"When I first stepped into this role in September, the first thing that was handed to me was a copy of the Blue Banner that had the article talking about the lack of school spirit on campus and from day one, bridging that gap has been my number one  goal," said Kassi Butcher, director of athletics marketing.
The Blue Out night successfully bridged some of this gap, leading to another increase in attendance at the USC Upstate game.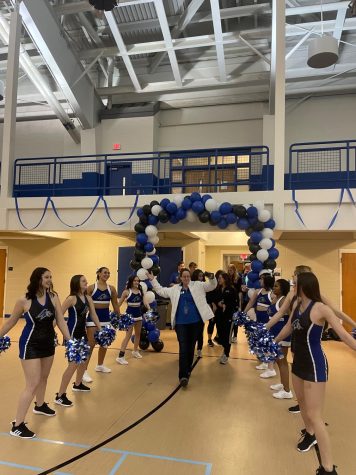 Student's responses at the Longwood game foreshadowed this increase. 
"I don't go to games often but I heard about it through word of mouth and this game felt bigger. I'll for sure come to more games after this," said Cador Jones, a UNCA student. 
"I don't go to games often and didn't know it was going on until the email. I will come to another game after this," said Isaac Abdullayev, another UNCA student.
"I've never been to a game before but I am on the ultimate frisbee team, which was invited to go, and so I thought why not. This seemed like the game to go to," reported Jane Tyler, another UNCA student.
More than 20 other students reported the same.
"The student engagement during the game was phenomenal. The students showed up loud, excited and created an in-game atmosphere that we had not had from the student-section up until that point in the season," Butcher said "Their attendance was much appreciated by the team, coaches and athletic department, and we are hoping the type of turnout from the Longwood game becomes a new normal on campus."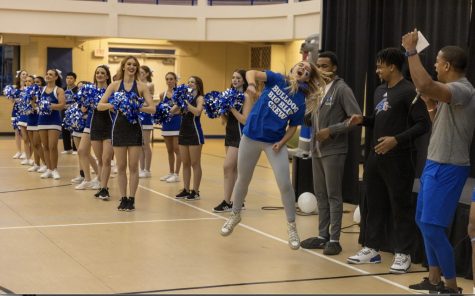 Campus leaders hope this recent basketball fever is only the beginning of a new wave of "ALLinAVL" spirit. 
"With the success of the Blue Out game, student affairs and athletics hope to continue collaborating on other events that will bring our campus community together and promote school spirit throughout the year," Cone said.
Before the Longwood game, students were guided by representatives from student affairs, athletics, the career center, campus recreation and more through glowing blue hallways in the Justice Center and under an arch of balloons to the pep rally. 
Leaders from across campus showed up to welcome students in person. This included Chancellor  Kimberley van Nort, Athletic Director Janet Cone, Associate Vice Chancellor of Student Affairs Nancy Yeager, Student Government President Lauren Braswell, Vice Chancellor of Student Affairs Meghan Harte Weyant, Associate Director for Employer Relations David Earnhardt and Interim Director of Campus Recreation Leah Belt. 
This collaboration assisted in bringing new record-high attendance. Will this attendance continue at the next ESPNU nationally televised game on Feb. 2 against High Point? 
If the bulldogs maintain the number one ranking, they could be heading to NCAAs this March.