University student ollies gap between entrepreneurship class and reality
For UNC Asheville junior Hylend Grit, entrepreneurship was just another requirement in his business management curriculum. 
That was until his grandfather's past unlocked a new future, allowing Grit to connect his academia with his passion. 
"My grandpa lucked into this crazy opportunity. He builds RFI machines, which is a type of electrical current they use to heat up glue that presses wood together without burning the wood," Grit said.
Why are RFI machines significant? 
"That's how most of your furniture, plywood and skateboards are made," Grit said. 
The latter is specifically important to Grit as skateboarding became not only a passion, but a creative outlet at an early age. 
"Growing up in Boone we didn't have a skatepark so we had the DIY," Grit said. "It's that mentality if you don't have it, just fucking build it."
It was the same mentality that later gave birth to Taboo Skateboards. 
"BBS Manufacturing flew my granddad out to San Diego and that meeting resulted in them hooking me up with my first set of boards as a trade for a few parts," Grit said. 
The deal was simple and opened up a new window of opportunity.
"Basically, both the manufacturer and my granddad benefited, and I ended up with some dope skateboards," Grit said. 
Now with 50 blank decks at his disposal, Grit faced a crossroad. 
"I was just stoked on getting free boards and my grandparents brought me the idea that BBS also offered to let me print boards with them if I want," Grit said. 
Not wanting to let the opportunity slip, the choice seemed easy. 
"Having that little push from my grandparents and BBS was like, 'I guess there's no other option than to try and run with it'," Grit said. 
As Grit and his childhood friend looked over the boards a name came to mind: Taboo Skateboards. 
"I was like, I have no artistic ability and one of the things I need is someone who can draw," Grit said. 
The first step of the new year for Grit was to become legal, and on Jan. 1 it became official. The LLC got filed and Taboo Skateboards was officially incorporated.
"Dude, we've been joking about this for years. "Let's make this happen," said Grit's friend, Alex Jenson, who would later design graphics for the brand. 
"Entrepreneurship with Dr. Clark was the dopest class and really set me up to start my own business," Grit said. 
Dr. Clark, who teaches the entrepreneurship course at UNC Asheville, helps students come up with an idea or take an existing idea into reality.
"They go through a process where we turn that idea into an actual possibility for a business through tools like design thinking, business model canvasing and generating a pitch deck," Clark said.  
Working with Grit during the semester proved to be productive as it lined up perfectly with his aspirations. 
"The entrepreneurial path is always hard work but it's much pleasure too if your business is a manifestation of your passion. And for Hylend producing those skateboards are his passion so I just helped facilitate him getting to the next level," Clark said. 
With the class presenting itself as an opportunity to further that passion, Grit took every chance he got. 
"It was last semester during the whole startup of my business so it kind of worked out perfectly. That class taught me a lot of entrepreneurship is based on passion," the skater said. 
With a creative spark and clear direction Grit felt a new sense of value for his learning.
"It made my passion feel applicable and actually changed the way I look at my college classes a little bit because I'm like, these can actually help me get to where I want to be," Grit said. 
As for the rest of 2023, Grit has big plans for Taboo. 
"We hope to introduce more riders, specifically some females this year," Grit said. "Hoping to make a team and a video part, something I would be proud to put the name Taboo on and obviously show off some North Carolina spots."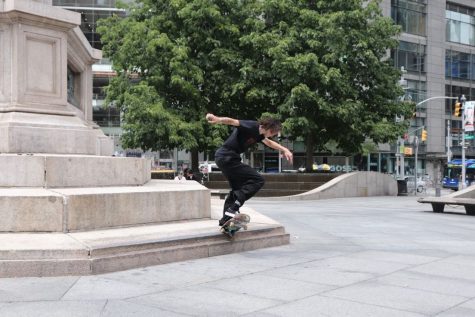 Grit said there are a few ways to support Taboo "We hope to be in retailers, specifically local skate shops soon. But currently we are selling most of our stuff online and through social media. You can find us on Instagram @tabooskateboards," Grit said. 
By creating a brand that specifically aims to support the DIY community and those who inhabit it to its fullest potential the community has definitely taken notice of Grit's outlook. 
"It's really nice to see Hylend progress on and off the board, but still keep that core skater mentality. He always shows love to his community, and I hope we can show out for his brand," said fellow skater and UNC Asheville senior Andre Barbosa.