Asheville community outreach organizations provide shelter to the houseless
Local non-profit organization BeLoved secured three more permits to further construction on deeply-affordable tiny homes.
"Over 60% of our population in Buncombe County is either cost-burdened or severely cost-burdened, meaning they spend more than 30% of their income on rent or mortgage. Severely cost-burdened 50% or higher," said Amy Cantrell, co-director of BeLoved.
Cantrell created the vision for BeLoved village alongside her colleagues in response to the climbing housing market prices in Asheville in 2015. 
"We really looked at building affordable housing in a very different way. Looking at what we wanted to build, those four pillars. Nobody had been able to achieve deeply affordable, much less deeply affordable with equity," Cantrell said. "It was really through the community we needed to grassroots fund the entire cost of the village and then also be able to impact that through people sharing their gifts, whether it was time skills, labor or materials."
Cantrell said BeLoved's building of the village lays out four distinguishable pillars: deeply affordable, community-oriented, sustainable and producing equity for residents.  
According to the Asheville City Council a survey conducted on March 3 informed budgeting decisions. The survey ranks issues from city planning and transit to affordable housing in order of importance.
Kim Roney, a current council member and past Asheville mayoral race candidate said this was the first time in eight years of trying for public input in the budget that public opinion has been considered this early in the budgeting process.
"It is a great opportunity to be able to make some tweaks instead of hearing people but not being able to really do anything at the last minute," Roney said. 
Roney said there are concerns surrounding the accessibility of the survey due to the website only being viewable in English, even though the survey can be taken in four languages.
According to the Asheville City Council, no plan existed on the agenda to discuss public housing at the council meeting that was held on Feb. 28. 
Cantrell said community building creates the connections needed to fight the housing crisis and thrive as a society.
"We have a 4-year-old who carries a piggy bank with her everywhere and tells people we have a big issue in Asheville, and it is housing and holds out her piggy bank to raise money for the village," Cantrell said. 
To minimize housing insecurity in Asheville, BeLoved, in partnership with the Asheville Home Builders Association, builds a neighborhood of 12 tiny homes called BeLoved Village.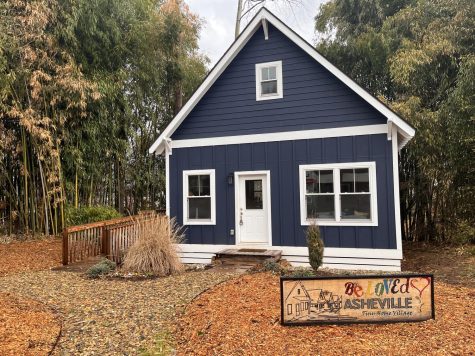 "People said we are either miles off the bus line and in something that is barely habitable, or we are sort of crowded up into old hotel conversions, public housing. It feels chaotic and unsafe. We said what does your dream home look like. People began to chart out on paper basically what we are building at the BeLoved Village," Cantrell said.
According to BeLoved, they are building the village on donated land, with donated materials and by volunteer workers. Contributions from architects, engineers and surveyors, along with community-based efforts, have funded over 70% of the building project. 
Karla Gardner, the director of community engagement at Bounty and Soul, said Bounty and Soul center their outreach around making healthy food and nutrition education accessible through free drive-through community-based markets and offering various health/wellness classes. 
"Each of our drive-through markets is averaging around 300 households. We create around 300 boxes to share and they all find homes. Easily over 1,000 households each week," Gardner said. 
The Bounty and Soul free market occurs every week on Tuesday and Friday in Black Mountain and Wednesday in Swannanoa. 
"We have really intentional partnerships with local farms and community gardens. Much of this food is rescued from local grocery stores for the food bank. Our Farmers Alliance program really tries to fill the gap with purchasing from local growers in addition to rescuing foods," Gardner said.
Gardner said Bounty and Soul share many households with BeLoved. The two organizations' joint efforts and many others make a huge difference in the lives of houseless individuals in Western North Carolina.
Andrew Auster, 31, originally from Miami, Florida, works as a liquid center representative with New Belgium Brewery and has worked with BeLoved for around four years.
"BeLoved is a community partner with New Belgium," Auster said. "We work with about 20 or so non-profits every year. Every year that you work there, you can choose the same or choose a different non-profit. All the tips that we get are donations." 
Auster said he was part of a group that helped to clear out brush once the property got the go-ahead after appraisal. 
"Our mission is community building. Community building provides the connections that we all need to thrive," Cantrell said. 
According to BeLoved, their mission is to redefine housing and create homes for vulnerable populations in Western North Carolina due to the extreme uptick in prices in the housing market in Buncombe County. Once complete, selected residents for the housing development are chosen based on long-term exhibited needs and an income base of about 30% of the local area median income.
"We can't afford affordable housing. This is a story we heard from lots of people," Cantrell said. "There are a lot of stories to the same effect. They said the kind of housing we get put into is not the kind of housing we want so BeLoved said. What does that mean to you?" 
According to BeLoved, the residents would not own their homes. Instead, the community is run by a non-profit entity in a trust, freeing the community from landlords. The homes will gain equity as any with a typical mortgage, and residents will carry their equity with them once they move away. 
"People are basically being housed into poverty forever in Asheville," Cantrell said. "Rent has increased 41.7% over the two years of the pandemic. There are alarm bells going off everywhere."