UNC Asheville Jewish organization Hillel to hold belated Purim party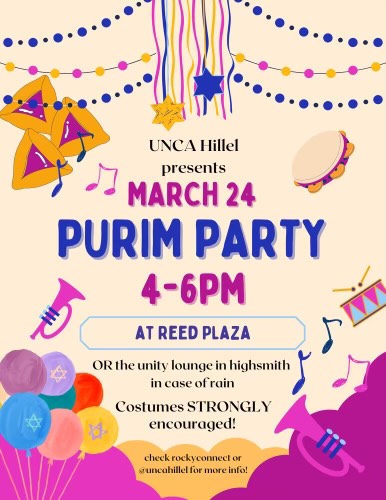 UNC Asheville's Jewish organization Hillel is holding a late Purim Party on Friday, March 22, as an effort to maintain Jewish community events despite the holiday already having elapsed.
Hitting its century milestone this year, Hillel maintains the title of being the world's largest and most inclusive Jewish campus organization. The Hillel on UNCA is responsible for offering Jewish activities and campus life for people who want to participate with their culture and religion. This Friday they will be holding their annual Purim Party, albeit a few weeks late.
"Hillel is the Jewish student organization, and we serve all the Jewish students on campus, connecting them and hosting events," said Lena Angrist, UNCA Hillel student president. "Since there was a full turn over last year and since the pandemic, I don't think Hillel has really gotten back on its feet, but there's been a lot of people getting involved who want to start organizing events like education and community service."
When asked about how she was elected to the board, Angrist credited lack of willing participants for her ascension to president.
"Hillel had a complete turnover of board last year," Angrist said. "So I basically was recruited to be on the board because no one else would do it"
According to My Jewish Learning, Purim is described as a joyous holiday that celebrates the saving of the Jews from a threatened massacre in ancient Persia.
On Purim, people dress up in costumes and have parades and plays. Special triangle shaped cookies filled with chocolate or jam, among other delicious fillings, called hamantaschen are eaten which signify Haman, the bad guy of the story's hat, ears or pockets. The book of Esther, known as The Megillah, is read in synagogues and other community spaces. When Haman's name is said, the audience shows their dismay by shaking graggers, or noisemakers, in Yiddish.
Purim took place this year during spring break, but UNCA Hillel wanted to make sure the holiday was still celebrated on campus. When asked why the holiday was having a belated celebration, Angrist detailed the importance of communing on campus for Jewish students.
"It's just a way to celebrate together and to be together. I think it's important for Hillel to do stuff on a regular schedule just so people have a way to meet and be together and celebrate," Angrist said.
Angrist said Purim is her favorite holiday because she gets to dress up in lavish costumes, eat food and dance.
"There's also music, and in the shul, or synagogue, I grew up in, we also did a Purim play which was really fun, and I just love all that," Angrist said.
According to the North Carolina Hillel website, UNCA has anywhere from 100-200 undergraduate students who identify as Jewish, representing three to six percent of the total student body.
Angrist made sure to mention non-Jewish people are equally welcome to come to any events and it is encouraged as an important way for the Jewish student body to share their culture.
Students can contact Hillel through their email, [email protected] as well as follow them on Instagram @uncahillel to stay up-to-date on all their happenings.