While the impacts of COVID-19 feel like a bygone, distant nightmare, positive cases in concerning amounts have been reported on campus, with even more reported only through word of mouth. Questions from students, faculty and the greater community circle topics of quarantining on campus, and the overall risks of being exposed to such an impactful illness, especially within days of the new school year. 
According to the New York Times' live COVID cases graph for Buncombe county, 27 patients have been hospitalized due to the effects since August 6, and about 16 of the 18 ICU beds are currently occupied by patients with COVID.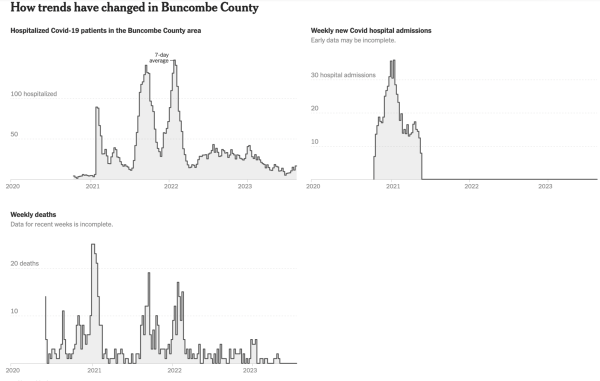 Jay Cutspec, UNC Asheville's director of health and counseling, discussed the current spike in cases on campus.
"We've had seven positive cases of COVID since the first day of classes. This includes students who have visited the health and counseling center and tested positive, or who have provided a copy of their positive test result," he said.
It is a common fear that arises within students determined to perform their best in classes that having COVID will set them back in academics, or that their attendance will unfairly impair their grades in their time in quarantine. 
"Students who test positive should isolate themselves in their residence hall rooms for a period of five days from the onset of symptoms and wear a mask for an additional five days. The campus is following all CDC guidelines related to COVID," Cutspec said.
The fear of the mask mandate returning to campus and the community is also a sizable concern. It is not uncommon to see students wearing masks around campus, but the requirements for face coverings are no longer active. 
"I do not anticipate a mask requirement returning to campus. Unfortunately, COVID is not likely to go away and we will need to manage it like we have done for years with the seasonal flu and other contagious viruses," Cutspec said.
The director said it's important for individuals to get the new vaccine, which will be out in late September to help protect them from the new, emerging strains. 
"In a recent CNN article, it was reported that 97% of Americans have some immunity to the COVID virus.  This is a positive thing and it speaks to the vaccine efforts that have been implemented during the last two years. It is important for individuals to get the new vaccine which will be out in late September and protect them from the new strains of COVID which are emerging," Cutspec said.
UNCA freshman Stella Gilmore said the transition back to classes became much more difficult when they tested positive for COVID, and expressed their frustration with their condition barring them from accomplishing everyday tasks, such as having friends drop off food and medicine. 
"I felt stranded in my room, it was like I was in a bubble looking at everyone living their lives," Gilmore said.
Freshman Carson Deline shared Gilmore's sentiment, and spoke about reaching out for support after testing positive during a discussion about the school's overall range of assistance in easing into campus life.
"I called the health center right after I tested positive just to ask questions about what to do. They were very nice and helpful," Deline said.
Though facial coverings are no longer required in class and on campus, it is still vital all students and staff are taking precautions to avoid becoming infected. It is also incredibly important the community takes individual initiative to protect themselves and others from being affected. The health center does provide symptom self-check resources , as well as references to receive the COVID vaccination.