Boutique LP is a trendy place to shop for timeless and unique pieces in downtown Asheville. The business was opened in 2012 by mother and daughter duo Sharon Powell and Lauren Carr. 
"We are very thankful for the support and business we have gotten here in Asheville over the years," said Emily Thomas, a sales associate at Boutique LP. 
Thomas said it's great to support and buy from local small businesses like this one because it helps create more job opportunities for locals and keeps the community thriving. 
"We definitely take pride in making women of all ages feel confident in our pieces," Thomas said. 
Thomas said the unique pieces in the boutique are timeless, classy basics that can be worn all year long, but there are new fall arrivals this year, including blazers, cardigans with fall colors and patterns along with new jewelry pieces.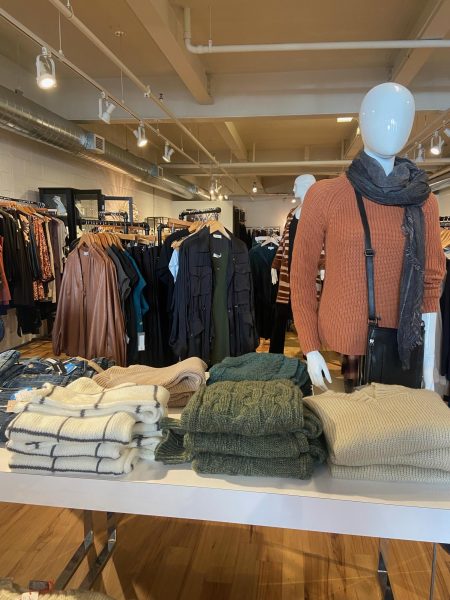 Audrey Kmiecik, a sophomore majoring in atmospheric science said sustainability, buying from small businesses and making your own clothes is extremely important to the environment and climate change. 
"Fast fashion industries are terrible for the earth and for its workers. When I look for things like T-shirts for art or pajamas, I go for thrifted items," Kmiecik said. 
Kmiecik said this fall, she will spend more money on better-quality clothing that will last much longer, than fast fashion items to save money and create a positive impact on the environment. 
"I also make my own clothes on occasion, as I grew up sewing and crocheting. My mom has made several of my previous dresses for school dances," Kmiecik said. 
Kmiecik also suggested dressing comfortably this fall, and focusing on fall colors such as green, brown and orange. 
"I definitely go for comfy during fall. I love oversized sweaters, breathable jeans and pants that look dressy but feel like I'm wearing pajamas," Kmiecik said. 
UNC Asheville freshman Lilli King said fashion is something that makes her feel confident and comfortable with what she's wearing, and gives her an outlet to express herself creatively. 
"If you aren't comfortable with what you are wearing, it's hard to be confident in yourself as well," King said. 
King described her style as hipster, street style and comfortable, especially during the fall season. 
"My go-to fall outfit would be a baggy t-shirt with my favorite hoodie, and a pair of leggings with my favorite tan boots," King said. 
King said she believes sustainability is crucial to the fashion world, and she strives to be environmentally friendly and as sustainable as possible when shopping for clothes. 
"I think sustainability is very important when it comes to fashion. I always try to thrift or buy from small businesses. Corporations already have so much money, so what about the little guys," King said.