The UNC Asheville Swim and Dive team are jumping into their 2023-2024 season with an intrasquad meet this coming weekend. 
This event consists of teammates competing against one another, as an additional way to reinforce the team's skills and prepare for the demanding season that lies ahead. 
These past two seasons have gone incredibly well for the UNC Asheville Swim and Dive team. The Bulldogs were undefeated the 2021-2022 season and the 2022-2023 season. Additionally, the team finished fifth in their conference meet last season. 
"Our record the past two years has been phenomenal. We are using this opportunity to start fresh, and to look past our successes and focus on the work we need to do to be a stronger team. We have some pretty tough competition that may shake up our undefeated record, but regardless of the outcome, every meet is a new opportunity to show our strength in the pool and on the boards. I am excited for this season and the new perspective it will bring for our program," said senior swimmer Gaby Shenot. 
The diving portion of the meet will take place at the Jewish Community Center on Friday at 3 p.m. and the swimmers compete in the Justice Center on UNC Asheville's campus Saturday at 11 a.m. Like most UNCA sporting events, both of these meets have free admission to students.
Multiple teammates revealed that by the end of these events everyone's voice is hoarse from shouting and cheering all day.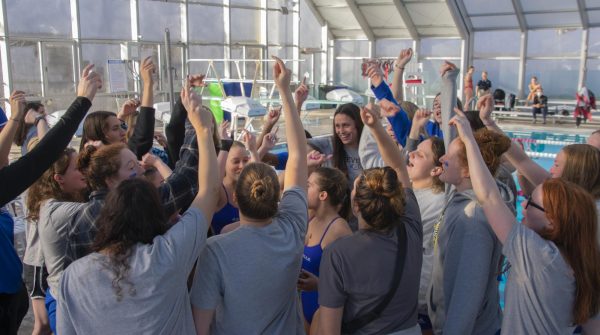 "At our dive meets the whole swim team is there to support us, and we love supporting them at their meets," said sophomore diver Kindal Culpepper. 
UNCA's diving coach Matthew Macon said during an evening practice that he wants the divers to treat this meet as if it were a real one, so he is able to provide constructive feedback in the competition setting. Macon discusses benchmarks and goals with individual team members to set them up for success each season. 
"I really enjoy seeing my hard work pay off when I compete." said senior diver Jade Canady. 
The first meet that UNC Asheville Swim and Dive hosts is on October 6 at 4 p.m. and October 7 at 12 p.m. These events are free admission for students.