Professor of environmental studies at UNC Asheville Jeff Wilcox was dressed in shorts and an athletic shirt, having recently finished a workout at the campus gym. He sat behind his solid-wood desk, in his office adorned with photos of his children and the school athletic schedules. Not even five minutes had passed in the room before he was already headed out the door, excitedly showing off his department.
"This is my baby right here," Wilcox said, as he pointed towards a pushpin board in the hallway, filled with the faces and profiles of environmental studies alumni. He named several former students of his, smiling as he reminisced on their time with him, and what they had gone on to accomplish. "I'm very proud of our students. I like putting it up here because it shows our current students that you've learned enough to be successful here," Wilcox said.
He continued through the building, punching in codes on each locked door he passed. Behind each were the labs where he has taught countless students during his 17 years teaching at UNCA. He made his way to a backroom, filled wall-to-wall with various rocks used for his classes.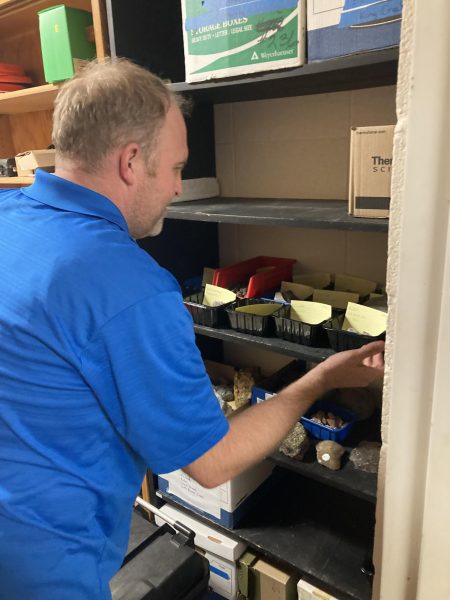 "This one up here – very radioactive," Wilcox said, holding up a simple small jar with a screw-on lid containing a rock. He pointed at several other non-contained radioactive rocks, showing no fear. "That green stuff is radioactive there, but very lightly, very slightly. You're totally fine being in here I promise," Wilcox added quickly. "Just don't sleep with that under your pillow, like for the rest of your life," Wilcox said.
Wilcox unlocked several other cabinets and drawers, many filled to the brim with more rock samples. As he opened the last cabinet, several stuffed animals came tumbling out.
"I also have a stuffed animal collection of, well these are dinosaurs, but I have others," Wilcox said, laughing as he pulled several plush critters out of the bottom cabinet. He described his most recent find, a 500 million year old multicellular predator from the Paleozoic Pals line. "I just got the newest one too. I bought it at a conference last week, and people were like, 'Oh, did you get that for your kids?' And I was like, 'Yeah, for my kids, definitely.'" Wilcox said while laughing.
He entered another storage room in the lab, containing even more rocks. This time the rocks were from his personal collection he has built over the years.
"I don't know what to do, I just like to collect rocks. I just like to have them. I like to collect rocks and bring them home. I mean, they looked so pretty. How can you not want these right?" Wilcox said, admiring this small part of his collection. "They're just sitting there waiting, begging to be collected. You had to take them," Wilcox said.
Wilcox finished his rounds, cutting off the lights and re-locking the doors to the labs. He almost forgot to turn off the coffee pot in one of the classrooms, which he uses to brew his students coffee every morning for his 8 a.m. courses.