By Stuart Parker – [email protected] – Contributing Writer
If you have ever met me, you know that my entire life revolves around mountains. It's not that I simply like the mountains; it's more of an obsession than an interest. I study geology, I climb and ski. I devote all the free time and money I have to the pursuit of exploring mountains. Seriously, without mountains I would have the charisma of a brick. In the past, I have found myself sleeping under overpasses, donating blood plasma in order to fund a trip and suffering 89 hours of Greyhound travel. I will gladly sacrifice comfort and, at times, well-being, in the name of mountains. For roughly the past year and a half I have been doing just that in Montana.
I know it's difficult to put an adventure into words. Countless students here at UNC Asheville embark on unbelievable adventures. When they get back they tell many people about them, but unfortunately it's hard for the listener to really grasp the experience. I will do my best to not bore you with tired travel speak while trying to express just what I encountered while away. I will also try not to write like a rock jock. I promise, no rock names will be mentioned.
At the end of freshman year, I caught wind of this program called National Student Exchange. Shortly after, I saw a Teton Gravity Research (ski porn) article about the top skiing universities in the country. For kicks, I looked at the list of schools on both the NSE and TGR lists. The top school, Salt Lake City something or another, wound up on both lists. That's when the light bulb turned on. Montana State University also happened to make both lists. Months after an empty suggestion from a friend – "Hey, you should go there…" – I found myself standing on a curb in Bozeman, Mont. I literally did not know a single person in the state of Montana. Let the adventure begin.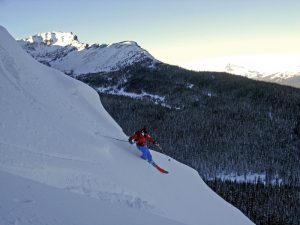 I quickly found out about the unofficial state slogan: Montana is for badasses. While the university had its large quantity of bros and bitties, Bozeman was filled with what are arguably the most stoked people on the planet. Nina is the perfect example of a Bozemanite. Her resume is endless: skiing spine walls in Alaska, leading overhanging ice climbs, climbing hard cracks in the desert, all routine. All the while, she is one of the most down to earth and genuinely happy people on the planet. Oh yeah, and she's gorgeous. Just another average citizen in Bozeman. In addition to being complete badasses, Bozemanites are some of the least judgmental people I have encountered. The entire town is a judgment-free zone. The janky lifestyle is embraced. Showers are discouraged, ski passes are swapped and ski clothes are dinged with dirt and filled with holes.
The next year and a half or so would be a blur. Not a typical college blur of drinking and endless parties. Instead, it was a blur of effortless powder turns, engaging climbing moves, panoramic mountain scenes and the euphoria that accompanies the vertical world. I'll be honest, Montana is no Argentina. It doesn't have the allure of foreign lands. For me, Montana was more of a lifestyle. Rather than delivering a shallow experience of the typical visually-based tourism variety, I encountered a lifestyle.  I am not talking glorious powder turns followed by fondue in a hot tub with a gorgeous companion; I am talking about ski to shower ratios of 9-to-1. I had found the quintessential ski bum lifestyle, and I loved every minute of it. My day to day routine was a janky cycle of outdoor frenzy. I remember walking into lecture at 10 a.m. decked out in my ice climbing garb, still covered in snow. This was truly living the dream in my books. This experience goes so far beyond living in a pretty postcard. I was slowly becoming part of the landscape.
Having the opportunity to watch the seasons change in Montana was more than I could have hoped for. I travel quite a bit to the Alpine, but my time in Montana gave me more than my typical quick fix. It gave me a whole year to learn and enjoy the landscape as it changed with the seasons.
As the conditions change, you must change your mode of exploration. When I arrived in August, snow was still present in the high elevations. I often found myself missing dinner after getting caught up in long days of endless sunshine. After or between classes, my friends and I would go to the local crag and spend some time sport climbing. We chased the dwindling snowpack far north to Glacier National Park, where I attempted to learn to snowboard. Needless to say, glaciers are not the most beginner friendly environment.
I traveled to Ten Sleep, Wyo., for some world class sport climbing. Ten Sleep is a sleepy cowboy town with the strangest climbing community imaginable. The guidebook describes the routes in terms of dictators, swimsuit models, UFOs and new age religion. Perhaps the new age religion part worked, who knows. All I know is that a route there, Beer Bong, made me a believer in the wonder that is Ten Sleep.
As the slack season between climbing and skiing set in, I found myself in a vicious ice climbing bender. Five a.m. starts were not uncommon, and I would often arrive at my morning class fresh out of the canyon. The ski season set in around November. I was fully engulfed in my obsession until the resorts closed in April.
During Thanksgiving, I boarded a Greyhound and dirtbagged my way up to Canada, somehow not being robbed or murdered in East Vancouver. It was a thin and dangerous winter, but I made the most of my time and struck it rich with my powder hounding while staying out of harm's way. As the snow stabilized and the spring slush party began, we shifted up into the backcountry of the big peaks. The goggle tans thickened along with the mashed potato snow. Some of the best runs of the season occurred in short sleeves after endless slogs up soupy slopes in formidable mountain ranges, such as "The Crazies."
The end of the year was a nonstop gathering with friends. Every day was spent joking around as the skiing died and the climbing began. The seasons quickly morphed from one to the next as the year flew by in an endless string of adventures.
The mountains were much more than a pretty place. They offer immediate sensations not found anywhere else; for instance, the sensation known as the "screaming barfies."  In the climbing world, this is the name for the sensation encountered when the blood begins to reenter your hands after climbing a pitch of ice. The natural tendency is to bend over and cry out in discomfort while clutching your hands against your churning stomach. This discomfort was common during my time in the mountains. This particular winter was marked by the most unstable and thin snowpack in recent history. All winter long, the mountains were furiously ripping and claiming lives.
Over New Year's I found myself in Canada on a dirtbag ski trip with a badass chick named Erica. Erica was leading through some low angle trees when we both heard the infamous, "whumph." A fracture encircled her, but had not yet slid. As if face to face with a vicious predator, she inched away and we tucked our tails and ran, knees knocking. We later spent 4 days alone in the kitchen of a hostel after avalanches and heavy snow blocked the only road in the area. Times like these are what I seek in the mountains. These unexpected occurrences haven broken me down, but they offer a taste of all that is good.
Simply traveling to the mountains isn't enough. I must go in there, get in the thick of it to really experience it. Nearly every other day I was in Montana, I felt alive. I was able to face what we instinctually avoid: the dirt, the difficulty and the discomfort. This amazing discomfort allowed me to grow in many ways – when I wasn't wetting my pants.
This past winter break I returned to Bozeman. It felt like coming home to the family. The adventures and friends were as thick as ever. My life up until now has been a series of events leading me slowly up a north-westerly slope. My time spent in Montana was the culmination of years spent drooling over the thought of the dirtbag dream. It was a great experience, offering a glimpse of what lay ahead. I have returned to North Carolina with stoke far exceeding recommended levels. Without a doubt, when I finish up my time in the loving city of Asheville, I will bolt west in pursuit of that Big Sky.