By Tina Scruggs – Staff Writer – [email protected]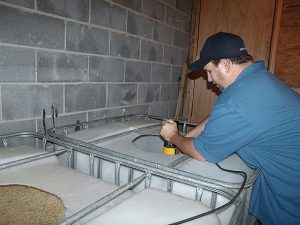 Cody Bradford, dissatisfied with his experience in retail management, decided to follow in his father's, grandfather's and great-grandfather's footsteps instead by making moonshine the old-fashioned way.
Bradford, a Burnsville native and UNCA alumni studied history, and then went on to be a manager in retail.
"After graduation, I tried being in management and I didn't like it. It was horrible. I hated it. It was all about profit," Bradford said.
Bradford decided he would try making moonshine.
"I was around it growing up. When I was really young it was still pretty illegal, so I didn't really know just how involved my family was. But we've done this for generations. I'm actually using part of my great-great-grandfather's still. It's probably 125-150 years old. I took it apart and conditioned it so I could use it," Bradford said.
When Bradford was in school, the government considered the trade a criminal activity. It interested him, and his father wanted to teach him, but it was still illegal, so Bradford chose to not get involved. Later, authorities relaxed the laws. Bradford's father decided to teach him how his family made moonshine for generations past.
Bradford learned how to make moonshine the way his ancestors did, and went on to create Howling Moon Distillery, and he now enjoys making good moonshine for everyone.
"I'm using the same recipe my great uncle used. He was really into making moonshine, and he made some really good liquor. He got caught a bunch of times. In fact, one of the times he got caught, the judge asked if he made some of 'that good liquor,' and my uncle said, 'Yeah. Yeah, I do.' The judge let him off with the smallest penalty. They were just joking with him," Bradford said.
Making moonshine illegally was all about having the right connections, Bradford said.
When local authorities saw in the paper that Bradford started making moonshine, they visited his distillery.
"They were just trying to see if they could see something, since there are all these federal regulations that we have to keep up with," Bradford said.
Making moonshine the old fashioned way takes about two weeks, according to Bradford.
"And we used to bottle by hand, which took another week. But now we've got a bottle machine, and bottling only takes about eight hours," Bradford said.
Bradford said most people don't know anything about making it, and there's a lot of really bad liquor out there.
"It's an art. That was my whole point with this place. Everyone thinks it's hot and nasty and really rough. I'm kind of ashamed that they were calling it moonshine," Bradford said.
Making moonshine, which is essentially clear corn whiskey, was passed down from the Scots-Irish, who came to the Appalachian Mountains and passed on the skill, Bradford said.
"Most good moonshine is made in these mountains. I've never had really bad liquor. Lots of people still make it, but they do it illegally. There's no one else that does it like this. You have to make it a certain way to get it just right," Bradford said.
Bradford started Howling Moon Distillery with his friend, Chivous Downey. Bradford taught Downey the way his family made moonshine.
"Making it the old fashioned way means that I mix everything by hand, add ingredients by hand. Modern stills run off an iPad. You set it all up on the computer," he said. "And it's more efficient. It strips the alcohol out better, but you don't get all the flavor. It's the byproducts, the corn and the sugar that make it taste so good."
Bradford said he uses the freshest corn he can get his hands on to make sure his moonshine tastes good.
"It's really difficult to find corn this fresh. It's the ground corn meal that gives it this great corn flavor," Bradford said.
The first process is called mashing. It involves mixing corn and water and cooking it, and then adding lots of sugar, Bradford said.
"The whole process takes hours and hours," Bradford said.
Bradford calls the next piece of the process a run. It's the distilling process, extracting the alcohol. Alcohol evaporates before water, so when Bradford heats the liquid, the alcohol and water separate.
"So the pot heats up and keeps the liquid, which pushes the liquor through a pipe. It is then cooled down again," Bradford said.
The alcohol goes from being a liquid, to a gas, and then back to a liquid.
"We actually add some beer in, it brings the proof up. It's weird how that works," Bradford said.
When Howling Moon Distillery first opened, Bradford worked 18 hours a day, seven days a week, and they only had one still. Now, Howling Moon has three stills, and Bradford's working day has shrunk to 13 hours.
Dan Pierce, a professor of history, department chair and recent author of "Corn from a Jar: Moonshining in the Great Smoky Mountains," said Bradford's moonshine is available in ABC stores. There are traditional, strawberry and apple pie flavors.
"We should support UNCA's alumni. If you've got a mind to drink moonshine, I'd recommend you drink Cody's," Pierce said.
Bradford said that he loves what he does, and doesn't have any plans to stop.
"If I ever did sell it, I'd just turn around and open up another one. I'm still gonna do it either way," Bradford said.