By Tina Scruggs – Staff Writer – [email protected]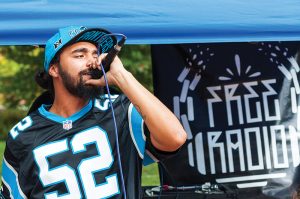 Free Radio, a hip-hop group, started in Asheville, traveled to San Francisco for a couple years and then came home to spread the love and build Asheville's music scene.
Austin Haynes and Johnny Reynolds became friends in high school and started making music together soon after with Johnny's older brother and friends. Through the years they shrunk because managing two people was easier, according to Reynolds.
"We went by the name of the Ville Boys first. Ville, like Asheville," Haynes said.
They changed their name to Free Radio to help spread their message.
"We're speaking about freeing the radio from these corporate entities that have taken control and they get to choose what the youth of America listens to. To me there's something totally wrong with that. Especially when you look at the music they're choosing to give us," Haynes said.
Haynes said people often associate hip-hop with rap and rap has a tendency to center on criminal behavior.
"If we put more music out that is criminal-minded, then we embed that seed into the youth," Reynolds said.
Haynes wants people to be aware of events occurring around them on a day-to-day basis. He hopes their music will make people talk, he said.
"Nothing's wrong with being smart or having some intellect or wanting to learn about certain things. You should never limit yourself to learning," Reynolds said.
Conscious cognitive hip-hop does exist, but the music industry does not aim its messages at youth, Haynes said.
"Underground scene is more for the people that love music and hip-hop. It's not about how much money I can make off of it," Reynolds said.
Diversity heavily influences the growing underground hip-hop scene in Asheville. According to Haynes, the scene is starting to come together.
"I think Asheville has the best of both worlds. It's a small town, moves at a slow pace, but it offers everything that a big city offers. You just have to find it. Here it was fairly easy for us to get into really big shows. You can easily shine to the top of Asheville's small scene," Haynes said.
Since Asheville is so small, maintaining positive relationships among artists and people is important. Bad blood spreads quickly, so it is important the scene is unified, Haynes said.
"The more unity you bring to a scene, the easier it is to make a living. Because everybody's showing love and your name is getting out there," Reynolds said.
Reynolds said they grew and learned a lot while they were in San Francisco. It gave them insight on what they want to accomplish and their goals, and they brought that insight and new information back to Asheville with them, Reynolds said.
"They work with each other, it's all on a peaceful level. And that's something I think we've brought back here — just making a scene and being open to a lot of people, not wanting to hog the scene for ourselves and spread the love, bring people to share the stage with us," Reynolds said.
Haynes said the scene in San Francisco unifies the artists and allows them to make a living for themselves because it is such a big city. The artists know each other and work with each other.
"We would have cats up there that we looked up to tremendously that we never expected to see at any of our shows who would show up at our shows and show mad love and they're top — more of the top of the underground hip-hop scene in San Francisco. We would just be very humbled by that," Haynes said.
Reynolds said they returned because the distance from their family was rough, and they had some financial difficulties.
"Out there we were small fish in a big pond. And we did some stuff that was kind of big out there, but here it's easier to really get the spotlight. Here we're bigger fish in a small pond," Haynes said.
They hope to reach people on as big a scale as possible and believe that everybody has a right to be heard, said Reynolds. Haynes also wants to see younger people at shows.
"We're forced to play a lot of bars. But we feel young, we are young, and we want to promote our message to people who don't want to go bars and can't get into bars," Haynes said.
Hali Entas, a psychology student, said she has been going to their shows for more than a year. Entas loves their music and what they stand for, so she became part of their street team and now works to promote them by posting fliers and handing out stickers and posters.
"Even if I knew all of their songs, it's always a good time. They're not just in it for the money. They love their supporters, and just want to get their messages out there and reach people. These guys went to the March against Monsanto and changed their song lyrics to, 'I don't want to eat no more GMOs.' What other rappers or hip-hop artists are going to do that?" Entas said.
Jordan Schwartz, an Asheville resident, said he goes to see them every chance he gets. He said he was unaware there was a hip-hop scene in Asheville until he saw Free Radio.
"Every time they play a live show, you can tell they're up there caring and having fun. And it just makes the world have fun. I'm not going to listen to the millionth rapper tell me how much money they have or much drugs they did last night or how many girls they slept with. They actually think. There's not many people that are able to do that and then keep that raw hip-hop sound," Schwartz said.
Haynes said getting to a place of being comfortable with himself took a lot of effort.
"I've been through extreme ups and downs. It takes extreme inner vision in yourself to find who you are and be comfortable," Haynes said.
Reynolds said Haynes is a tremendous leader who makes the beats, mixes songs, and has the heart, soul and mind for music.
"I know Austin will forever work with music. That's beyond a love or a job or anything you could label it. It runs through his blood," Reynolds said.
Haynes said his friendship with Reynolds keeps them together as a group more than their artistic abilities.
According to Haynes, Reynolds has an open mind and welcomes new ideas. They worked with Matt Anderson, who plays acoustic guitar, and singer Johanna Sharp in the background.
"You live, you laugh, you learn and you grow," Reynolds said.