by Cory A. Thompson – [email protected] – Asst. Arts and Features Editor
As a line of concert attendees crowded the doors of The Orange Peel Thursday night, a group of professional photographers stood, arms crossed, with camera bags strewn around their tapping feet.
According to The Orange Peel staff, Flying Lotus made the choice to prohibit Moogfest authorized media from entering the venue with their cameras.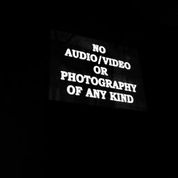 "The restrictions on photographers are made on a show by show basis and are worked out by the artist," said Tenny Arslanyan, a bartender at The Orange Peel. "Flying Lotus put restrictions on professionals for this show."
Micah Mackenzie, a photographer voted the best in WNC for three consecutive years, said Lotus' choice to keep cameras from inside the show rang hollow.

"Moogfest invited me here to take photos and now I can't get into the show," Mackenzie said. "I don't know if they lost the rights to the pictures right before the show or something but the whole situation strikes me as kind of silly."
Mackenzie, an Asheville area resident, said Flying Lotus would have served as a nightcap for an exciting first festival day.
"It's been such a long day and if I can't get in this show I'm just going to go home," Mackenzie said.

For out of town photographers like Kent Howard from DC, heading home was out of the question with Flying Lotus still hovering on the radar.
"I'd already be out of here but Flying Lotus is the show that people left their houses to see today," Howard said. "I've never been asked to come photograph a show and not been let through the doors."