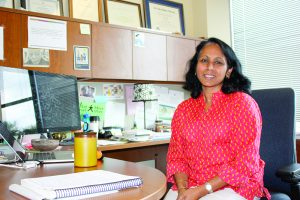 By Rachel Ingram  – ringram@unca.edu – Copy Desk Chief | Oct. 14, 2014 |
Are you still working toward any life goals? What's the next step for you?
"I'm fairly new in this environment so I'm still learning about the culture of an academic setting. Part of my goal going forward is to become a better teacher and better learner. I also want to become better at integrating the community work, the teaching and learning, and students and the research I do."
"Long term, I'd like to just become better at what I'm doing. I'm not going anywhere. I don't have aspirations to move up in the administration here, or to go work at a different place or to change careers. I like what I do, so my goal is to just keep doing it and become better."
What do you think your students would say about you?
"Oh, that would probably vary on a day-to-day basis. I have had students tell me that they think I am thoughtful and intentional and they sense that I care about their learning. I think those are some of the things they would say about me. And those are the kinds of things that I want to be."

What are some things you hope to see changed in our world in your lifetime?
"There are several concrete things I would like to see. I would love to see limits on the kinds of foods that can be marketed to children, in terms of federal legislation. I would also like to see broader social change in terms of institutional practices around racism."
"Also, an overhaul of how we treat children in schools. Our prison systems are another place where I think we could really do much better. I think a lot of this is rooted in racism and prejudice in our society."
If you could enact one piece of legislation, what would it be?

"It's hard for me to pick, but at the top of my mind right now is the debate over gay marriage. This is really one of the issues of our time. I'd legalize marriage between two people, with benefits and everything that come with it, for everyone in our country and hopefully around the world as well."
What are your teaching strategies?
"I've been on a personal mission to incorporate more contemplative practices into both the classroom as well as to my own processing as an instructor. I've also been thinking a lot about a flatter world and our role as faculty members in the classroom."
"We're at a time now that's different than any other time. Students have access to as much as, sometimes more, information than we do. I think that's exciting because students can bring so much to the classroom, both personally and from their own research of what's out there."
"But it's also made me question the academic model and how we could potentially evolve it."
What's been on your mind lately?
"We are moving away from this model of professors as holders of the information and students as the recipients. Students are not receptacles that we just fill — we have exchanges. I think that's important. Not only is there an exchange, but there's a value to what we can all bring to the classroom."
"Then it becomes more of a conversation about issues, and isn't that what education should be, instead of just a filling-up of information?
Ameena Batada has a DrPH in from Johns Hopkins University and is an assistant professor in the health and wellness department. She was raised in Canada and has worked in both India and South Africa. In April, she received the UNC Asheville Community Connector Award for academic and civic engagement.