By Larisa Karr  – lakarr@unca.edu – Contributor | Oct. 21, 2014 |
For months, the campus had chattered about the long-awaited visit from Seth Green, also known as Bonobo.
On Saturday, September 27th, fans of the legendary electronic musician were finally sated. Tickets sold out in the final hour before show time, leaving the Orange Peel parking lot filled with dejected fans.
For those who did get in and were wise enough to buy their tickets early, the investment paid off.

After what seemed like an eternity, the opener came out. Dressed in black, with a backdrop of strange, industrial-metal structures that somehow looked like skyscrapers, Kastle and Spires chilled out the crowd in a funky, chaotic but coherent set of hodgepodge beats blended well into an electronic background.
Then, it was time.
Arriving a lot quicker than is normal between the opener and the main act, Bonobo graced the enthusiastic crowd, some of who had travelled hundreds of miles to see the legend weave his magic through their ears like floss. And weave he did.
Bonobo's music is typified by a sense of dreamy ambience. Essentially, it's the type of music that leaves the audience swaying their heads in loose, fluid motions, in a style much befitting a bobblehead.
The tracks were a lot more trance-y and dance-y than expected, and encouraged the audience to lift their feet off the sticky, beer-soaked floor in rhythm.
The love, enthusiasm and energy that Green put into his DJ set was second-to-none. In a genre filled with subpar hipsters trying to be cool by copying the beats that all their friends seem to be trying to make, Bonobo stands out.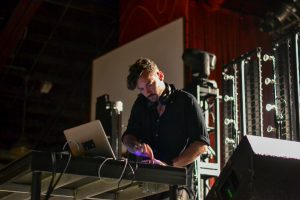 Because he really understands music, Bonobo brings out the underlying melodic elements. He unites songs that sound so chaotic on the surface and shows how music can melt into itself in a seamless fashion.
In past sold-out concerts at the Orange Peel, the heat from the people in the room and the lack of air conditioning from the oversized but inefficient fan tainted the experience. This time, and it could have due to being near the front, there was a cold, mellow air permeating the Peel.
As the smell of lingering cigarettes floated around the DJ like an embrace, drawing out the fine, intricate ripples of melody in his music, and blending with the cold, industrial, metal "city" imposed around him, Bonobo brought intimacy and a sense of exuberance to his set.
He played with a fervency and speed that rivaled that of the most zealous dancers of the evening. After he left the stage in a cloud of applause, he took time to thank the audience and chat genially with the "Crewe."
As the crowd trickled out, the smoky night was left awash with the feeling of cleansing and purity that befits only the best concerts.