Momentai music mixed with Buchi bar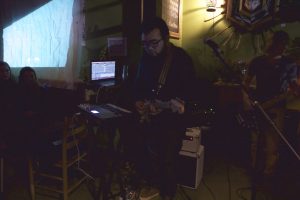 By June Bunch – [email protected] – Staff Writer | Feb. 4, 2015 |
In his cozy black sweater and matching thick-rimmed spectacles, Brian Vu, creator of the chill-wave band Momentai, is laid back before his first set at the Buchi Bar, waving hellos to familiar faces.
 
"I'd say I'm experimental," Vu said.
 
Clint Roberts, the opener for Vu's set, played in the background, shifting around the stage with his soulful guitar. Roberts created a silhouette of strawberry-blond shadows against the Buchi Bar's windowpanes.
 
With kombucha on tap and Robert's tones emanating from the speakers, emotion escaped Robert's notes and landed on goosebumps on the people in the crowd. Vu listened, talking about the importance of music.
 
"We played for eight years before starting this project in 2013," Vu said. "We were watching lots of "Digimon" at the time and thought there was a fitting character that said 'momentai' a lot, which means 'take it easy' in Cantonese."
 
The band agreed on the name and began writing music, Vu said.
 
"I usually start out with some really drone synths," Vu said. "Then I add drum and a more intricate melody on synth, then comes guitar, and adding bass at the end."
 
The musician, counting down the minutes to showtime, said the process usually moves organically.
 
"I just do it as it comes to me. It's never set in stone. I'm about to release an album and I'll be putting it up on SoundCloud as a 'name-your-own-price,' " Vu said, referring to name-your-own-price music downloads. "I'm maybe even planning to do a cassette. I just want people to be able to listen."
 
A senior at UNC Asheville, Vu said he often incorporates his original music throughout his video-production class projects.
 
"I'd always end up making my own songs for video projects," Vu said.
 
Keeley Turner, senior new media student at UNCA, worked alongside Momentai to incorporate projections of "Digimon" clips for the shows.
 
"Using projected visuals as a medium, I like painting with light," Turner said.
 
She played with keys on her laptop, going through potential clips for Momentai's installation set.
 
"I edit live during the program, and that way I can add in whatever I want," Turner said.
 
The visual set was relatively easy to manage on Resolume Arena after tweaking the clips for a few days, she elaborated.
 
"Visually, people love to look at things, and the projections add something to a performance," Turner said. "All of it is intentional, with each song having a different visual I make up as we go along."
 
According to Turner, free downloadable visual clips from websites make for compelling content. Vu said the movie clips add a lot to the music.
 
"Sometimes I'll hear a soundbite from a movie and just get drawn to play with it. I'm inspired by weird things. All of a sudden, I'll start hearing music playing in my head, and that's how it always comes," Vu said.
 
Vu squeezes making music and splicing movie clips between his full-time studies at UNCA.
 
"I pretty much don't sleep. I'm doing two senior capstones and finding time for music. It's my only real passion. Getting a degree is a safety net, but music is what I want to do with my life.  Really nothing inspires me more than this," Vu said.
 
Vu then joined Momentai on stage. The crowd quieted their conversations and looked toward the band.
 
Heavy bass hit listeners right in the gut. The bass resonated with the synth and vibrated against the glass doors, sending sound waves down the sidewalks and to the ears of passersby.
 
"It's definitely danceable," said Emily Neas, a local music supporter.
 
Audience members like Neas watched the projection screen fill up with visuals of dizzy traffic journeys, all symmetrical and out of focus, pixelating the light and making it look like fireworks moving with the music.
 
Vu led the audience through his Rubik's Cube of decrypted rhythms, letting out ambient, chill-wave loops with his eyes closed, feeling his way through the set of Momentai's songs.
 
The lipstick-adorned Neas sipped her wine while listening, leaving crimson prints on her glass.
 
"They create a diverse atmosphere with their music," Neas said. "You can be totally engulfed in their music or you can be sitting over at the bar, appreciating what you're hearing while still having a conversation."
 
Meanwhile, a new tempo began, and a handful of sitting spectators at the bar floated closer to the stage for a better view.
 
"The music has this kind of upbeat feel, but then you also have that mellow, steady rhythm guitar that you can really get down with," Neas said.
 
As Neas watched, she kept track of the stage presence and said it seemed very involved and in tune.

"He's doing three great things at once. First he's got his guitar, then he's making sure he's going along with the rest of the band, and all the while jives with this visual display. I mean, it's inspirational. He's seriously creative," Neas said.