Isaacson invokes musicians and fans to band together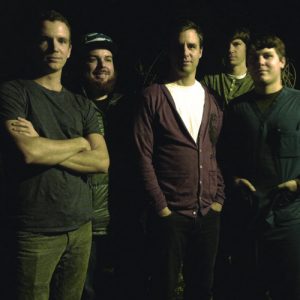 Photo by Jeremy Rasik- Contributor
By Tamsen Todisco – [email protected] – Staff editor | Feb. 25, 2015 |
Musicians in the local band Isaacson said they aim to create a stronger community of rock fans and musicians. The band's members said through collaboration, one can improve the musical experience.

The band has been together for 2 1/2 years, playing at multiple venues in town.

However, the Asheville music scene is not always easily accessible to rock bands, said Jeff Mettee, Isaacson band member.

"It's always a kind audience, which I think is cool. The people that come appreciate what they're hearing," Mettee said.

Mettee plays keyboard and synthesizer as well as guitar and vocals. Jeremy Rasik, guitarist and singer, said songwriting has become more of a cooperative process since Mettee joined the band about two years ago.

"Somebody will bring in an idea and we then flesh it out, so it just happens on the spot. We'll create a song together, when we have something to start with," Rasik said.

The band members, including bass player Wes Bintz, and drummer A.J. Donahue, hesitate to settle on a label for their type of rock, which incorporates keys and synthesizer effects. They have used genre modifiers such as "drone" and "noise," but their cooperative songwriting style makes definition complicated.

"We just decided to throw modifiers at people because we don't really know how to describe it," Rasik said. "I guess at any given point we have, like, four different songwriters, even though it's collaborative. He (Mettee) writes, I write, Wes writes."

The group has played the Mothlight, the Boiler Room, and the Odditorium — previously the Get Down. They have played Lexington Avenue Brewing downtown and in Nashville, as well. Jessica Salyer, Asheville resident and avid concert-goer, said she has seen Isaacson in concert a few times and enjoyed it as a musical and sensory experience.

"If you stand by A.J.'s drum set you can feel the rhythm," Salyer said.

Isaacson members said their advice to other musicians, particularly students looking to expand and improve their music, is to work together. Bintz said he hopes other musicians have fun playing music, regardless of age.

Rasik said playing with others can be a transformative and learning experience, even if it's not always pleasurable.

"Even if it's just playing with two or three other people who, maybe you're not pumped on playing with them, but it's something you need, someone to bounce things off of," Rasik said.

"Same with other bands, just inspire one another."

While bands often compete with each other, Mettee said forming bonds can be necessary, especially when trying to book a concert venue.

"If they band together, and they can present a bill of three bands — that would be a way to get your foot in the door," Mettee said.

Rasik said the large number of touring bands Asheville hosts creates an "oversaturation" in the local music scene.Those who do make it out to see Isaacson have been enthusiastic and supportive, Mettee said.

Isaacson will be playing the Mothlight in West Asheville, March 4, with Merchandise and Lake Lawn. During their live performances, Rasik said he enjoys communicating through music with the audience and his bandmates.

"Sharing the feeling that you get when you play which is, to me, a certain sense of being content," Rasik said.