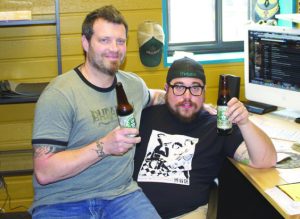 By Katelynn Watkins – [email protected] – Staff Writer | April 1, 2015 |
"As long as the quality of the product remains consistent and breweries stick to their core values," Stevenson said, "I think the beer scene has an opportunity to keep flourishing."
But soon, the city will have a new brewing site to welcome. Bhramari, the brainchild of Bailey as well as Gary Sernack, prepares for its grand opening this summer at its South Lexington Avenue location.
After many months of planning and heavy reconsideration in branding, it's all coming to fruition, Sernack said. A former chef and piercer, Sernack has already assumed the role of head brewer at the still under construction facility after home brewing for the past 10 years.
"I think we're still shooting for July 4," he said. "For now it's just about taking it all in steps."
Bailey entered the business with the touring company not long after his arrival to Asheville. A good friend of his wanted to create a great food and beer tour experience and enlisted Bailey's help, he said. Before the vans were ever acquired, Bailey served as the walking tour guide.
"After we got the vans and I had to drive instead of just walk and sample beer with the groups," he said, "I realized I didn't enjoy being a tour guide so much."
When the company eventually split up, Bailey took over the brew tour side and enlisted guides such as Roberts to take on the groups of eager beer tourists. After a while, Bailey said he knew he wanted to move beyond the company. So, he approached Sernack with the idea of backing his brews and bringing in original dishes to pair with them.
"At that point it was kind of more about when we would get started rather than if," Sernack said. "I was in a transitional period, so I was down to start something new."
The entrepreneurs agreed on a general theme and a name, making shirts and stickers for the soon-to-be brewery. After a brief setback with the chosen name, resulting in some reconsideration before a new one took its place, he said, the brand kept its bee logo and took on the title Bhramari, which refers to the Hindu goddess of the bees.
"Well you know, after going through all of that, we realized we forgot an important rule," Sernack said, grabbing a how-to book for building up a new brewery. "We just kind of took the bull by the horns."
The first page of the book had a sheet of notebook paper overtop it, scrawled in handwritten letters and reading, "Make sure to check if your name is trademarked before letting the media write articles about you and making T-shirts."
At this point, the pair could write a book on how not to open a brewery, Bailey said, or maybe a couple of paragraphs at least.
And at the end of a Tuesday afternoon visiting Burial Brewing, Wicked Weed's Funkatorium, and TwinLeaf Brewery with a tour, Bailey and Sernack get right back to it, cooking up new ideas and watching them flourish or fight to make it work before going home.
They won't know if Bhramari will take off until it opens, Bailey said, but with a location and customer base like theirs it's hard not to feel confident.
"We've got the makings of a great thing here," Bailey said. "Brewing atmosphere aside, I think it's prime time for us to get this off the ground and run with it."It's a sunny Tuesday afternoon. While many Asheville residents are working, you could be having a beer with an entrepreneur, a guide, and a lawyer.
For Josh Bailey and Andy Roberts, this is a typical weekday.
Asheville, also known as Beer City in some circles, garners quite the reputation for its many brewers and specialty style beer. Breweries from across the nation have migrated eastward to settle in the mountains, but what interests Bailey, owner of Asheville Brewery Tours, is the growth in local activity and how it's shaping Asheville.
"Someone asked me when I thought the bubble would burst," he said, "and I asked when she thought the wine bubble would burst in Napa."
Roberts, one of Bailey's brew touring guides, is equally optimistic regarding Asheville's welcoming attitude toward brewers, expressing his appreciation for Asheville Brewery Tours' success. Not every beer-related business in town has been so fortunate as they, he said.
Drew Stevenson, a fifth-year employee of the well-established Highland Brewing company, has watched Asheville's brewing scene expand alongside its already existing arts and crafts economy as a lifelong resident of the city. He said he's noticed a significant boom in the industry in the last four years or so. But no level of sustainability can be measured as a general rule, he said.