The star of #Chanstallation: UNCA's seventh chancellor settles in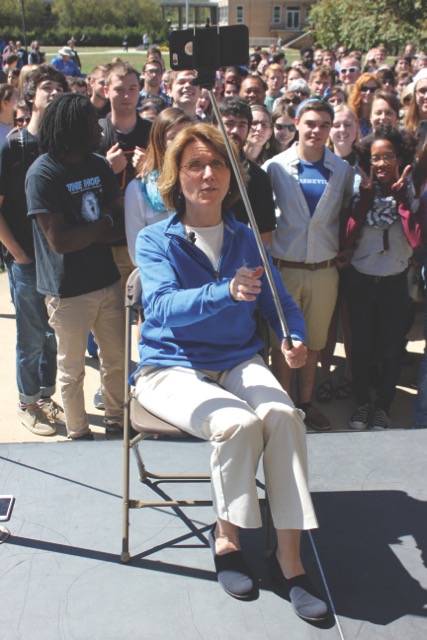 By Phillip Wyatt, News Staff Writer
[email protected]
9/16/2015
Chancellor Mary K. Grant has lived in Asheville less than a year, yet she already sounds like a local.
Her love of hiking, bike riding, gardening, Highland Brewing and The Hop's dark chocolate ice cream depicts Grant as a quintessential Ashevillian.
"I really like the size of scale of Asheville- not too big, not too small," Grant said. "You can wander around in the River Arts District and find a whole different vibe, a whole different set of places to explore- restaurants, coffee shops and galleries.You can go down to West Asheville, where there is just a great music scene. It's surrounded by all of this natural beauty. There seems to be something for everybody here in our own backyard."
Born in Boston, the diehard Red Sox fan is no stranger to the liberal arts curriculum. Grant received her bachelor's degree in sociology from Massachusetts College of Liberal Arts in 1983, according to information from a UNC Asheville press release.
Grant said she took a year and a half off before earning a master's degree in public affairs from the University of Massachusetts, Boston, in 1986, using her time between degrees to reflect and determine her next move in academics.
The chancellor started her career in higher education as a research assistant at UMass Boston, also teaching graduate-level courses in the university's public policy program. She also spent years as assistant vice chancellor for administration and finance and chair of the college's faculty.
"Looking at that campus that was tucked away in this little corner of Massachusetts, students all across the state began to see it as their first choice," Grant said. "That felt really great, beginning to see support from the community, because those are things that sustain a place over a long period of time."
Grant said she received her doctorate in public affairs from Brandeis University in 2000. In 2002, she returned to her alma mater of MCLA as president during one of the college's integral periods of growth and improvement. She retained this position until accepting an offer as chancellor from UNCA, according to the press release.
"The educational opportunities I had there, similar to what I see students having here, really set me on a strong foundation and a pathway that said 'anything can really be possible'," Grant said. "Don't ever underestimate what you can do or how you can imagine your own future. Don't ever let anybody set limits for you."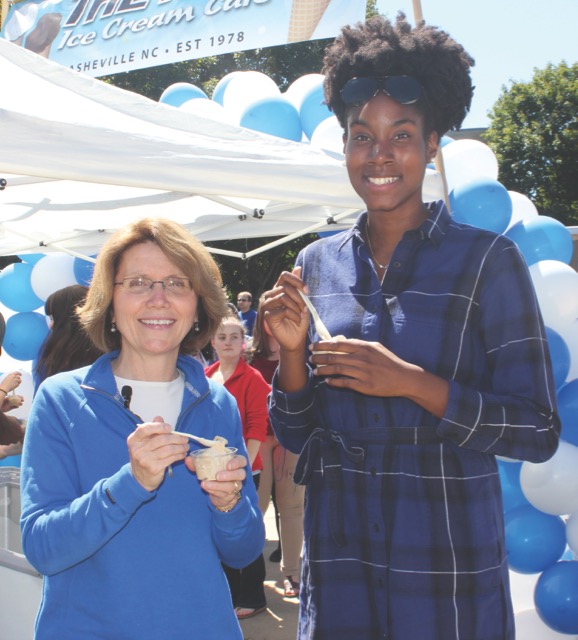 Grant was no stranger to UNCA, visiting several times through her work with the Council of Public Liberal Arts Colleges, of which UNCA is a leader institution with executive offices located on campus, Grant said.
"I was never thinking then that someday maybe I will be chancellor here," Grant said. "I was really admiring the work of this institution and the individuals who were part of it."
According to Chancellor Grant, her first semester as leader of the university was a learning experience filled with familiarizing herself with the community and understanding the geography of the state.
"I definitely feel like I have more of a foundation under me than when I arrived back in January," she said.
Grant said she hopes to strengthen the relationship between the school and the community during her time as chancellor.
"One of the things that struck me so much is we are in this great city, and if you are downtown, sometimes you don't know there is a great university right up the street," Grant said.
Plans to meet with university officials, faculty, staff and students this school year are next on Grant's itinerary to create a master plan and strategy map for the next few years at the university.
"This is an institution with a strong foundation," Grant said. "The work we all have to do ahead of us is to build on that strong foundation and to make sure we are also understanding the change in landscape of higher education."
Although UNCA and the city of Asheville have welcomed Grant with open arms, she still misses her family, friends and the Red Sox the most.
"This may sound nutty, but I miss some of those really good, snowy days that you get in Massachusetts and in New England," Grant said.
Jim Canavan, Grants' husband, and their dog, Sweeney, accompanied her for the relocation.The couple lives on campus in the Brumit Pisgah House and celebrated their 28th wedding anniversary Sept. 12.
Sweeney is an Australian labradoodle mix bred for therapy and companion work, Grant said.