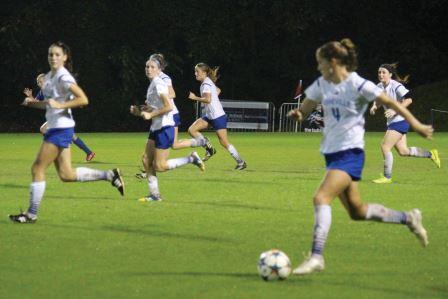 By Chris Jones, Sports Staff Writer – [email protected]
The UNC Asheville women's soccer team put together great offense and defense on a rainy night Sept. 30 to earn their way to a 3-0 Big South Conference victory over the visiting Blue Hose of Presbyterian College. With the win, UNCA moves to 2-1 in Big South conference play.
Michelle Demko, in her fifth year as the head coach of the UNCA women's soccer team, said her players played well in the rain.
"It was a hard-fought game tonight and we pulled off the win in conference play against a good team," Demko said. "We played to the game plan and we moved the ball well. We communicated well and our lines were consistent. That was a really big part of why we were successful tonight against Presbyterian. Thanks to everyone on the team for giving energy, playing hard, and the fans for coming and giving support tonight."
The Bulldogs controlled the game from the start, when Courtney Naber, sophomore midfielder, netted in a goal in the ninth minute. Caroline Houser, sophomore forward, scored a goal in the 30th minute of the first half, Houser's fourth of the year. Paige Trent, junior forward, assisted on both of the first half goals.
"I just got the ball to my great teammates and they put the ball in the net, simple as that," Trent said.
The second half of the game went much of the same, as the Bulldogs controlled the ball on both sides. In the 69th minute of the game Justine James, Asheville freshman forward, knocked the ball into the net for a goal from an assist by teammate Naber. This was James' sixth goal of the season, and she leads the team in goals.
"Tough game tonight. All in all, our team played hard and played hard till the end. We played a good team tonight, they played a great game and we couldn't replicate what they did. We just have to sure up some things on offense and defense and attempt to do better the next game and the game after," said Brian Purcell, Presbyterian College women's soccer head coach.
UNCA moves to 8-3 and 2-1 in Big South Conference play. Presbyterian moves to 5-6 and 1-2 in the Big South Conference play.