Bulldog goes globetrotting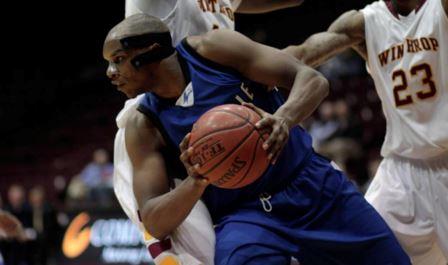 By Jason Perry, Arts and Features Staff Writer – [email protected]
At this point in time, it all seemed to come to an end.
"I had to come to terms with the fact that I may not play again or even be able to walk, run and jump normally," said John Williams with a tone that contrasted his globetrotter, happy-go-lucky personality.
Basketball had shaped Williams's whole life. He has won championships, received countless awards, broke school records and traveled the world playing basketball.
Discoveries are made when one seems to lose everything.
"This was my time where I got to know God again," said Williams, eyes focused, voice calm, confident.
Everything got better.
Williams said basketball has always been in his life. He is a coach's son who grew up with a ball in his hands.
"It is home for me," Williams said. "It is something I have loved ever since I was a little boy, and I can't keep away from it."
Williams went to a college-preparatory boarding school, Christchurch, in Virginia, for his last two years of high school. He said it was one of the best boarding schools in the nation.
According to Williams' official biography for UNC Asheville, he was named Virginia Prep League MVP while attending Christchurch.
"It really wasn't a big deal to me as much as it was for us to get a Prep League Championship," Williams said. "That was much more important to me than individual awards."
Williams said it was all about buying into the coach's training program, a theme he kept through college.
Omar Ahmad, strength and conditioning coach at UNCA, recalls Williams's attitude towards training.
"I would say one of the biggest things was that he bought into the program," Ahmad said. "That led him to become the athlete that he was as far as the sustainability of his talent."
Williams grabbed UNCA's attention early. He said former head coach, Eddie Biedenbach, would come watch his high school games.
Williams said Asheville's team felt like a family, so it was an easy decision for him.
Success followed in Asheville.
"You knew he was a different level athlete than what we would typically see, physically," Ahmad said, recalling watching Williams play for the first time.
"I would do anything the coaches asked me do," Williams said. "I trusted wholeheartedly in our system, and we got a Big South Conference Championship."
Brett Carey, assistant basketball coach at UNCA, said he knew from the beginning that Williams had the ability to go far in basketball.
"John was good. He always listened, he was coachable, never had a problem with him," Carey said. "He always did what he was asked to do, and he always did it with a great attitude."
Williams has not only won a Big South Conference Championship, but he said he was also invited to the Final Four slam dunk competition.
Williams said he finished second and got national attention.
"I got over a dozen phone calls from agents that were trying to see what I wanted to do after college and represent me," said Williams.
Williams received offers to play overseas, but he said his choice fell with the Harlem Globetrotters.
"It was a family type of environment, and I just didn't see that, from my experience, with the teams that wanted me to play for them overseas," Williams said. "It was an easy choice."
Williams said he toured over 40 different countries, visited all 50 states, and played for three and a half years.
"For me, travelling around the world, the world is a secular place," Williams said. "I was a part of that world."
Midway through Williams' career, he said he was invited to compete in American Ninja Warrior.
Williams said this was his crucible.
He tore his ankle on the show, and the doctor told him there was a 95 percent chance he could never play again.
Williams said this was when he got to know God. He realized basketball is not everything.
"I had lost sight of that, and I started to have conversations with God, and it didn't drive me crazy anymore," Williams said with a smile on his face. "I understood that it is not everything, God is everything to me."
Small things in life often lead to great things.
It started with a game of basketball for John Williams, and it led to him discover what it meant to be free.
Williams had been traveling the world as a Harlem Globetrotter, but the one tour that stood out for him was the military tour.
"We would play for the troops, and it definitely gives you a perspective on things to realize how free we are here and how we take that for granted sometimes," Williams said. "Just how all the things we hold dear here on our soil is overlooked."
Williams said it was eye-opening going to the base hospitals. He recalls making a wounded soldier smile. The soldier was recovering from having a leg blown off in an explosion.
Williams said the hospitals would have the American flag hanging from the ceiling, so soldiers would be able to wake up and know they were safe.
"We actually saw a guy come in and he was hysterical," Williams said. "When he came in and saw that flag everything came back to grips. He knew he was home."
The game of basketball was able to take John Williams all over the world and see first-hand the sacrifices it takes to be free.