Cam Newton finally lives up to hype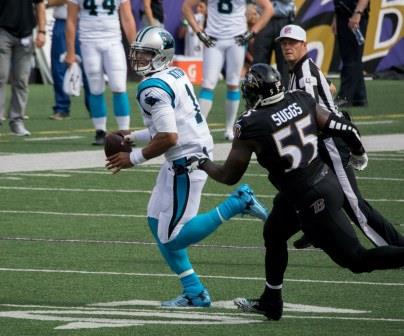 Commentary by Harrison Slaughter, Sports Editor – [email protected]
10/21/2015
With a little over 30 seconds left, Cam Newton put the finishing touches on a comeback drive that gave the Carolina Panthers the victory over the reigning NFC champion Seattle Seahawks.
Newton had not been able to beat the Seahawks during his time in Carolina until Sunday. There had been some very close calls, but they all came up short.
This past Sunday's late-game heroics show just how far the Panthers have come.
In the past few years, the team would have crumbled under the pressure. Newton easily could have given up after throwing two interceptions that resulted in points.
As a result, the Panthers are 5-0 for the first time since reaching the Super Bowl in 2003, where they came up short to the New England Patriots.
A few years ago, I gained respect for Tom Brady.
I had always thought that anyone with the offensive line and receiving corps around them would be able to shine, but during the 2013 season, Brady didn't have all the weapons around him he was accustomed to.
He was still able to lead the Patriots to an 11-4 record, but ended up losing in the AFC championship to the Denver Broncos.
Cam Newton is doing some very Brady-esque things, making plays and winning games with only Ted Ginn Jr. and Devin Funchess as his leading wide receivers.
In case you aren't a sports buff, ask anybody for the name of the NFL's top five receivers and those guys won't make the list.
The Panthers have shown a drive to win that teams in recent years have been lacking. Not all the wins have been pretty or particularly dominating, but they are still wins.
Greg Olsen, tight end for the Panthers, has shown resurgence as one of the league's top tight ends, but how far can a team go whose leading receiver is their tight end?
The Panthers have a chance to accomplish something very special this year.
I would love to see it, but, despite them coming so far in past years, I still think they are a piece or two away from being able to match up in the playoffs with the dominant offenses in the league.
I'm not saying the Panthers won't win it all. Despite lacking in the offense, they have a championship caliber defense, without a doubt.
I will be pulling for them every week, and if they bring the Lombardi trophy back to Charlotte, I will eat my words.