"I like to call it beautiful punk, or beautiful emo": A behind-the-scenes look at local band Pictures of Vernon
By Chloe Bankson, contributor
11/18/15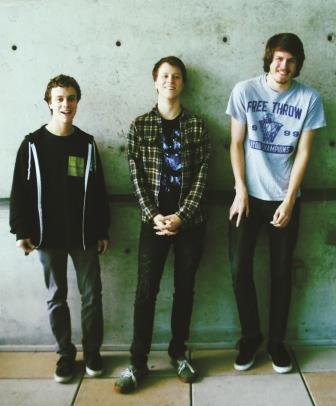 While the music industry overflows with big time artists, UNC Asheville students and musicians see the impact that a local following can have on a career.
Local band Pictures of Vernon includes UNCA freshman Anderson Ragan, sophomore Daniel Gorham and Greensboro College student Matt Brotherton.
The lead guitarist and youngest member of Pictures of Vernon, Anderson Ragan, said the band came together at the end of summer 2014 after playing around with instruments turned into something more.
"Daniel and I started the band," Anderson said. "We were jamming a lot without really writing songs. But then one day we just started writing, so we wrote some songs and called some people to play other instruments and we didn't really tell anybody about it."
The 18-year-old said things started picking up when the band started playing shows only two weeks after they posted their music on Facebook.
"We were a four-piece when we started out, but after two or three months of that we got sick of one of the people, so we downsized. That's when we really started to find our musical voice," Anderson said. "We started writing newer stuff. In March we recorded, and then we released the EP in May of the new songs. It's called The Days are Just Packed."
The band had a strong start, Anderson said, and not long after, they were headed out on the open road to play more shows, traveling continuously across the nation to get their music out into the world.
"In the summer we went on tour up the East Coast through Indiana, Ohio and Tennessee. That's the highlights of the band history," Anderson said. "We weren't even around for a year before we went on tour."
Anderson said all of the songs on the EP were written by a guy named Brody Rogers, who played bass. He was still in high school and couldn't tour because of strict parenting, Anderson said.
"So, Matt joined. That's how that happened," Anderson said.
Anderson said they all met in high school in Greensboro. Matt and Daniel have been in three bands together.
Anderson isn't the only musical talent in the Ragan family. Brothers Joel, 21, and Anderson said their mother, who plays piano, taught them the importance of music at a young age.
"My brother Joel does music too, so we have a fairly musical family. I dabbled with instruments growing up, but I started learning bass in eighth grade. I started playing shitty pop-punk and was like, 'Oh yeah, this is for me,'" Anderson said.
After three years of being bad at bass, guitar and pop-punk, Anderson said he decided he would try to become better. That's how Pictures of Vernon started.
Anderson's older brother, Joel, 21, released his EP and launched his own music career. His music has been influenced by some of the same genres as Picture of Vernon's.
"I have been playing music for about 12 years. I started playing music in fourth grade, I started taking piano lessons," Joel said. "My mom is pretty musical, but not my dad. I play guitar, piano, hammer dulcimer, drums and I sing."
Joel's EP "Back to Asheville" released this summer, and since then he has played some local gigs on and off campus.
"Asheville is the city that I love. It's home," Joel said.
While the brothers have a lot in common when it comes to musical preferences, the music they perform fits into different genres.
"The EP can be considered Americana. There are some punk influences in there, maybe a little bit of folk," Joel said.
Anderson said the bands The Hotelier, Tiny Moving Parts and Brave Bird influence their sound. He said that it is hard to pin down what exactly Pictures of Vernon's genre falls under.
"I like to call it beautiful punk, or beautiful emo. Anything with punk, emo or twinkly. Those all fit in," Anderson said.
Joel said he has wanted to be a musician for about 10 years, and Daniel laughed as he quoted Pokemon.
"I want to go as far as I can," Joel said. "I want to be the very best, like no one ever was."
Anderson said he could see Pictures of Vernon touring with his brother, and Joel agreed with the possibility.
"We have thought about it. In the summer he might come along with us, or at some point in the future have some sort of musical project with him," Anderson said.
Anderson and Daniel said their plan consists of working and touring indefinitely.
"To really get your name out there as a band, it is more about touring more than anything else. That's not really a way to make a lot of money at this level, so it it really just for promotion," Anderson said.
Anderson smiled and said touring with the band was probably the best thing he has ever done in his life.
"It was just playing a show every night, and meeting people who are into the same music as me and understood why we were doing it," Anderson said.
Anderson said the band doesn't completely go old school and live out of a van while on tour like some people may think, although it is still a possibility for the future.
"We haven't had to yet. Usually we have been able to find someone," Anderson said. "At the show, if we don't know somebody we'll be like, 'Hey, if you have a couch or a floor, please let us stay there.'"
Anderson said he expects they will have to sleep in the van this winter, since no one in the band knows anyone in most of the states they plan to tour.
Anderson said the band may have already had their ideal show, referring to a time when a group of teens at their  concert were jamming to their music.
"We played Kentucky with our friends in a band called Secret Stuff. There were like 30 kids — half of them were singing along to every song. It was insane," Anderson said.
Anderson said the band hopes to find a bigger label to release their new songs, and he spoke about the differences between Asheville and Greensboro's music scenes.
"We played the Grotto October 17, that was pretty fun. Some people came out and danced and stuff," Anderson said.
Anderson said overall, Asheville presents great opportunities for musical artists.
"It seems to support more folk stuff, and indie folk more than anything else, but there is still room for other genres," Anderson said.
Anderson said the band has plans to hit up states they have never ventured to before, and the upcoming trip will be one for the books.
"December we are going on tour in the Southeast," Anderson said. "We are playing Florida, Alabama, Louisiana and places we have never been. It's a long journey for us, it will be interesting."
Anderson said they are going to record songs to put out next summer and the band has plans for a big tour in the summer. He wants Pictures of Vernon fans to know local bands need their help.
"Keep supporting small bands. Just go to shows, get your friends to go to shows and stop listening to the radio. Stop going to arenas and coliseums," Anderson said. "Go to houses, and sheds and whatever."
Anderson said seeing local bands costs less and the bands are usually a lot nicer.
"Bottom line, music is cool. Final closing statement: Party on," Anderson said.