Vape culture catches on in Asheville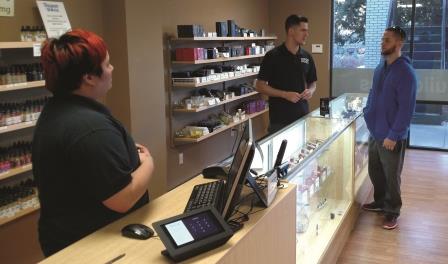 By Lee Elliott, contributor
11/18/15

Walking into Vapor World on Merrimon Avenue seems like stumbling into a steampunk harem. Instead of sheikhs sitting on lavish floor pillows smoking hookahs with flavorful blends of shisha, patrons sit on leather couches exhaling billowing clouds of sweetly-scented nicotine vapor from elaborate battery-powered vaporizers.
What started as a tool to wean cigarette smokers to a more healthy alternative has quickly become a trendy subculture supplanting cigarettes as the hip accessory for Asheville's nicotine inclined.
Once fairly simple in appearance, the apparati evolved past the earlier cigarette look-alikes to bulkier vapor-chucking cannons that provide radically more nicotine than their combustible carcinogenic cousins.
Christine Ballogdajan, Vapor World manager said she used to be a heavy cigarette smoker before she transitioned to vaping, what users call vaporizing the flavored nicotine solution. Her fiery dyed hair matches the glowing coils of a rebuildable atomizer at peak voltage.
"I smoked a pack a day," Ballogdajan said. "I started vaping two years ago, but I didn't quit the cigarettes until I found something a little better than the standard pen-style e-cigarette."
She said she started her transition like most users, on a smaller vaporizer that produced relatively little vapor compared to the heavy-duty modified vaporizer she now totes with her at all times.
To the uninitiated, a lot of Ballogdajan and other vapers' vocabulary might sound like another language. "Sub-ohm" this, "rebuildable coil" that. It can get pretty confusing for beginners. However, at Vapor World they sell a variety of starter kits that don't require electrical engineering knowledge.
When she fires up her vape, it makes a gurgling sound as the cotton wicks heat up and push out the saturated nicotine infused vegetable glycerine. After a few seconds of inhaling, Christine blew out what might be described as a cloud, a huge plume of opaque vapor smelling of tropical fruits and a hint of cinnamon.
Although Christine said she has not used the vaporizer to taper down her nicotine consumption, she advocates the new technology as healthier than traditional tobacco. This has yet to be proven through scientific studies.
"With smoking, you've got just tons and tons of chemicals that are in each cigarette," Ballogdajan said. "With vaping, in the standard juice, there are literally a handful of things that are in it: nicotine, if you want it; flavoring; propylene glycol; and vegetable glycerine."
Vapor World staff concoct a wide variety of custom vape juices.  The sample table houses more than 100 different vials marked with numbers that correspond to a specific flavor on the store's menu. Ballogdajan said premium house blends like "Cinnamon Bear" and "Gilligan's Island" have more complex flavor profiles, while the standard house flavors like strawberry-kiwi and pomegranate taste like their namesake fruits.
"We try to have an atmosphere where people feel comfortable just hanging out and not buying anything," Ballogdajan said. "They can sit around with friends in our vapor lounge and sample the new flavors."
Mitchell Dowd, 21, frequent Vapor World customer and mechanic, said he began smoking cigarettes at age 11. He stole the cigarettes from his parents, who smoked heavily.
After smoking for almost 10 years, Dowd said he made the transition to vaporizing over smoking for health reasons. An avid rock climber and boulderer since 15, Dowd noticed cigarettes were impacting his athletic performance.
"Every morning, I'd wake up and cough up nasty stuff," Dowd said. "I couldn't breathe well."
Working at Valvoline with his hands all day and rock climbing after work, Dowd said he noticed a change in his health and stamina immediately once he transitioned to vaping. Now, six months later, he climbs longer without getting out of breath.
"There's definitely a difference, I don't have a smoker's cough," Dowd said. "I still run out of breath sometimes, but it's not as noticeable."
Now a convert to strictly vaporizing, Dowd said he can actively work without being sick all the time. He has gradually lowered his nicotine intake due to the variable nicotine levels in Vapor World's custom vapor juices.
"I started off on 18 milligrams of nicotine and worked my way down to three milligrams over six months," Dowd said.
Four other e-cigarette shops pepper Merrimon Avenue alone, but Vapor World was the first to open its doors on this side of town more than a year ago. Ballogdajan said there will be no real competition from nearby shops due to her store's superior customer service and product selection.
Over on Patton Avenue sits High Life Gallery, a sizeable head shop that sells water pipes, hookahs and smoking paraphernalia, but also has a varied selection of vaporizers and nicotine juices.
Chelsea Myers, one of High Life Gallery's employees, said she recently started transitioning from smoking to vaporizing. A young woman with a head full of light brown bejeweled dreadlocks, Myers plans to stop smoking last week after being a cigarette smoker for over five years.
Even though she still smokes several cigarettes a day, Myers said she needs to change to fully vaping to preserve her health in the long run.
"I was smoking a pack a day," Myers said. "Now I smoke one in the morning, one in the afternoon and one at night."
Once critical of vapers, Myers said she found an interest in the vaporizing culture and its future. The most devoted vapers host vaporizer conventions, contests, YouTube channels and DVDs devoted to vapor tips and tricks.
"They've made it into almost an art form, there is such a huge culture of vaping," Myers said.