Rocky Horror play excites beyond measure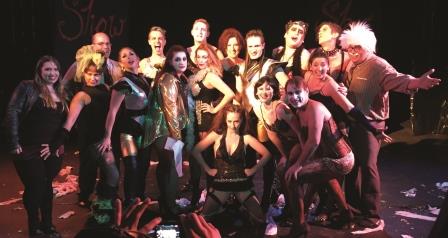 Review by Becca Andrews, News staff writer
11/11/15
Rocky Horror Show seen live is less of a play and more of an experience, unlike any other. It begins before any of the actors hit the stage.
Upon entering the theater, ushers ask if this is your first time seeing Rocky Horror live. If yes, you are branded with a 'v' for virgin, drawn in red lipstick. Dancers circle the audience before the show starts, talking to the crowd and spraying them with whipped cream.
Once the show starts, in true Rocky Horror fashion, audience participation is encouraged, from responding to the actor's lines, throwing things across the stage, to singing and dancing along. Bags of props, containing bubbles, confetti, squirt bottles, toilet paper and everything else needed to participate, are sold before the show for five dollars.
Rocky Horror was originally a stage play written by Richard O'Brien in 1973, and then later adapted into a movie in 1975. Although not well received by critics, the movie quickly became a cult classic, with fans dressing up as the characters, acting out the parts and talking back to the movie. The show had a brief revival on Broadway from 2000 to 2002.
The show follows a wholesome recently engaged couple, Brad and Janet. When their car breaks down in the rain they seek help at a castle, the residence of Dr. Frank 'n' Furter, a "sweet transvestite" from Transylvania. Their arrival conveniently coincides with Frank 'n' Furter's plan to unveil his latest experiment, creating a new man named Rocky. From there, Brad and Janet's story gets wilder and wilder as they experience all Frank 'n' Furter's castle has to offer.
Rocky Horror is deliberately and delightfully campy with a barely there plot and a catchy score of music, like a shamelessly sexual drag show musical paired with a 1950's science fiction b-movie.
This performance, held in the masonic temple in downtown Asheville, was a version of the stage play. In true Rocky Horror fashion, audience participation is encouraged, from responding to the actors' lines, singing and dancing along to throwing things across the stage.
This is where the bag of supplies comes into play. An experienced fan knows just when to throw what, but for the Rocky Horror "virgins," a backup dancer held up a sign to signal what to use. During the scene where Brad and Janet run to the castle in the rain, the audience uses spray bottles filled with water to soak the actors and each other. When Brad says "Great Scott!" everyone throws toilet paper, preferably Scott brand.
Normally an audience that talks over the actors' lines and throws things at each other would be annoying and intolerable, but at Rocky Horror it is part of the magic. The show wouldn't be nearly as fun without the audience's witty and sometimes rude callouts.  And it's hilarious and oddly thrilling to be able to throw confetti and toilet paper at actors and fellow audience members.
Everyone there is clearly enthusiastic, even if it is their first time. Excitement reaches a high just after one of the most popular songs "Time Warp." Frank 'n' Furter appears for the first time in his classic corset, fishnet stockings and heels to perform "Sweet Transvestite." The vibe is similar to being at a concert, surrounded by people singing along to their favorite song.
Seeing it live allows for the actors to even talk back to the audience, outside of the script, making for some of the most funny and unique moments.
Just after the "Great Scott!" scene, Frank 'n' Furter launches into a long speech. People in the audience were still throwing toilet paper back and forth. One roll whizzed too close past the actor's face, causing him to stomp forward in his heels to pick up the toilet paper, point at the audience member in fault and say, "You, after class." He then continued seamlessly with his monologue.
Despite being a relatively small production, the show paid homage to the cult classic that took the '70s and '80s by storm. Its release was originally coupled with shock at its openly trans characters and sexual content. Although this performance's content is not as shocking as it might have been 40 years ago, it was every bit as funny, sexual and campy as the original. And the audience's participation was just as entertaining.